Story
5 films that were inspired by art
Written by

Carys Thomas

Published date

03 February 2022
Share story

The complex relationship between art and film is often characterised by the way art can be seen to inspire and inform filmmakers across the globe. Painting is one of the oldest art forms, yet it continues to have close links with filmmaking. Many filmmakers take inspiration from works of art to inform their creative vision, drawing reference to the characters, locations, scenes and feelings portrayed by specific works of art.
We caught up with award-winning filmmaker and UAL short course tutor, Mark Aitken, to discuss 5 popular films that were inspired by works of art. We'll explore what makes these works of art special and how they can be seen to shape the film's visual identity.
We'll also hear about Mark's Film And Fine Art Short Course at Central Saint Martins, which offers students the opportunity to make short films inspired by paintings and other artworks in a gallery's collection. The emphasis is on experimentation, and students receive hands-on training in the practical skills of filmmaking.
1# A Clockwork Orange (1971) and Vincent Van Gogh's Prisoners Exercising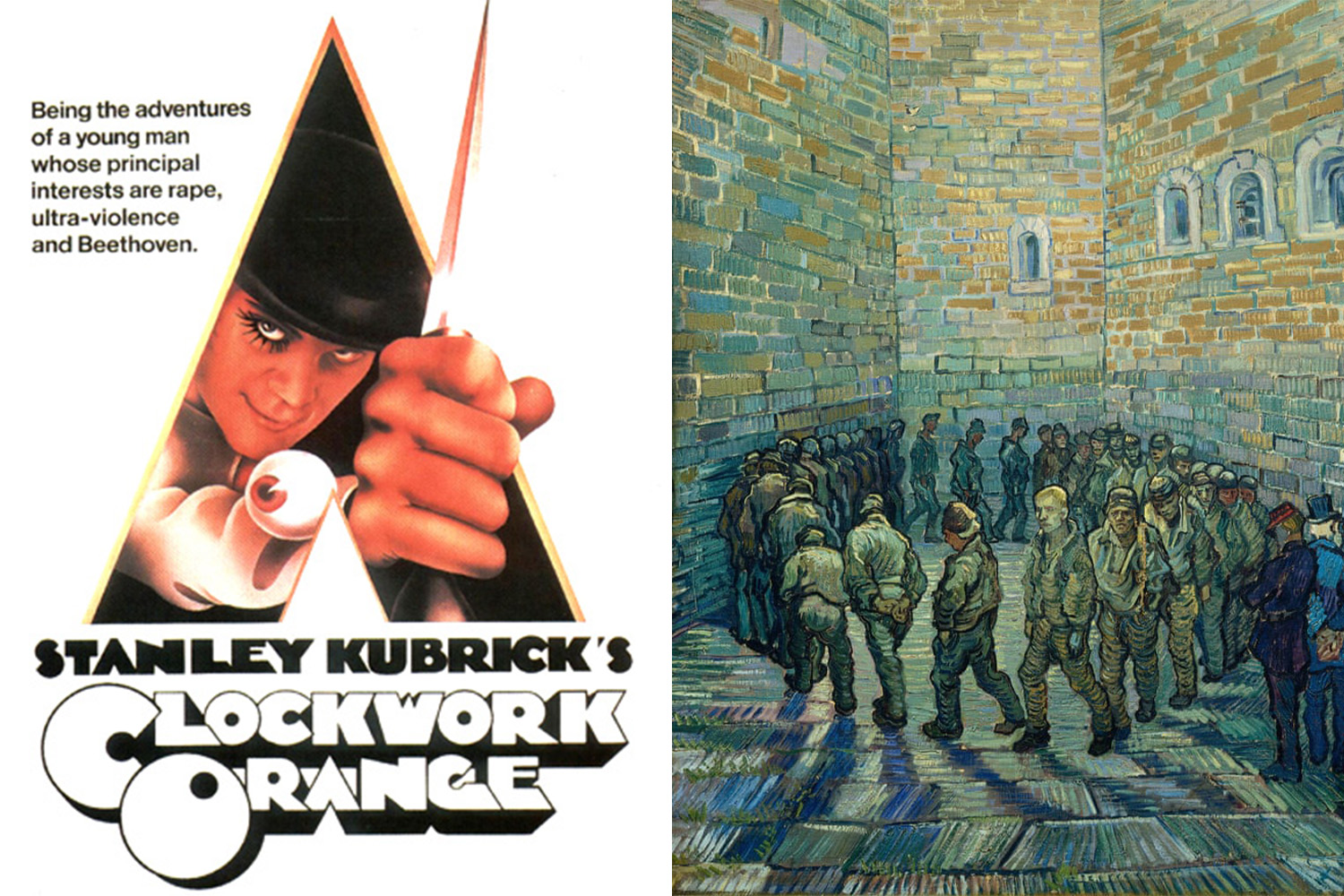 Stanley Kubrick's adaptation of Anthony Burgess' dystopian novel A Clockwork Orange tells the story of fifteen-year-old Alex, the leader of a criminal gang who is forced into a programme of psychological rehabilitation on account of his violent behaviour. After committing a violent crime, Alex is imprisoned and faces inhumane experimental treatment.
In one striking scene in Kubrick's film, the prison inmates are shown being led in circles around the prison yard as a form of exercise. The oppressive environment is highlighted by the imposing walls that surround the prisoners and draws reference to Vincent Van Gogh's painting, Prisoners Exercising, to emphasise the dehumanising conditions.
2# Pennies from Heaven (1981) and Edward Hopper's Nighthawks
Herbert Ross' 1981 film Pennies from Heaven follows the life of Arthur Parker, a Chicago-based sheet-music salesman who is struggling to make ends meet during the Great Depression. The film features a notable scene which takes place at a diner and is inspired by Edward Hopper's painting Nighthawks.
Hopper's painting depicts four figures in a downtown diner late at night and is one of the best-known images of twentieth-century art. The work is often interpreted as an exploration of loneliness in the modern age; a theme which is mirrored in the characterisation of Arthur Parker as a man who struggles to connect with people in the film Pennies from Heaven.
"Edward Hopper has influenced many writers, musicians, filmmakers and photographers," says Mark, "I think it's because there's a very strong narrative element in his work. If you look at any of Hopper's paintings, you'll often find yourself wondering what happened just before, what's going to happen after, or what the characters are thinking. So, they're quite photographic in that respect."
3# Scream (1996) and Edvard Munch's The Scream
Did you know that the popular horror franchise Scream was inspired by Edvard Munch's iconic painting The Scream?
The Ghostface mask worn in the Scream franchise was inspired by the anguished expression depicted in Munch's autobiographical work. The mask was originally produced by American novelty company Fun World in 1991 for the Halloween market and was later discovered by film producers. It is now arguably one of the world's most recognisable horror symbols.
Munch's striking figure, with its open mouth and wide eyes, also inspired film producers working on the film Home Alone (1990). The protagonist, Kevin McCallister, is captured in the film with the same expression, creating a powerful image that acted as the foundation for the film's visual advertising.
4# Django Unchained (2012) and Thomas Gainsborough's The Blue Boy
Quentin Tarantino's Django Unchained (2012) is often cited as his most successful film, having achieved $425 million in global box office revenue after a $30 million opening weekend in US cinemas. The popular Western follows a freed slave called Django, who travels across America with a German bounty hunter to rescue his wife from a brutal plantation owner.
Django's character (played by Jamie Foxx) is featured in the film wearing a distinctive blue satin suit after escaping his life as a slave. The costume was inspired by Thomas Gainsborough's acclaimed painting The Blue Boy, which has been referenced by many Hollywood films over the years and is currently on display at the National Gallery. The painting, a commissioned portrait of a wealthy merchant's son, depicts a subject wearing an elegant blue costume, which is used to reflect Django's new social status in the film.
5# The Shining (1980) and Diane Arbus' Identical Twins, Roselle, New Jersey, 1967
Stanley Kubrick's The Shining (1980) is often said to be one of the best screen adaptations of a Stephen King story. Horror fans will be familiar with the famous story set at the historic Overlook Hotel in the Rocky Mountains, but did you know that the iconic identical twins were inspired by a photograph taken by Diane Arbus?
American photographer Diane Arbus was perhaps best known for her intimate black-and-white portraits. Interested in the "outsiders", Arbus often photographed people considered to be on the fringes of society, including the mentally ill, circus performers and nudists. The identical twins' photograph was reportedly taken at a small-town Christmas party held for local twins and triplets in 1967. The resemblance to the twins in The Shining is striking.
Try it for yourself
If you're interested in exploring the relationship between film and fine art, you may want to take a look at our Film And Fine Art Short Course at Central Saint Martins.
Over the course of four days, you'll have the opportunity to visit galleries in search of artwork that may inspire you to create your own short films. "It's not really about imitating the work," says Mark, "it's about trying to understand the work, something essential about that work, and then to make a short film using that. Some students make films that feature direct references to a work of art, while others may make more oblique references, perhaps taking just the feeling from an artist and translating that into a film."