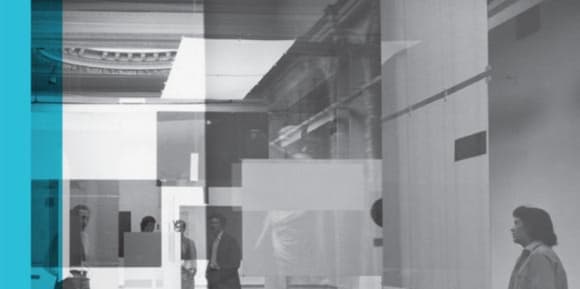 Afterall is a Research Centre of University of the Arts London, located at Central Saint Martins. We undertake contemporary art research within this framework and in partnership with other international educational and cultural institutions.
Founded in 1998 by Professors Charles Esche and Mark Lewis, Afterall focuses on late modern and contemporary art (1955 onwards). The Centre has an academic emphasis on developing the field of exhibition histories and is closely linked to the MRes Art: Exhibition Studies pathway. We disseminate our research through several publication strands.
Publication strands
Afterall Journal
Afterall is a biannual print and electronic journal that publishes in-depth writing on contemporary art and its social, political and philosophical context. Each issue explores a topic or theme through the work of four artists, critical essays and detailed studies of historical artworks and exhibitions. The journal is published by Central Saint Martins in partnership with M HKA in Antwerp, and is currently engaged in a two-year research programme with Art Gallery of Ontario in Toronto and the John H. Daniels Faculty of Architecture, Landscape and Design, University of Toronto. It is distributed by the University of Chicago Press.
Afterall Online
The open access platform afterall.org/online makes selected journal articles freely available to all. It also features specially commissioned interviews with artists, contextual essays, reviews and video documentation of events.
One Work
Dedicated to producing studies of single works of art, considered in detail by single authors, the One Work series was founded in partnership with The MIT Press. The books are distributed by MIT in both print and e-book format.
Exhibition Histories
Offering critical analysis of exhibitions of contemporary art that have changed the way art is seen and made, the Exhibition Histories series is published in partnership with the Center for Curatorial Studies, Bard College. Research undertaken for the series also informs the MRes Art: Exhibition Studies course we lead at Central Saint Martins. Each title is distributed by Koenig Books.
Critical Readers
With our Critical Readers, guest editors are invited to explore areas of modern and contemporary art practice through collections of key texts. Commissioned essays and editor's notes provide further insight. Published and distributed in collaboration with The MIT Press and Tate Publishing.
Arts Council England
Afterall is an Arts Council England National Portfolio Organisation.
Common Practice
Afterall is a founding member of the Common Practice advocacy group.
Publishing Director
Administrator
Beth Bramich
Researchers/Editors
David Morris | Lucy Steeds | Dr Ana E. Bilbao Yarto | Louis Hartnoll
Associate Member
Yaiza Hernández Velázquez
Graduate Research Assistant
Rose Thompson
Partners
Current PhD Students
The Centre is closely linked to the MRes Art: Exhibition Studies pathway led by Yaiza Hernández Velázquez.
We also support doctoral candidates and enquiries will be welcomed by Lucy Steeds/
Sasha Burkhanova: 'The (co-constitutive) ethics of a contemporary art curator: towards the modes of (ethical) practice'. Central Saint Martins
Supervised by Dr Joanne Morra and Dr Lucy Steeds.
John Kannenberg: 'Listening to Museums: Curating the Ephemeral Sonic Object', London College of Communication
Supervised by Dr John Wynne, Professor David Toop and Dr Lucy Steeds