The UAL Alumni Association hosts events throughout the year; from international group meet ups to creative workshops, panel discussions and opportunities to share knowledge. Here you can find information on upcoming Alumni events around the world.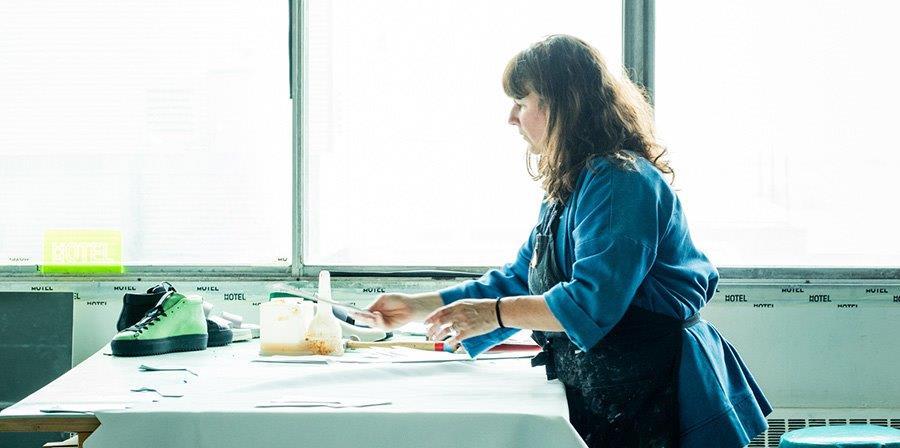 UAL Canada Alumni Group: Virtual Studio Visit
Monday 20 July 2020
9am PST / 12pm EDT / 5pm BST
A link to the event will be shared 48hrs before the event
As a member of the UAL community in Canada, I'm delighted to invite you to join Karen Heard, International Academic, for our very first Virtual Studio Visit. Co-founded in 2017 by UAL Alumna Niki Jessup, unisex sneaker brand HOTELMOTEL explores the duality between exclusive luxury and inclusive humanness.
In her Montreal studio, Niki creates in a space where craftsmanship meets innovation, rawness meets perfection and seriousness meets playfulness. HOTELMOTEL's contradictory motto, PLEASE DISTURB, politely invites you to join her in her quest to disrupt the fashion industry in favour of a slower alternative.
Each piece she makes is handcrafted with TLC using her own hands. The raw materials are sourced with great care, finding the finest and most ethical leathers and components, predominantly in France and Italy.
"The studio is my playground. I can explore anything, from new wacky ideas to technical fit issues. During confinement, it has been a great space for clearing my mind and working on new ideas. At the beginning, it was very difficult to work on new projects, I filled my days with small batch production. It was easier to repeat the same steps, without having to think. However, the last month has been a creative journey! A whole new collection will be born as a direct impact of Covid-19."
RSVP is essential, as a link to the event will be shared 48hrs before the event
RSVP by emailing: alumni@arts.ac.uk
Our events are open to all UAL alumni