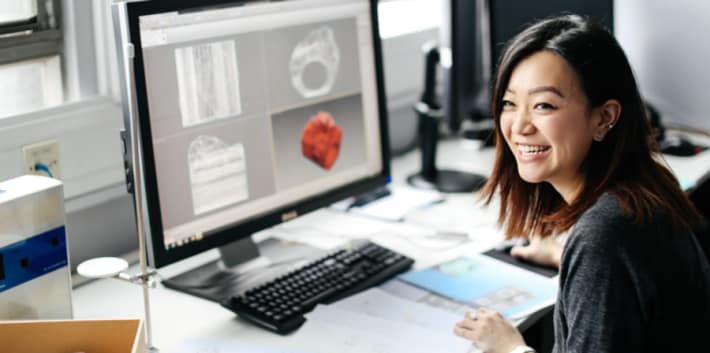 As well as our archives and library, the LCF research centres offer a great resource for your studies, from research to final projects. Many of our specialist centres offer drop-ins and technician help.
Digital Anthropology Lab
The Digital Anthropology Lab at London College of Fashion, is an emerging research centre dedicated to making smarter technology for a better human experience. It offers a dynamic research and making space, open to all students who hope to explore technology in fashion.
Centre for Fashion Curation
The Centre for Fashion Curation (CfFC) is an invaluable resource for students interested in curating fashion or studying on the MA Fashion Curation at LCF. The Centre is embedded in the School of Media and Communication, LCF, but works with students across LCF and UAL.
The website provides background information on projects and news of upcoming events. Our blog on www.fashion-curation.com highlights a range of CfFC's past activities, including reflections on exhibitions, events, and publications. There are also interviews with alumni of MA Fashion Curation exploring career trajectories after the MA.
CfFC's academics work in the field of fashion curation and museums. They work on different types of projects, from exhibitions to installations and commissioning work. You can find out more about their work at UAL's research information site called Research Online.
CfFC staff are happy to talk to students interested in curating fashion. Please email cffc@arts.ac.uk with an outline of your idea, or questions you have about the MA Fashion Curation course.
Digital Learning Lab
The Digital Learning Lab is home to a community of students and staff focused around physical computing, etextiles, creative coding, mixed and virtual reality and 3D print, sitting alongside traditional tools and techniques.
With residencies from UAL Futures and the Digital Anthropology Lab, a vibrant programme of workshops and seminars operating at the frontier of digital practice will emerge.
Activities and drop-in options
At specific times there might be workshops scheduled for the space, find out more on the DLL Programme poster or click here to see available workshops
Maker Days - Drop-in to speak to one of our technicians about a project you want to develop (Mondays, Tuesdays and Thursdays)
Assisted Open Access - Drop-in to work on your project with assistance from our technicians (Friday)
Residency - UAL Futures, Charlotte-Maëva Perret (Wednesday)
Centre for Sustainable Fashion
CSF offers a variety of sustainability focused projects and modules for courses at London College of Fashion including: BA Fashion Journalism, BA Fashion Design and Development, BA Fashion Management, MA Fashion Entrepreneurship and Innovation, MA Fashion Artefact, MA Fashion Footwear, MA Fashion Futures.
Students can find more information on the work of Centre for Sustainable Fashion (CSF) at www.sustainable-fashion.com, including details on CSF's active and historic projects. Details of events and activities can also be found on the website, including CSF's monthly open morning, where students can book a one to one session with a member of its research team, to book students can email sustainability@fashion.arts.ac.uk. You can bring questions you have about sustainability to these sessions as well as what you are working on - we recommend students come prepared to ensure they can get the best out of it.
CSF's blog covers project updates and news, CSF views and thoughts on current affairs, and events.
Details of CSF's researchers outputs can be found here UAL Research Online
Centre for Fashion Enterprise
Centre for Fashion Enterprise undertake a number of activities which merge innovation across fashion, fashion tech and business including activities.
FashTech Meet-ups held 3 times a year, encourage a networking environment for LCF alumni and successful industry figures. We offer internships opportunities which are an excellent opportunity to learn how young fashion businesses work and provides behind the scenes access to support programmes and events specially designed for fashion tech startups. We have hosted events where LCF alumni on our programmes have shared their experiences with current LCF students and encourage to look ahead to where their business ideas could be in 12 months' time.