Christian Bronstein
Profession
Student and Designer
College
London College of Fashion
Biography
Christian Bronstein is currently studying MA Fashion Artefact at London College of Fashion. He is an Ashkenazi Jew, Kazakh, Mongol and Tatar who was born in Germany and spent his formative years in the UK an is now based in London. Before progressing to MA Fashion Artefact, he completed the Graduate Diploma in Fashion Design Technology in June 2019, culminating in a performance piece and four of his looks being selected for the LCF press catwalk show in July 2019.
Interview
Why did you choose to study at LCF? What attracted you about this university?
There are a multitude of reasons why I came to LCF! The college has a good ranking, and I appreciate being part of UAL as a whole, which offers students a much richer experience. But mainly, I really liked the structure of the Graduate Diploma in Fashion Design Technology.
Why did you decide to study on the Graduate Diploma in Fashion Design Technology?
As I have studied before, I wanted a graduate programme that would allow me to solidify and build on my self-taught skills in a short period and fast-tracked me to move on to an MA. The Graduate Diploma was ideal for this reason.
What did you enjoy the most about your course?
My tutors! They come from a fashion background and are extremely passionate. From fashion illustration classes with Richard Kilroy, to design garments for the Icelandic singer JFDR, fittings with James Buck. We had such great opportunities. We also had access to the Digital Learning Lab and Digital Anthropology Lab, using body scanners, 3D printers, augmented and virtual reality.
About your final project: which topic did you explore and why did you choose it?
At first, the project came to life after pondering the role of the designer in a world where Artificial Intelligence can be trained and utilised a lot more efficiently than any human. We built an AI model trained on 60,000 images of men's catwalk and it started producing high resolution images but then it took an abstract turn. It became clear that the role of the designer was to interpret the incoming information and to shape it with their own point of view. In my case, it resonated with my dysmorphia.
What was the best piece of advice you received from a lecturer/tutor during your time at LCF?
'Stop overthinking it and just start doing'. Invaluable words! The course team had a pivotal role both in my personal and professional development. I truly believe that the attention they dedicated to every student allowed them to guide every single person individually into their most suitable environment. It's kind of scary as they seem to know you better than you know yourself!
What have you been working on since finishing your course?
Towards the end of my course, I was selected for the press catwalk show, so I had to realise another two complete looks and create a 2-3 minutes performance piece that was related to my "Complexes" collection. I had a month to create two full extra looks, quickly learn how to make shoes and produce six pairs, life-cast several models, learn how to create edible sculptures for the show, study modern dance and choreograph the performance.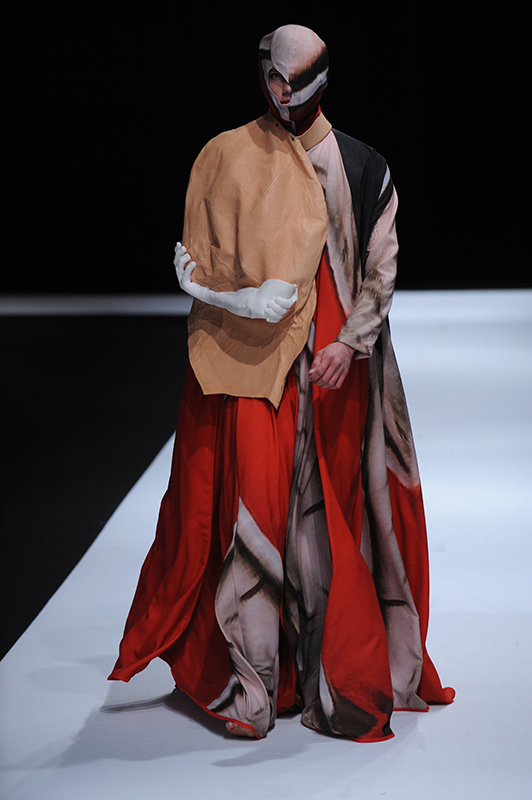 Did you always know you wanted to pursue a career in fashion?
All my life I had a keen interest in fashion for two reasons: the creative process behind it and the sociological aspect to it. I actually have a BSc in Accounting & Finance and an MSc in Marketing & Strategy from the University of Warwick. After working in business for several years, I decided to pursue my passion on the Graduate Diploma in Fashion Design Technology. The course opened my eyes on the industry and I soon realised that I wasn't attracted to the clothing but rather the artistic processes behind it. it wasn't the clothing that attracted me to fashion, but rather the artistic processes behind it.
For you, what's the best thing about your job?
I am overjoyed to witness the growth of innovation is at the heart of the fashion industry, going away from the dogma that fashion is only synonymous of clothing, and re-valuate the meaning of fashion in a contemporary context. There is so much joy in seeing the awe that your work can inspire in others and see all the negative experiences that fuel my creativity hopefully lead to something beautiful in the end.
Any exciting upcoming projects you can tell us about?
I am extremely excited to be progressing to the MA Fashion Artefact, where I feel that "I found my tribe" and can spend the next 15 months vigorously exploring the topics and materials that resonate with me: men's mental health, such as dysmorphia, leather, polyurethanes and, if the opportunity arises, to work with glass.
What are your plans for the next few years? Where would you like to see yourself professionally?
I plan on narrowing my scope of work and work hard to produce my highest quality work to date and use that as the foundation for my brand. However, given my international business experience, my ideal scenario would be to run my own business and collaborate with various fashion houses through projects or acting as a consultant.
What advice would you give to potential students who would like to enrol at this course?
Do your research and study! The fashion industry is a competitive environment so go out there and seize all available opportunities. Push yourself! LCF is a pioneering establishment and does everything possible to give you freedom of expression and creativity. It's an incredible opportunity to push your own limits.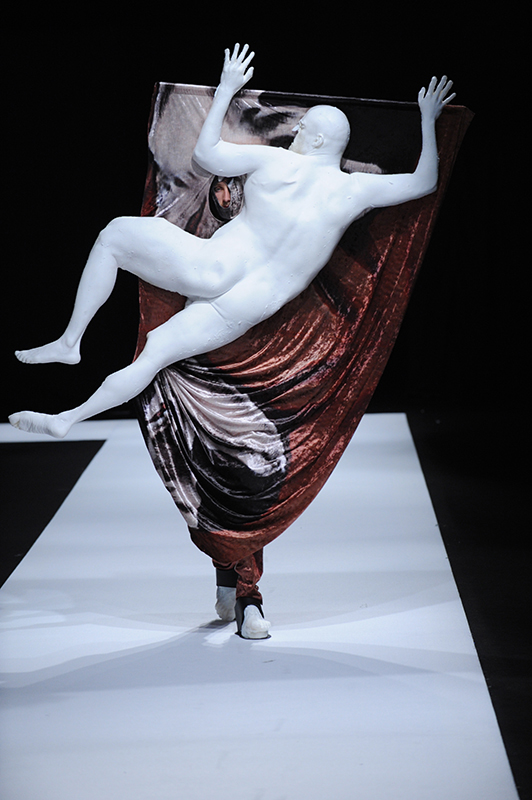 Links