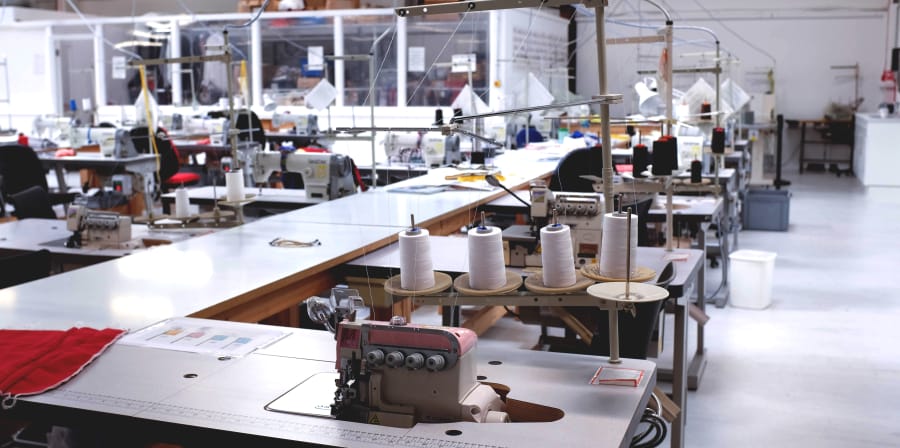 Making for Change is a fashion training and manufacturing unit within HMP Downview women's prison. Established by the Ministry of Justice and London College of Fashion in 2014, the project aims to increase well-being and reduce reoffending rates amongst participants by equipping them with professional skills and qualifications within a supportive environment.
Employment, when supported by appropriate education and training, is key to reducing reoffending in women, who make up just 5% of the prison population in the UK. There is a critical shortage of technically skilled people for fashion manufacturing roles in London and the UK. Making for Change aims to grow this workforce by delivering industry recognised qualifications to women at HMP Downview.
Making for Change delivers Level 1 and 2 ABC awards in Fashion & Textiles alongside the production of commercial orders, which provides participants with real work experience as part of their training. LCF's connections with manufacturers ensures that training reflects up-to-date production methods and techniques, as well as offering links to potential employers on release.
The next stage for Making for Change, in collaboration with housing association Poplar HARCA, will be a vibrant, community-focused fashion training and manufacturing unit in the heart of east London. This will deliver accessible fashion programmes predominantly for women from marginalised community groups and female ex-offenders. The project is situated in the London Borough of Tower Hamlets, one of the most deprived boroughs in the country that suffers with particularly high levels of female unemployment.
The project has been generously supported by Sir John Cass's Foundation, the Pilgrim Trust and the Sheriffs' and Recorder's Fund.
Are you a business interested in working with the manufacturing unit?
Making for Change is a fully-equipped workshop that produces up to 1,000 units per week to an industry standard across a wide range of products including daywear, accessories and homeware.
Past and present clients include Bethany Williams, Ally Capellino and Savage is Salvation Ltd. If you are interested in placing an order with Making for Change and supporting our socially motivated enterprise, to provide better life chances for the participants and their families, please get in touch. Email makingforchange@arts.ac.uk.