Story
Celebrating 20 years of Cosmetic (R)evolution at London College of Fashion
Written by

M Fields

Published date

10 June 2021
Share story

Last month the Fashion Business School hosted a series of panel talks and presentations to celebrate 20 years of Cosmetic Science at London College of Fashion.

Cosmetic (R)evolution, an online summit, included an industry panel discussion, led by Gabriela Daniels featuring Dr Paul Matts, Dr Carol Treasure and Dr Katerina Steventon. Topics discussed included the future of cosmetics, biofilm innovation and the importance of digital imaging within the sector.

We have collated some of the most engaging insights from the evening's speakers, who were asked about the most influential trends of the past five years and upcoming challenges that the sector faces.
Dr Paul Matts

"I think in the last three to five years, we've, we've had unprecedented access to understanding our consumers' real end benefit needs in their own environments, largely through tools that we all use. Our consumers use their smartphones to acquire images of their faces, which actually are encoded with a wealth of data about lips, teeth, face shape, and other cosmetic substrates."
"About 3.5 billion people worldwide, that's 40% of the world's population, owns a smartphone, equipped with a high-resolution camera. The average person takes 460 selfies per year as an estimated 1.5 trillion selfies globally. And so, you know, the last three to five years in my job, we've developed a whole raft of technology to acquire the best quality selfies."
Dr Katerina Steventon

"The kind of dialogue around the industry is that it's very multidisciplinary at the moment, and it's very early days. I'm working for the National Biofilms Innovation Centre, where I connect academia to the industry, and I am a witness to these very early discussions."
"What excites me is the healthy skin signatures in different areas of the body - in the gut and skin ACES (Asynchronous Coded Electronic Skin), and also nowadays the skin microbiome regulating the skin and brain ACES during stress. To me, these are important, important and interesting pieces of work."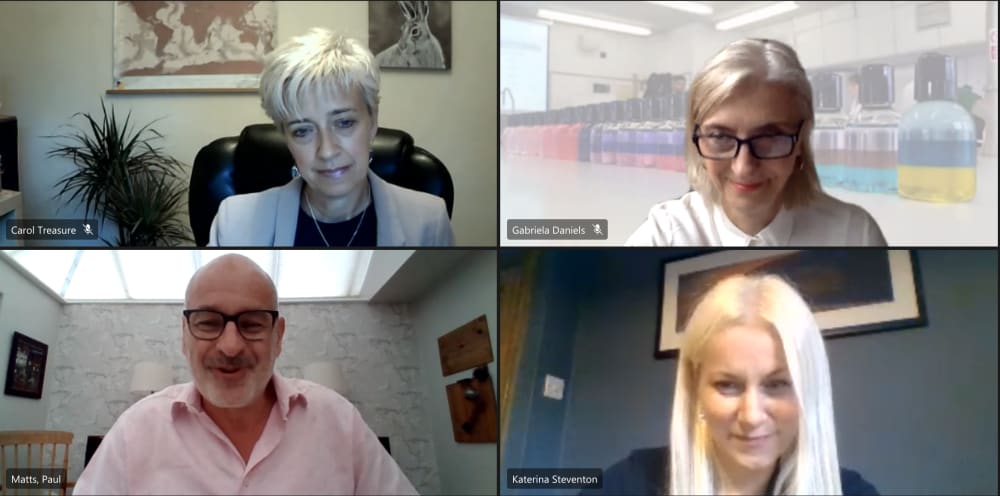 Dr Carol Treasures

"I think there's been so much to celebrate over the last five years or so, in terms of new science that's coming to the fore for cosmetic testing. When we think about the world of cruelty-free, and non-animal testing, it's easy to think about what we're not doing … I think that now we're shifting the focus towards what we are doing, and I think consumers still very much want to ensure that their products are safe."

"The other thing that really jumps out, that is really kind of stating the obvious, is over the next 10 years, I think so much in the cosmetics industry is going to be all about what can we do to contribute to sustainability and ethical practices and looking after the planet. It's a critical decade for climate change for biodiversity, and the cosmetics industry get involved with that I think in and to make sure that we're playing our part."
On the question of what graduates can do to help navigate the pandemic

I would probably encourage the students to think about how to really communicate their message to the public when they go out into industry because the public really is the driver, ultimately, of all the regulatory change all the trends. And I think that sometimes, the cosmetics industry is not good enough at communicating its successes.