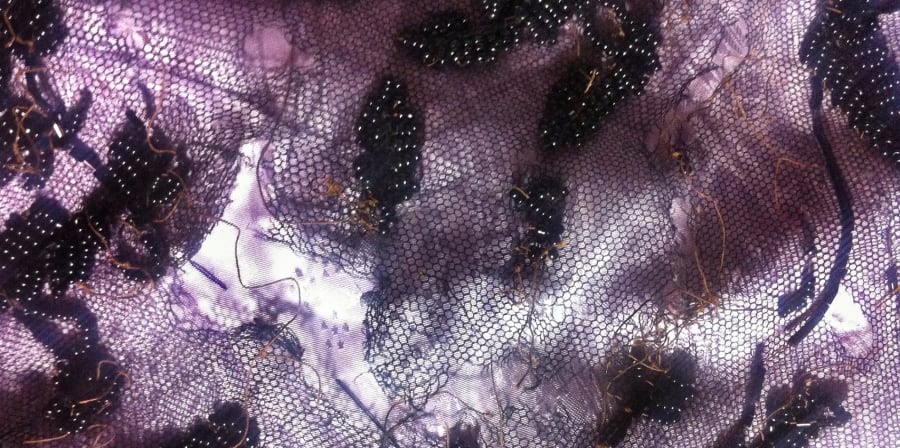 This interdisciplinary group of researchers specialise in twentieth-century and contemporary fashion.
About this group
Based in central London, the research group has international links to universities, museums and industry worldwide. Its researchers work on fashion in relation to a wide range of topics including gender, everyday life, gothic studies, literature, performance, queer theory, representation, sexuality and social class. Rooted in the humanities, their work spans social history, gender studies, art, design and film history, curation, and visual, literary and material culture studies.
Their approach to the history and theory of fashion is informed by the art school context in which they work, with its close links to the fashion degree courses at Central Saint Martins on which they teach: the Fashion History and Theory pathway of BA (Hons) Fashion Communication, and the Fashion Critical Studies pathway of MA Fashion Communication. On the latter, students consider the social, political, cultural and economic role of fashion in its various local and global contexts.
The group welcomes PhD applications on fashion in the following areas: history, theory, curation, photography, film and moving image, literary, material and visual culture.
Group members
Alistair O'Neill | Dr Jane Tynan | Marketa Uhlirova | Dr Victoria Kelley | Dr Royce Mahawatte | Cally Blackman
Research students
Sally Bolton | Tamara Tyrer | Rosemary Wallin | Tolulope Olabisi OMoyele | Vija Vilcins
Activities and outputs
Alistair O'Neill, interview, La mode exposée / Fashion curating, (ed.) Marchetti, HEAD Geneva, 2016.
Alistair O'Neill, talk, Embodying Fashion, Disegno/YKK, 26 October 2016.
Alistair O'Neill, talk, Terence Donovan, the Photographers' Gallery, 21 September 2016.
Alistair O'Neill, judge, Graduate Fashion Week, June 2016.
Alistair O'Neill, judge, International Fashion Showcase, British Fashion Council/British Council, February 2016.
Caroline Evans, International panel judge, 'Angewandte 16' diploma fashion show, (course director Hussein Chalayan), Institute of Design, University of Applied Arts, Vienna, 10 June 2016.
Caroline Evans, lecture at the Parsons Festival at the New School, New York, on 'Fashion, Memory and Materiality', May 2016.
Caroline Evans, four public talks for the University of Chicago and the School of the Art Institute of Chicago in May 2016, including the keynote lecture 'The Trace of Denise Poiret' at 'Salvage 3.1', a symposium organised by the Object Cultures Project at Chicago University.
Marketa Uhlirova - interview about Fashion in Film Festival, November 2016.
Marketa Uhlirova: Fashion in Film Festival season in Miami, 2016
Victoria Kelley has been awarded a writing residency by the Hosking Houses Trust for spring 2017, to work on her book on London's street markets.
Victoria Kelley has been commissioned to write a critical essay, to be printed on silk, as the concluding work in textile artist Shelly Goldsmith's Crafts Council Funded project, 'Locus of the Dress', 2016.
Cally Blackman: Lecture: Vogue 100: Fashion, Women and Society. 3rd March 2016, National Portrait Gallery, London.
Caroline Evans: article 'Are Models Too Skinny? The debate fashion has been having since 1900' Guardian Online, January 2015
Cally Blackman: Conference paper: Around the World in Colour: the Salon du Gout Francais 1921-1923. In: Fashion, 2-3 July 2015, Institute of Historical Research, UCL, London.
Guy Bourdin exhibition, Somerset House, 2015
Fashioning Winter: exhibition displays at Somerset House, 2014-2015
Cally Blackman: Conference paper: True Colours: Dress and Fashion in Autochromes from Albert Kahn's collection 1914. In: Mode et Guerre Europe 1914-1918: Fashion, Dress and Society during World War 1, 12th and 13th December 2014, Institut Francais de la Mode, Paris.
Radical Gestures: designing protest, resistance and refusal, 2013
Somerset House - Valentino: Master of Couture curated by Alistair O'Neill, 2012-2013
Fashion at the Association of Art Historians' Annual Conference, 2012
Museum of the Moving Image - Fashion in Film Festival: If Looks Could Kill, 2012
Archaeology of Fashion Film Project
From September 2017 Central Saint Martins/University of the Arts London will team up with Winchester School of Art/University of Southampton on a two-year research project funded by the Arts and Humanities Research Council (AHRC).
Entitled Archaeology of Fashion Film, the project will run between 1 September 2017 and 31 August 2019 and will be led by fashion historian and theorist Professor Caroline Evans as Principal Investigator, media scholar Jussi Parikka and art historian Marketa Uhlirova as Co-investigators.
About the project
In an era witnessing a rapid proliferation of the digital moving image across commerce and culture, this research project is the first to investigate the hidden history of fashion film, going back to the beginnings of cinema. It asks what legacy this new history may have for the rapidly changing field of fashion communications today.
Emphasising the transformative effects of film on fashion, the project forges a new understanding of film as a 'fashion medium' and as a 'fashion object'. It will make a major contribution to scholarly studies of the history of fashion, of film, and of fashion film, and will change how contemporary fashion filmmakers and other media practitioners understand the history of their discipline and the media cultural context for their own creative and commercial work.
Positing fashion film as a unique hybrid of two industries with distinct practices, resources, and motivations, the project's interdisciplinary approach provides a new historical and theoretical framework for understanding this important and increasingly popular phenomenon. To that end, the project brings together scholars with combined expertise in film history, fashion history and media studies, and practitioners involved in various aspects of contemporary fashion film production.
Project partners include: British Film Institute, Somerset House, Moravská galerie, AnOther magazine and British Fashion Council.
About the investigators
Caroline Evans: Professor of Fashion History and Theory at Central Saint Martins, University of the Arts London. She has published widely on historical as well as contemporary fashion, and her recent publications include Fashion at the Edge and The Mechanical Smile: Modernism and the First Fashion Shows in France and America, 1900-1929 (Yale University Press, 2013) and 'Materiality, Memory and History: Adventures in the Archive' in: Isabella Blow: Fashion Galore! (Rizzoli International Publications, 2013).
Jussi Parikka: a media theorist and Professor in Technological Culture & Aesthetics at Winchester School of Art (University of Southampton). He is also co-founder of The Archaeologies of Media and Technology (AMT) research group at WSA. His recent books include A Geology of Media, University of Minnesota Press, 2015) and What is Media Archaeology?, (Polity, 2012).
Marketa Uhlirova: an art historian and curator currently specialising in the intersections between fashion and film. She is senior research fellow in Fashion History and Theory at Central Saint Martins as well as Director and Curator of Fashion in Film. Her publications include Birds of Paradise: Costume as Cinematic Spectacle (as editor, Koenig books, 2013) and '100 years of Fashion Film: Frameworks and Histories', in: Fashion Theory: The Journal of Dress, Body & Culture, 17 (2), 2013.
Related links and resources