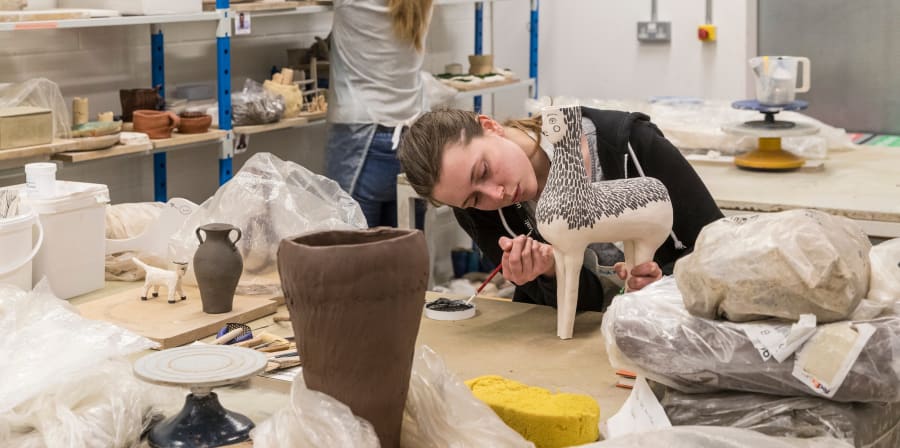 These workshops aim to produce a wide range of high quality ceramic goods for both industrial and craft-based production.
We have a range of ceramics dedicated workshop spaces, including kiln, print, glaze and plaster workshops which adequately meet the needs of our core-user courses. In addition, we have substantial bench space within the main workshops and a shared non-bookable break out space where students can carry out hand work, sketch modelling and 2D sketch development work.
The Ceramic Design workshops are mainly focused on our BA Ceramic Design and MA Design (Ceramics); MA Design (Furniture); MA Design (Jewellery) courses. While any student is welcome to visit us, our workshop is used primarily by students from these two courses.
Attention current students
To find key information and guidance for you to make the most of this workshop - visit the Moodle web page (you'll need to use your UAL email to log in).
Ask a technician
What can students do here?
What is unusual about the ceramics workshop is that it also houses the studio benches. There are nice balances and dynamics of work here. We work with plaster/wet clay to hand build and also throw on pottery wheels, and we do a lot of plaster modelling, making models, moulds, which then get slip-cast using liquid clay, and this is an important feature of the industrial design process in ceramics. We have a print area as well, which is specialized just for ceramics. So you can screenprint your own images via coloured enamel, and it gets transferred onto a glazed surface, like you see with much tableware.
What is the most common request you get?
Fashion students love to come in and make ceramic buttons. Jewellery students like to work with porcelain. Product Design students like to make ashtrays and Fine Art students like to make Christmas presents.
Have you ever had to say to a student that a project was impossible?
One person in Foundation once said she wanted to make a huge glass sphere and be able to walk around in it. She absolutely meant it. I had to tell her that we couldn't do that. Nor anyone else for that matter.
You don't want to be the person who tells the students they can't do things. That's the worst part of being a technician.
Something unusual about the workshop...
If you come in here during term time, everyone is wearing white boiler suits. That is now mandatory.
How does the workshop fit in with the overall history of CSM?
Ceramics was part of the Central School for decades. It has evolved, just as the school of design (now the Ceramic, Product and Industrial Design programme) has over the years.
What is it about this workshop that makes it a special place when you are studying at CSM?
You come here because you love materials and process, you want to learn new things on a technical level and you love to work with your hands. It's all about engaging with the material.