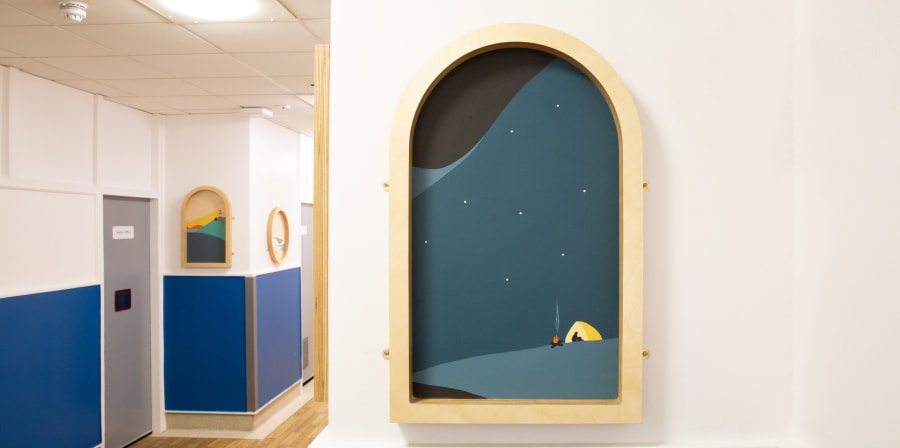 Central Saint Martins worked with Camden and Islington NHS Foundation Trust on a Graduate Consultancy Project to create a more welcoming and stimulating healthcare environment in one of their psychiatric wards in St Pancras Hospital. Two MA Graphic Communication Design graduates devised three distinct design concepts with the aim of providing talking points and opportunities for reflection for service users, healthcare staff and visitors.
The selected design, entitled 'The Journey' is a series of hand painted pictures mounted on wooden 'window' frames depicting a traveller at different stages of a journey – ward staff felt this concept provided a parallel to how service users are encouraged to think about their time in the hospital as a journey.
"To me the ward now feels like a different place, somewhere that people are proud of and take care of. This installation sends a message of care – 'we care about how you experience your time on Laffan ward and we care about you'."

Camden and Islington NHS Trust ward staff member
Project credits: Creative Director: Luise Vormittag; Design, illustration and production: Javiera Godoy and Peggy Wang; Painting Assistants: Anda Cîrstean and Flavio Mancini; Wood Workshop Technicians: Andy Baker, Savvas Papasavva and Rachel Mandsley.
"We're really pleased with how the ward has been transformed by this project; it's a really lovely design, the ward is much brighter because of it and the staff and service users find it very relatable".

Camden and Islington NHS Trust ward staff member