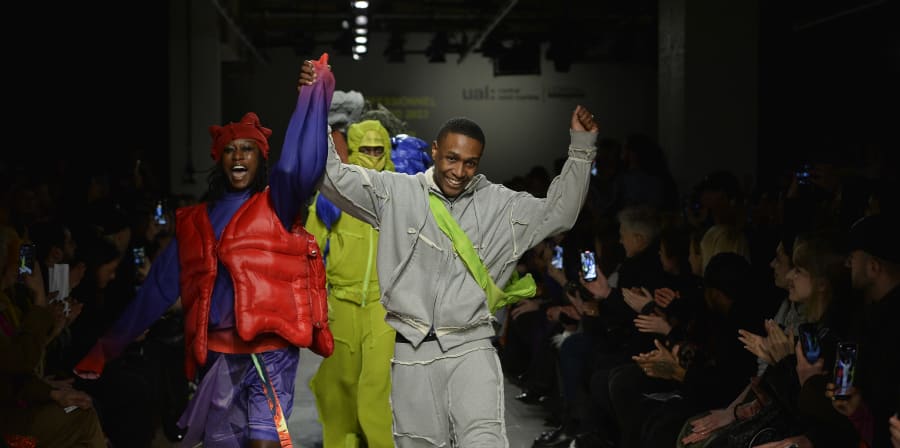 In 2001 L'Oréal Professionnel and Central Saint Martins forged an exciting partnership to nurture cutting edge talent. Aiming to recognise and promote the way hair and fashion are historically linked, the partnership provides a wealth of support through sponsorship of the College's BA and MA Fashion shows, creation of prestigious awards and bursaries for fashion students and collaboration on creative projects.
Contact us
Aasia D'Vaz-Sterling
Partnerships Manager
Email: a.dvazsterling@arts.ac.uk
This ongoing partnership merges the very latest in fashion talent with the creativity of young hairdressers – a unique and inspired collaboration.
— Monica Teodoro, General Manager, L'Oréal Professionnel
For over 20 years the partnership has been challenging up-and-coming fashion talent and creative hairstylists to develop stunning catwalk looks together. Each year our graduating fashion students collaborate with L'Oréal Professionnel's young stylists to develop uniquely creative hairstyles to compliment students' garment concepts.
L'Oréal Professionnel also recognises exceptional talent amongst our graduating students through the L'Oréal Professionnel Creative and Young Talent Awards. Each year three graduates are selected from both MA and BA Fashion to receive a cash prize in recognition for their outstanding final collections. Previous winners of the award have included Grace Wales-Bonner, Richard Malone, Fredrik Tjaerandsen, Goom Heo, Mary Katranzou and Richard Quinn.
Hairstyles and hair colour say as much about you as the clothes you wear, therefore it is not only tremendously exciting, but absolutely vital for L'Oréal Professionnel to forge a relationship with one of the most eminent fashion schools in the world.
— Monica Teodoro, General Manager, L'Oréal Professionnel