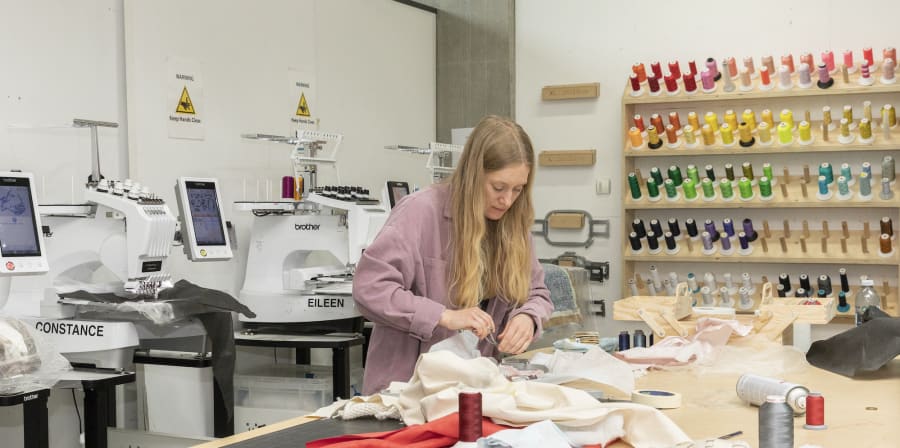 The Surface Design Lab workshop provides digital print design and embellishment facilities for textiles and soft surfaces.
Digital print facilities include a large format dye sublimation printer for heat transfer printing on to synthetic fibers, as well as a large format direct pigment printer for plant and animal fibers. A small direct to garment printer is also available for printing on unconventional fabrics that may have an uneven and/or raised surface.
Digital embroidery facilities are available for students who wish to learn how to use specialist embroidery software to design, edit, and embroider their artwork using one of four digital embroidery machines. A Juki Irish zig-zag machine is provided for a more manual approach to embroidery design and hand embroidery tools are offered to students to use within the workshop.
The workshop stocks a small range of recycled polyester fabric for dye sublimation printing and a large range of sustainable natural fabrics suitable for pigment printing including recycled and organic cottons, bamboo, milk protein, and corn biopolymer fabric. A sustainable fabric and trim material library and a range of specialist books are available for students to reference.
While any student is welcome to visit us, our workshop is used primarily by students on Fashion and Textile design courses.
Equipment:
Dye sublimation large format printer – Epsom Surecolor F9300
Direct pigment large format printer – Mimaki Tx300P-1800Mkii
Direct Eco pigment printer – Epsom SureColour F2100
PR Brother embroidery machine (x2) – PR1050X
PR Brother embroidery machine (x2) – PR655
Juki Irish – Juki LZ-271
Attention current students
To find key information and guidance for you to make the most of the CSM Surface Design Lab workshop - visit the Moodle web page (you'll need to use your UAL email to log in).