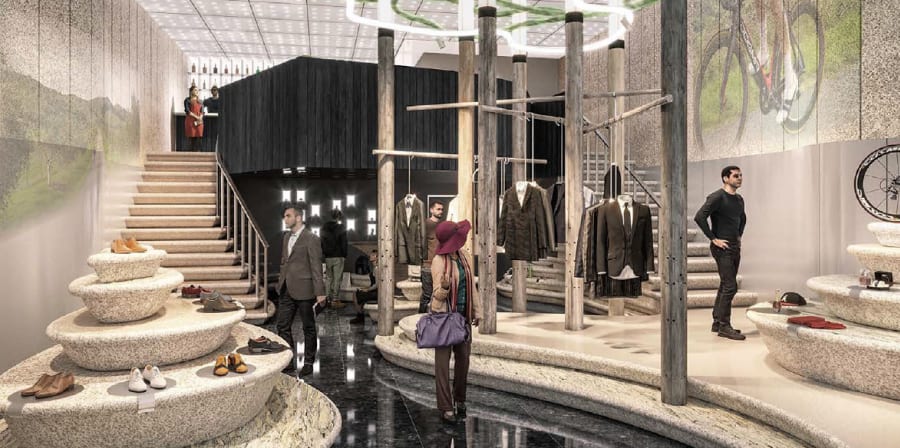 As part of the LVMH x Central Saint Martins partnership, BA Architecture and MA Narrative Environments students worked with Maison staff and Central Saint Martins graduates to deliver designs for a 'Green Concept Store'. The store would be designed to house several LVMH Maisons with products ranging from leatherwear to luggage and bicycles to wines and spirits.
Working to a set floor plan, three teams submitted concepts that focused on sustainability and environmental performance, this was conveyed aesthetically through the choice of construction materials and eco-friendly ventilation systems. Teams were also required to present the sophistication and luxury synonymous with the brand. Inspiration sprung from a variety of sources, such as romantic landscape painting and the passing of the seasons. Design features included upcycling, innovative eco-materials, agile modular display and algae filtration which would release purified oxygen into the store. The designers' ideas were presented to the client through sketches, visuals, mood boards, storyboards and technical drawings, including an ECOdesign audit. The plans also took into account back of house layout, visual merchandising displays and overall experience of the customer as they moved through the store.
"[Working with LVMH staff] was refreshing as they would help to balance the ambition of the students with the professional understanding of how to turn radical concepts into real experiences."

Jordan Cottage, Central Saint Martins BA (Hons) Architecture graduate
The winning team, Journey, was made up of four Central Saint Martins students (Annie Hung, Marta Kedziora, John Langran and Lingze Wang) and one graduate (Jordan Cottage) and takes the customer on a journey through nature; their designs are displayed in the gallery above. The work takes inspiration from Caspar David Friedrich's 1818 painting Wanderer Above the Sea of Fog in which a traveller stands atop a mountain, surveying the natural beauty which surrounds him. In the store design, the customer travels through a valley, cave and forest before reaching the pinnacle of a first-floor "mountain-top" bar from which they can survey the "landscape" before them.
"The collaboration with industry professionals and environmental consultants, and the research and sourcing of innovative materials pushed our students beyond their comfort zones. This project provided real-life experience that challenged them to integrate their research and design skills with their embedded understanding of environmental principles and concerns."

Oscar Bonito-Gonzalez, Senior Academic for Spatial Practices