FUNDAMENTALS: Beauty
Booking for this series opens on 3 January 2019.
Events in the series include:
The Public | 24 January 2019, 6.30pm
The Architects | 7 February 2019, 6.30pm
The Planners | 21 February 2019, 6.30pm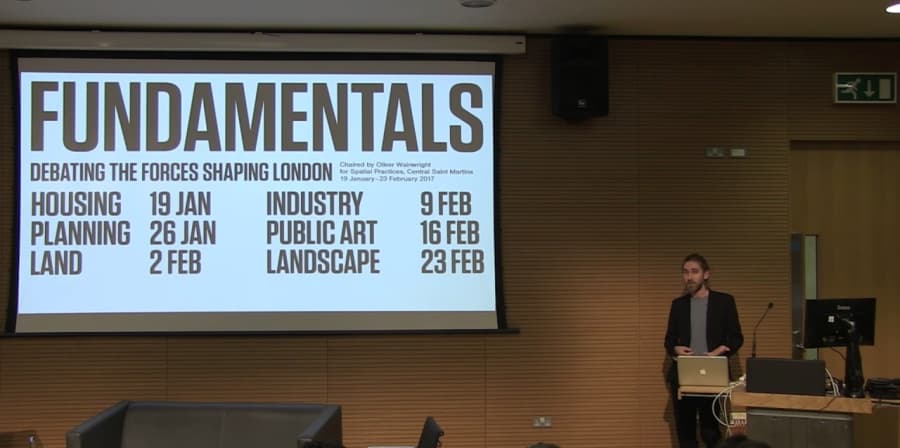 The Way We Work
25 January - 3 March 2018
Chaired by Oliver Wainwright for Spatial Practices
Having begun by looking outwards, interrogating the fundamental forces that shape our cities, this year's debate series focuses the spotlight on the profession of architecture, taking a long hard look in the mirror to tackle the way we work. Architectural education is in crisis, staggering on as an overlong, overpriced indulgence with a tenuous grip on reality. Architectural practice only survives by running an exploited labour force of overworked, underpaid, precariously employed staff, fuelling an industry devoid of the power it once had. The best projects go to the worst practices, with risk-averse procurement systems leading to work being awarded to global conglomerates and safe pairs of hands. The architectural profession is broken at every level – how can we fix it?
The Way We Work: LEARN
From the rise of live projects and collaborative studios that engage with real development sites, to practice-based models of education that do away with the school all together, how can architectural education evolve to remain relevant?
The Way We Work: WORK
How can labour practices be reformed to avoid the architect's exploitation and extinction, or will an unregulated market ultimately correct itself?
Architectural Workers – campaign group | Lucy Carmichael – Director of Practice, RIBA | Harriet Harriss – Royal College of Art | Peter Morris – Allford Hall Monaghan Morris | Patrik Schumacher – Zaha Hadid Architects
The Way We Work: BUILD
Is procurement too bureaucratic, risk-averse and a barrier to the best design?
Fundamentals Symposium: LABOUR
The Fundamentals Symposium critically investigated architecture, education, and the building industry through the lens of ethical work practices.
The symposium was an initiative undertaken in partnership with Escola da Cidade, São Paulo, Brazil, as part of their Counter Conducts initiative, exhibition and publication.
Ana Carolina Tonetti and Ligia Nobre - Contra Condutas, Escola de Cidade | Adam Kaasa - Royal College of Art | Concrete Action | Chair- Alex Warnock Smith, CSM | Counter-Conducts, A Political Pedagogical Action Book Launch and Drinks
Kadambari Baxi and Laura Diamond Dixit- Who Builds Your Architecture? | Precarious Workers Brigade | Shumi Bose- CSM | Chair: Brendan Cormier
Peggy Deamer - Architecture Lobby, Yale | Reinier de Graaf - OMA | Jeremy Till- CSM | Chair: Mel Dodd - CSM
Previous lecturers
Fundamentals 2017 (19 January – 23 February)
Chaired by Oliver Wainwright for Spatial Practices, this series presented work related to the concerns of the programme to the school and the public - visit YouTube to watch the debates.
HOUSING: Barbara Brownlee, Westminster City Council | Kareem Dayes, RUSS Community Land Trust | Amena Matin, London Borough of Croydon | Reza Merchant, The Collective |Marc Vlessing, Pocket Living
PLANNING: Liane Hartley, Planning in the Pub | Kate Henderson, Town and Country Planning Association | Adele Maher, London Borough of Tower Hamlets | Euan Mills, Future Cities Catapult | Finn Williams, Greater London Authority
INDUSTRY: Mark Brearley, Cass Cities | Jessica Ferm, Bartlett School of Planning, UCL | David Saxby, Architecture 00 | Christian Spencer-Davies, Camley Street Neighbourhood Forum | Paloma Strelitz, Assemble
PUBLIC ART: Alex Chinneck, artist | Mark Davy, Future City | Hadrian Garrard, Create | Anna Harding, Space Studios | Verity-Jane Keefe, artist
LANDSCAPE: Giles Charlton, Spacehub | Jo Gibbons, J & L Gibbons | Anna Minton, University of East London | Richard Reynolds, Guerilla Gardening | Stephen Richards, Gillespies
The 2016/17 autumn lecture series
Alex Warnock-Smith, Urban Projects Bureau | Andreas Lang and Mara Ferreri, Notes from the Temporary City | Carolina Caicedo and Xavier Llarch Font, The Decorators Studio | Sarah Featherstone, Featherstone Young | Alicja Borkowska and Iris Papadatou, YOU&ME | Julia King, LSE Cities | Takeshi Hayatsu
The 2015/16 spring lecture series
Peter Barber, Peter Barber Architects | Helen Marriage, Artichoke | Andreas Lang, public works | Santiago Cirugeda, Recetas Urbanas | Catherine Ince, V&A East | Amanda Levete, AL_A | Jeanne van Heeswijk, Artist | Andrea Zimmerman, Artist | Antoine Picon, Harvard GSD | Verity-Jane Keefe, Artist | Mark Swenarton, University of Liverpool | Oliver Wainwright, Journalist
The 2014/15 lecture series
Prem Krishnamurthy, P! & Project Projects | Maria Smith, Studio Weave | Ines Weizman, Bauhaus Universität, Weimar/CASS | Justin McGuirk, Radical Cities, Strelka Press | Alex Chinneck | Marjetica Potrč | Sophia Psarra, UCL, Space Syntax.
The 2013/14 lecture series
Publica (Lucy Musgrave) | (not) AOC (Daisy Froud) | Studio8 (CJ Lim) | Ooze architects (Sylvain Hartenberg & Eva Pfannes) | Nils Norman | Crimson Architectural Historians/International New Town Institute (Michelle Provoost).
The 2012/13 inaugural lecture series
5th Studio (Tom Holbrook) | Assemble | DK-CM (David Knight + Cristina Monteiro) | 00: Architects (Alistair Parvin) | muf (Liza Fior) | Spacemakers (Tom James) | Markussen/Knutz | Peter Higgins | Teddy Cruz | EXYZT | Liam Young | Doina Petrescu | Nils Norman | Something and Son | Fred Deakin.