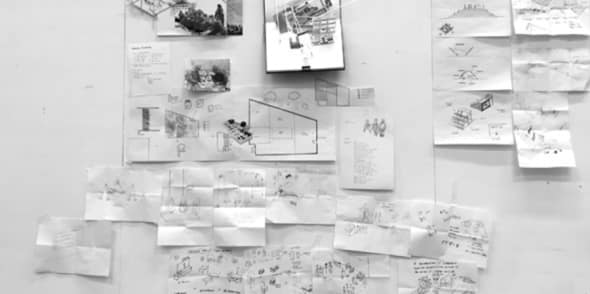 The Bloomberg Dining Experience was a live project collaboration between Spatial Practices, Stanhope PLC and Bloomberg L.P.
As part of the ongoing construction of Bloomberg's European headquarters in Central London there was a requirement for a temporary canteen facility for the 2000 construction workers on the Project. Wanting more for their workers than the traditional modular table and chair units seen at most construction site canteens, Avondale, the project's construction managers, approached CSM to work with Spatial Practices students and staff to explore new and innovative ways of providing a better dining experience for the site operatives, including the design of furniture and finishes.
Led by David Chambers and Kevin Haley from Aberrant Architecture, a group of students from across the BA and MA Architecture courses, worked on this live project as one combined design office to conduct site, desk, social and technical research and analysis, and then collectively brainstorm concepts and develop ideas.
Incorporating feedback from the client, a final design concept for a new canteen was developed for Avondale to construct within their welfare facility. The final concept was inspired by the famous image of the workers on a steel beam atop the RCA building at Rockefeller Centre in New York.
The success of the new design was down to the students' engagement with the workforce prior to commencing their concept designs, utilising their feedback to create a fantastic space which they now enjoy everyday.
Who was involved
Students:
Neba Sere
Carla Motola
Mikel Azkona
Ilaria Catalano
Alma Mpungwe
Marianna Janowicz
Tutors:
David Chambers
Kevin Haley (Aberrant Architecture)