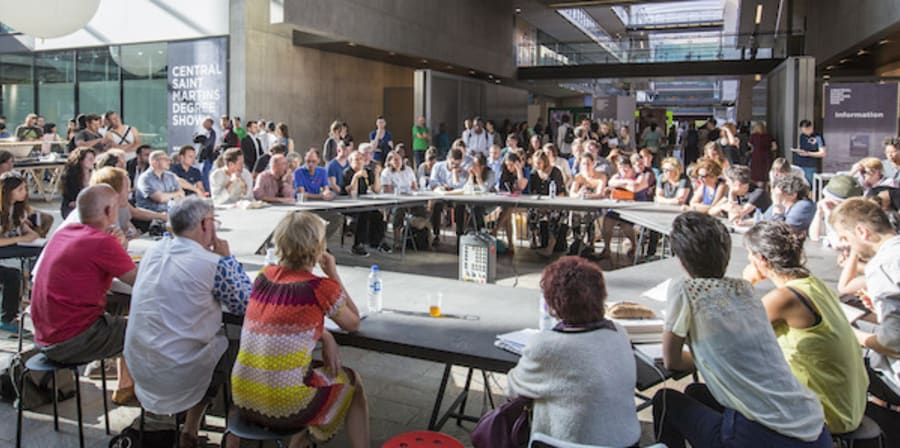 Contested Space 2016
The Spatial Practices Programme at Central Saint Martins hosted the final series of Contested Space, a forum that explored the complexity of current approaches to the production of space in the city. Contested Space was a platform for open-ended talks, and critical debates intended to promote an exchange of ideas and questions exploring conceptual and disciplinary boundaries, and asking social and political questions.
Contested Space took place at a Round Table in the Crossing and was part of the Spatial Practices Degree Show.
The right to the city: democracy and space
Guests: Concrete Action |Rural Urban Synthesis Society | Granby Four Street CLT & Assemble | Limehouse Community Forum & The Decorators | Peter Macfadyen (Flat Pack Democracy) | Anna Minton (UEL) | James Parkinson (Greater London Assembly) | Biljana Savic (Urbanist)
Now what? Beyond the project
Guests: Robert Mull (Architect) | Suzanne Hall (LSE) | Mel Dodd (Spatial Practices, CSM) | Mauro Baracco (RMIT University) | Michael Edwards (The Bartlett)
The myths and realities of co-design
Guests: Joanna Choukeir (Uscreates) | Lucy Kimbell (Innovation Insights Hub) | Johnny Mallinson (Innovation Unit) | Benjamin Reichen (Åbäke) | Adam Thorpe (Public Collaboration Lab) | Donna Turnbull (Voluntary Action Camden)
Contested Space is curated by Dr Melanie Dodd, Patricia Austin, Oscar Brito, Shumi Bose and members of the Spatial Practices programme.
Contested Space 2015
2015 round table guests: Jane Hall, Faisal Butt, Daniel Hill, Lev Kerimol, Dick van Gameren, Sam Jacob, Dr Michelle Provoost, Eileen Conn, Edward Denison, Verity Jane Keefe, Andreas Lang, Adam Smith, Fran Tonkiss, Federico Wulff, Jeremy Till, James Binning, Alice Edgerly, Fran Edgerly, Glen Jenkins, James Meek, Cany Ash, Peter Higgins, Fred Manson, Thomas Sevcik.
Contested Space 2014
The first series of events related to Contested Space took place during the Central Saint Martins degree show in June 2014.
2014 round table guests: Teddy Cruz, Orsalia Dimitriou, Eleanor Fawcett, Liza Fior, Carl Fraser, Daisy Froud, Giulia Carabelli, Günter Gassner, Anna Harding, Nicolas Henniger, Tom James, Roger Madelin, Richard Reynolds, The Decorators, Oliver Wainwright, Finn Williams, Jeremy Till. The events were preceded by performances and interventions by AIR Studios, Flock Collective, Rebecca Ross & Chi Nguyen.