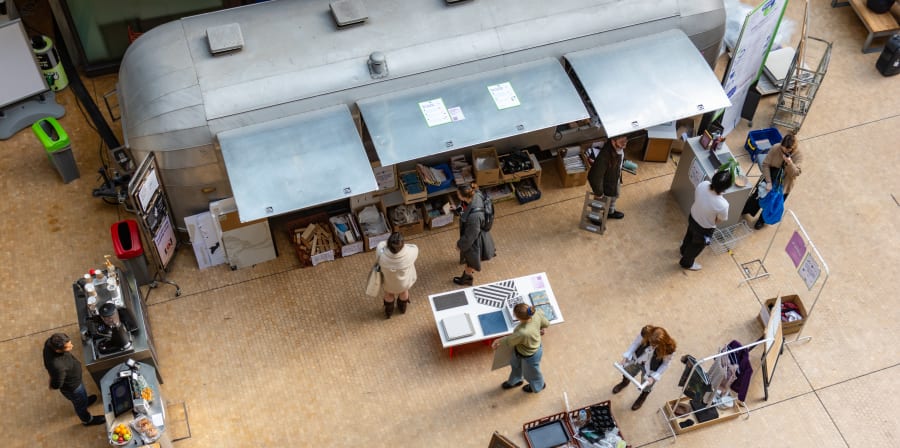 Housed in the Airstream at Central Saint Martins, Swap Shop is a circular material hub powered by graduate duo Renée Materials. It takes in leftover and surplus donated materials of all kinds, making them freely available to UAL students who want to give them use or a further life as part of their creative projects.
Everything that comes in is weighed and catalogued and before being displayed, a material may be assigned a fresh identity. So a tablecloth is reborn as a textile, a laser machine offcut becomes a plastic shape, and so on. Then it's ready to be made available for free to students and staff.
You can find soft and hard plastics, wood, electronics, tiles and paint, lampshades and paper. Textiles of all kinds. Cables, rubber and wire. Donations come mostly from companies in London, and from staff and students involved in making projects.
So-called waste
Swap Shop was launched by UAL Climate Emergency Network, after technicians and students at Central Saint Martins called for a space where unwanted materials could be reused, repurposed or repaired. Supported by Renée Materials, The Swap Shop been a full-time fixture on our campus since October 2022, open to the entire University community.
A female early stage start-up that builds a bridge between companies and their surplus reusable material, and the students, creatives and makers that need it for their projects, Renée Materials is led by London College of Communication alumni Frieda Bischoff and Vassi Deij. The concept also formed the basis of their final project on the MA Design for Social Innovation and Sustainable Futures.
We believe that something becomes waste just because it is at the wrong place, at the wrong time, with the wrong name. Changing the narrative and displaying the former waste as precious resources to our Swap-Shop-Community we saved 2,6 tonnes of material from the skip within less than 2 months.
— Frieda Bischoff and Vassi Deij, Renée Materials, UAL Swap Shop
Student transformations
Our students have been making work that includes reclaimed materials sourced from the Swap Shop. Here's a selection of projects and pieces by students studying in different programme areas.
Yves Zhang, Graduate Diploma Fashion
What materials did you take from Swap Shop?
I used heavy-duty plastic from the Swap Shop.
What did you create/ what was your project?
It was a materiality project; we were free to use any material and go wild. I designed the twisted shapes in blue and clear plastic that symbolise how water flows. The body piece used heavy-duty plastic and is sealed with cotton and the helmet is sealed with water. This is my very first project in CSM, so I am quite happy with the outcome, but there is potential to be better.
"I hate waste in my daily life, I always gather garbage that I found useful on the street. I used newspaper and tree branches for the other two outfits. To be a good designer, I think it is important to have the ability to turn waste into treasure."
Whatever I design, sustainability is the compulsory factor that I will consider. When I was doing this project, I was looking out for garbage while I was on the street, and it was my first month in London, so it was difficult for me to spot good spaces for "garbage" hunting. Swap Shop really helped me a lot when sourcing material, and I think what they do is very meaningful. It is an amazing platform that can make our projects more creative. And I encourage students not only to check it out, but also to donate their waste to the Swap Shop.
Hannah Millett, MA Architecture, Year 2
What material/s did you find for your project at Swap Shop?
Oversized paper – I think it's from a photography backdrop!
What did you use the material/s for and what was the outcome?
It was the media for screen printing on to – I'm not making with anything other than found or waste materials so when I need printed images and drawings I find material that would otherwise be recycled or worse go to landfill. The outcome is a 0.75x1m print of P.H. Emerson's 1886 photograph, A Reed Cutter At Work in Norfolk, and it was the starting point for my major project surrounding reed thatch as a regenerative natural material that supports biodiversity and a British trade/skill that is close to dying out.
Is it important to you to see the potential in what might otherwise be categorised as waste?
"Waste is a human invention. It has been designed into the way we live and work. So designers and creatives have a responsibility to work our way out of this mess."
Why should people check out Swap Shop?
Reduce waste, save money, make more interesting work, and raise awareness to the institution of UAL that we must do better – until waste bins are no longer needed in the studios.
Mannie Brown Stage 2 Fine Art 2d
What material/s did you find at Swap Shop?
Glitter powder and carpet material.
What were you making/what was your project/what did you use the material for?
My concepts are dreams and nightmares I have and imitating them onto surface.
How do you feel about working with so-called waste?
One man's trash is another man's treasure.
Lidya Zenginel, Graduate Diploma Fashion
What material/s did you find for your project at Swap Shop?
Plastic files
What did you use the material/s for and what was the outcome?
I manipulated each page of the files and the cover also in order to create garments and accessories.
"It was so eye-opening to work with "waste". Also freeing to not being limited with materials, you can use some waste in order to create beautiful piece. Swap Shop is the best because it's located in school and also the materials are various. Swap Shop can be the starter point of your creative process."
Xue Chen, MA Biodesign, year 2
What materials did you find at Swap Shop?
I obtained some squares of white cotton (I think they were once napkins) and an old pair of shoes from the shop and I was exploring the possibilities of upcycling in my project, so I took these materials from Swap Shop.
And what did you create?
My project, Bio-invasive Furs, is made possible using innovative fur technology. Using a 'implanting' technique, invasive plant fibres dyed nettle and ramie fibres are implanted into the fabric. As I wanted to explore the possibility of upcycling with this technique, I obtained these materials from the Swap Shop. First I experimented with making them into bio-leather by pouring a solution of bio-leather made from expired drinks onto white cotton fabric to create a range of drink bio-leather. At the same time, I used a growing technique to implant invasive plant fibres into that leather, cutting and sewing through the cuttings. I produced a range of fashionable products. At the same time I acquired a pair of old shoes. Using my planting machine I experimented with growing nettle fibres dyed using Budddleia into the old shoe, turning it into a whole new fashion product.

For more information about my project check my website, Chensure.
In using these wastes I have acquired, I am acutely aware of the possibilities they contain. For some they may have been discarded, but for me they are materials that can be used to create gorgeous bio-fabric. Even if they are waste, they can still be of more value, the only thing we need to do is to think deeply about them and give answers. Waste can serve us perfectly well, not be thrown away.
What do you think about working with 'waste'?
I think working with waste is a sustainable way of designing that designers overlook as having great potential. In my fashion studies, I use a sustainable design approach to think about my designs. I know that some designers think that waste limits our ability to think and present our designs, but I think that in fact they serve our designs, it is not a limitation but a responsibility as designers to face waste and create more design possibilities by thinking about their value.