We're excited to name the 2023 MullenLowe NOVA Award winners. The chosen work spans product and industrial design, jewellery, fashion, fine art and material futures. Recognising projects such as city-wide power banks for people experiencing homelessness; otherworldly, handcrafted zero-waste garments inspired by memories - and using DNA storage to encrypt a library of sound and film and preserve precious cultural heritage.
The selection was made by a jury including Jose Miguel Sokoloff, Global President, MullenLowe Group Creative Council, Francesca Schuster, Global Director of Retail Experience and Design, Dyson, Fredrik Tjærandsen, Designer & 2019 NOVA Award Winner, Elissa Brunato, Material Designer & 2019 NOVA Award Runner Up, Kristen Cavallo, Annabel Barratt, Strategy Director, Channel 4 and Robert Taylor, Photographer, arts professional and Trustee, QueerBritain.
The first prize, runners up, Unilever #Unstereotype Award and the Country and Town House Regeneration Award, new for 2023, were decided by the jury. The YourNOVA People's Choice Award was voted for by the public.
"The world is accelerating at an unprecedented pace and it is incredible to see how these students have responded through art and innovation. I am amazed by the ingenuity of the students, and I am confident that the winning work represents the very best of cutting-edge creativity in the world right now."
— Jose Miguel Sokoloff, Global President, MullenLowe Group Creative Council
During her research, Liz discovered the tale of the last female cultivator of musa balbisiana, a type of wild banana with seeds, on the remote island of Épi. Immortalising her song in the DNA of the very plant she cultivates isn't only a tribute to the resilient spirit, vibrant heritage and unique contributions of Épi's women, but also a celebration of the rich cultural tapestry of Vanuatu.
"Climate policy and legislation often fail to engage with the urgency of protecting the values, places, and lived experiences of those affected. Low-lying areas will be submerged underwater, other regions turned into dust, and arguably the gravest tragedy of all will be the gradual loss of the rich and diverse flavours that make humanity so unique – our culture. CONTINUED examines the sociocultural cost of adapting to climate change and our complicity in cultural erosion. Utilising the capabilities of DNA storage to encrypt a library of sound and film all in one seed means stories that would be forgotten will be remembered."
"Entities is an audio-visual exploration into our individual perception of reality. Examining the two fundamentals of life: Energy and Time, Entities investigates are unique understanding of the conscious mind and our respective interpretation of existence. We are invited to think about the nature of all matter; to consider matter and life as energy vibrating at different frequencies. Entities is an ambitious exhibition that manages to be both monumental and tender. A thought provoking, melancholic love letter to life that asks us what it means to exist, and what it means to dance."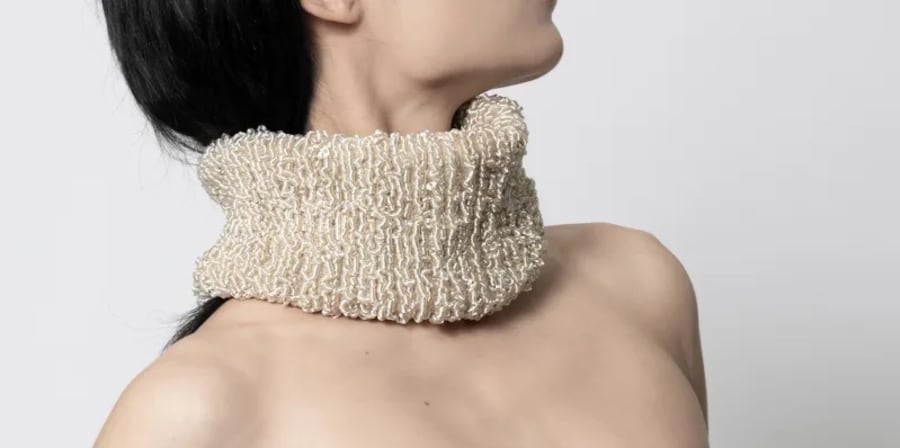 Bocen's collection portrays the interplay between care and restraint, while examining the complex intergenerational dynamics of love and pressure often witnessed in Chinese households.
Employing the medium of silver thread and the intricate technique of crochet, Bocen draws inspiration from her grandmother's hand-knitted sweater, an uncomfortable piece of clothing made from love. In Bocen's work, the juxtaposition between the warmth of yarn and discomfort of silver reflects deep rooted complications and disparities.
"She spun her thread and moved with the rhythmic circular movement that led her into the unknown. With no feeling of time, she could only feel it become incredibly tangible in her hands with her repetitive movements. She started measuring time with the touch of materiality that came to life from her creations. Simultaneously she saw her own reflection in her craft.
Understanding and valuing the process of handcraft to keep the artistry alive is very important to me. Memories entangled in previously owned garments, being led into the unknown in the valued time in the repetitive rhythmic action of making, each piece gets the opportunity to be unique with a romantic feel. Continuous process, step by step gathering pieces of my heritage."
The Unilever Unstereotype Award is presented to the student whose work reflects progressive thinking and breaks away from limiting and outdated stereotypes.
'My Powerbank' is my final year personal project. It is a power bank designed for people experiencing homelessness in London that can be charged for free by attaching it to the frame of any stationary Santander bicycle. It works using a dynamo which connects to the chain of the bike, which, if peddled backwards, engages the chain and generates power stored in their power banks batteries.
From conversations with people who were experiencing homelessness, I found out mobile phones serve as precious lifelines. However, ways of being able to charge phones proved a common issue. This lack of consistent power severely hampers their ability to utilise essential digital services, including banking, social aid, and benefit schemes."
New for 2023, the NOVA Regeneration Award sponsored by Country & Townhouse Magazine recognises a project that promotes circularity, and moves away from a linear economy to one that encourages people and planet to thrive.
Bio Prosthesis is an interdisciplinary project that proposes a way for human hair waste to be used to produce customized prosthesis for people healing from breast cancer.
"Patients experience physical changes during chemotherapy, with hair loss being one of the first moments when their femininity is challenged. In this project the hair lost during the therapy is collected and used to extract keratin. Utilizing keratin as the primary material, I create a prosthesis tailored to the patient's preference. This process enables the patient to regain a sense of wholeness, with the keratin used in the prosthesis serving as a replacement for the loss of their breast, symbolically reuniting the first loss of hair with the body in the form of a prosthesis and facilitating the acceptance process and psychological healing."