Dayna Tohidi, third-year BA Fashion Communication: Fashion Journalism student, shares her highlights of working with the CSM Museum & Study Collection – from an unanticipated online encounter with a Wikipedia administrator to repacking a single garment made up of 100 t-shirts.
I'd never before had the chance to handle and explore the garments I'd seen in books and on mannequins. But when I started my course, I knew that work by my favourite designers were only metres away in a climate-controlled store. That knowledge of the Central Saint Martins Museum & Study Collection gave me goose bumps.
In my first year, Judith Watt, my Pathway Leader, introduced us to the museum and there I met Hussein Chalayan's Airmail Dress from 1993. I felt a surge of excitement as Sarah Campbell, one of the museum's curators, delicately unfolded the paper dress from its envelope structure. Seeing that wonderful object emerge from its home of tissue paper and archival box made me want to explore the collection more.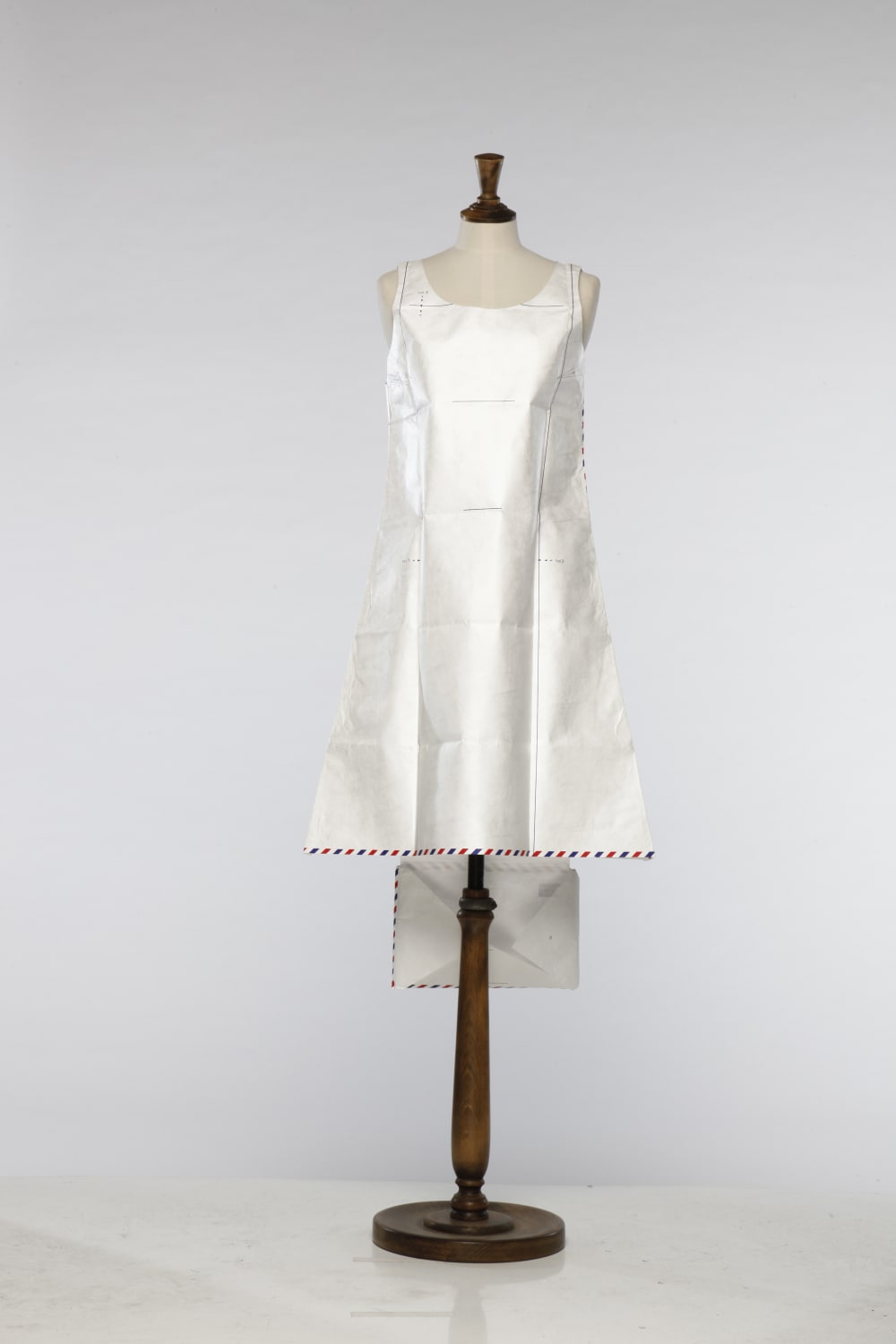 During previous placements I had undertaken at The Times, Elle UK and Christopher Kane, I was assigned tasks on a daily basis. However, at the museum, I enjoyed the freedom and responsibility that came with setting myself tasks and managing my schedule. But there was one particular project that Sarah wanted me to focus on: improving the representation of the female artists from the collection on Wikipedia.
Fortunately for this novice Wikipedia editor, the timing of the project coincided with Art + Feminism's annual Wiki Edit-a-thon in March. I attended the London edit-a-thon hosted by Alexandra Duncan, Academic Support Librarian at the Chelsea College of Arts. It was useful to watch participants make edits in real time and it helped me become more familiar with Wikipedia's stringent guidelines and policies.
When I first started to edit Wikipedia, it seemed relatively straightforward. I created an account for the museum and updated the pages of female artists Vivien Gribble and Pegaret Anthony using information from the museum's database. But to my surprise, a fellow Wikipedia editor blocked my user account and removed all of my edits a couple hours after publishing. My initial reaction was shock, I was offended that my input was removed without any warning. After investigating, I learned that the user was in fact a Wikipedia administrator who, since becoming an active editor in 2011, specialises in combatting copyright issues. They had blocked my account because Wikipedia doesn't allow volunteer users to create pages for organisations. Meanwhile, my edits were removed because I only sited one source, the museum database, which appeared as a conflict of interest.
Although the Wikipedia administrator's actions were justified, this experience made me aware of the ambiguous, unequal distribution of power on Wikipedia. Volunteer editors can be nominated to become administrators by the Wikipedia community. As administrators, they can block user accounts, delete pages and override edits made by volunteer editors. Another revelation was that Wikipedia allows editors to be paid by third parties such as employers or clients, as long as they disclose their affiliations and conflicts of interest. In my view, this contradicts the encyclopaedia's user-led model of volunteer collaboration. Moreover, it damages the website's credibility as an egalitarian and neutral educational resource.
"My experience with Wikipedia was a learning curve. If it weren't for this project, I would have never known about the gender bias prevalent on the site. In 2016, the BBC revealed that only 17% of notable profiles on Wikipedia are about women and 15% of the encyclopaedia's voluntary editors are female. How can gender bias exist when men and women have the same opportunity to edit the resource?"
Sue Gardner, Executive Director of the Wikimedia Foundation between 2007 and 2014, set out to answer this with her 2011 article, Nine Reasons Why Women Don't Edit Wikipedia (in their own words). After my brief stint of editing Wikipedia artist pages, I found myself relating to the following reasons stated in the article: the encyclopaedia's intimidating user-interface, the contentious nature of Wikipedia's talk pages and the likelihood of edits made by women to be deleted by administrators. However, look beyond Wikipedia, and you see the problem is rooted within wider, systemic bias and socio-cultural patriarchy. In 2015, the Wikimedia Foundation gave $250,000 to fund projects aimed at combating the gender gap, of which women accounted for only 34% of submitted proposals. Oh, the irony.
In the end, I decided not to be discouraged by the Wikipedia experience. Using the museum's social media channels, I promoted the work of the female artists I'd researched using the hashtag #femaleartistsinfocus. I knew it wouldn't have the same longevity as a Wikipedia page but it allowed my research and passion for this underrepresented group to be shared. Wikipedia is still a way of creating a legacy for these women but it is complex, and in this case, the museum curators and myself thought we were better off doing what we could with the resources in our control.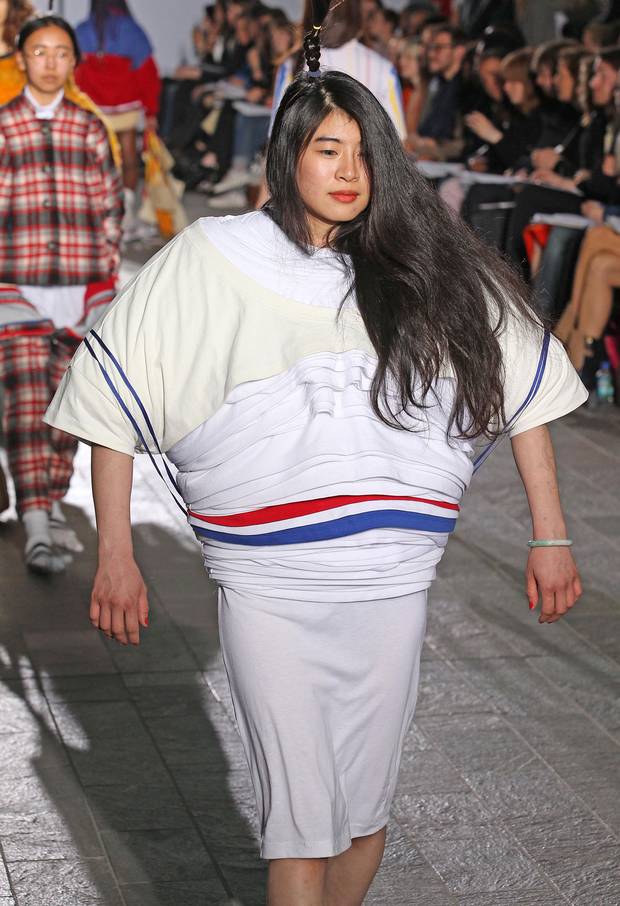 As well as the Wikipedia project, I got some hands-on experience with garments and other works from the collection. I assisted Head of the Museum, Judy Willcocks, in de-installing exhibits in Fashion: Central Saint Martins, curated by final-year students on BA Fashion Communication: Fashion History and Theory. Decked out in protective gloves, we carefully packed away each of the 100 cotton t-shirts layered as part of Moa Usami's Seriously Stupid 100 Layers of T-Shit. I learned that acid-free tissue paper is used for conservation because it helps to prevent the discolouration of garments and it can be moulded into a concertina fold to protect and support delicate parts of garments such as sleeves.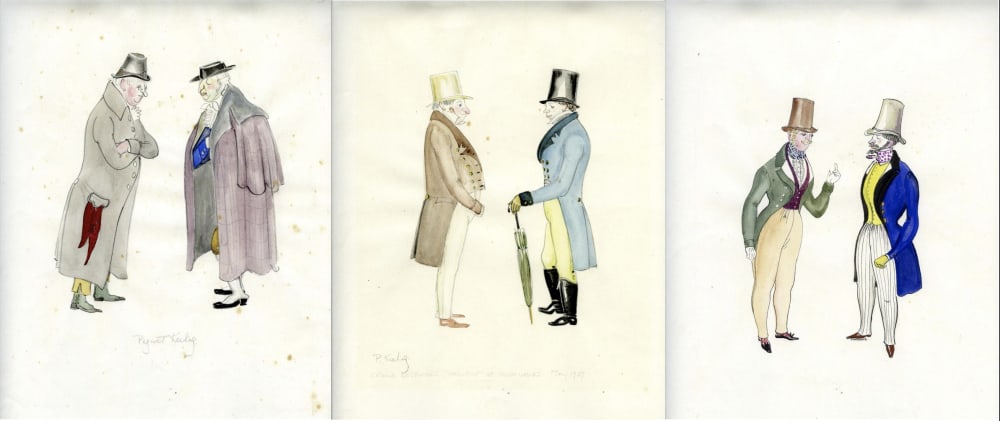 Out of everything that I experienced during my placement with the museum, my highlight was an afternoon in the store exploring the book collection. My favourite discoveries were The Central School of Art & Design Prospectus published in 1897, an early edition of Jane Austin's Pride and Prejudice and Alice's Adventures in Wonderland illustrated by College alumna Helen Oxenbury. The College prospectus was particularly fascinating because, after two weeks of researching for my Wiki project, I had become familiar with several of the names. This included Head of School of Costume Jeanette Cochrane and her students Pegaret Anthony, Norah Waugh and Margaret Woodward, who all returned to the College after graduation to teach on the fashion and costume courses.
Unfortunately, the outbreak of Covid-19 meant that I had to cut my time at the Museum & Study Collection short. Though Pegaret Anthony's illustrations of war workers inspired me to pick up my paintbrush and watercolour Easter cards for my family and friends.