Each year, our second-year BA Fashion Communication: Fashion Journalism students shadow a final-year BA Fashion designer, documenting and writing about their collections. For 2020, we have gathered together a selection of their articles, showcasing the diverse range of skills within our Fashion programme. Begun in the College and finished during lockdown, these profiles give an in-depth insight into the work and inspirations of a selected, graduating designer. Here George Elliot profiles BA Fashion: Fashion Design Menswear student Sam Pomeroy.
The Perfectly Imperfect
With his graduation collection, menswear designer Sam Pomeroy strikes a balance between faultless construction and beautifully imperfect embellishments.
A perfectionist in pursuit of flawlessness, Sam Pomeroy is a menswear designer who is meticulous when it comes to his artisanal work. Every detail ­– from a sketch down to the finest of stitches – has to be just so. "I really like lines, things that match and things that look nice' Pomeroy says, tracing the root back to where this fascination with "perfection" began. "I think that comes from when my dad used to draw up architectural plans when I was young. We'd have these rolls of paper in the house. If I unravelled them I could see all these perfectly drawn, precise lines where everything corresponded to measurements ­– everything was so spot on and so detailed" he adds with a slight Bristolian twang.
His graduate collection is very much an exercise in this obsessive precision, consisting of iconic menswear staples that are faultless in construction, wearable and, most importantly, desirable. But what is perhaps unexpected is that for his designs he has an alternative, more challenging ambition: to reach the perfectly imperfect. When things are too perfect and too polished, they don't look human, there's a certain detachment I think" he explains, unveiling how for him clothes that are immaculate in construction can sometimes seem devoid of any sort of personality.
"My fabrications are going to be what makes this collection really exciting. My shapes need to be nice, flat canvases for everything that I want to do, for the techniques I've chosen to use which will fight my inner instinct."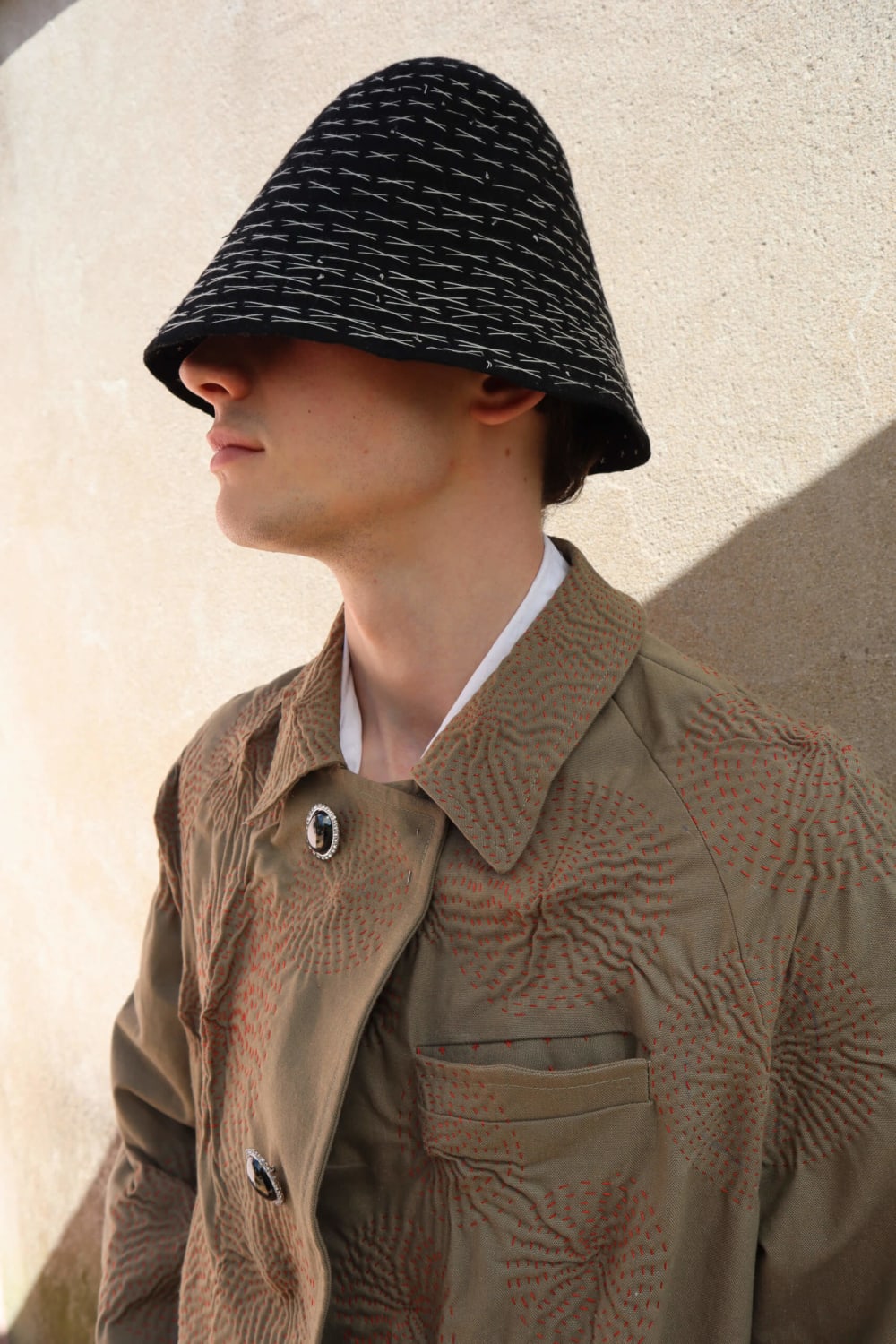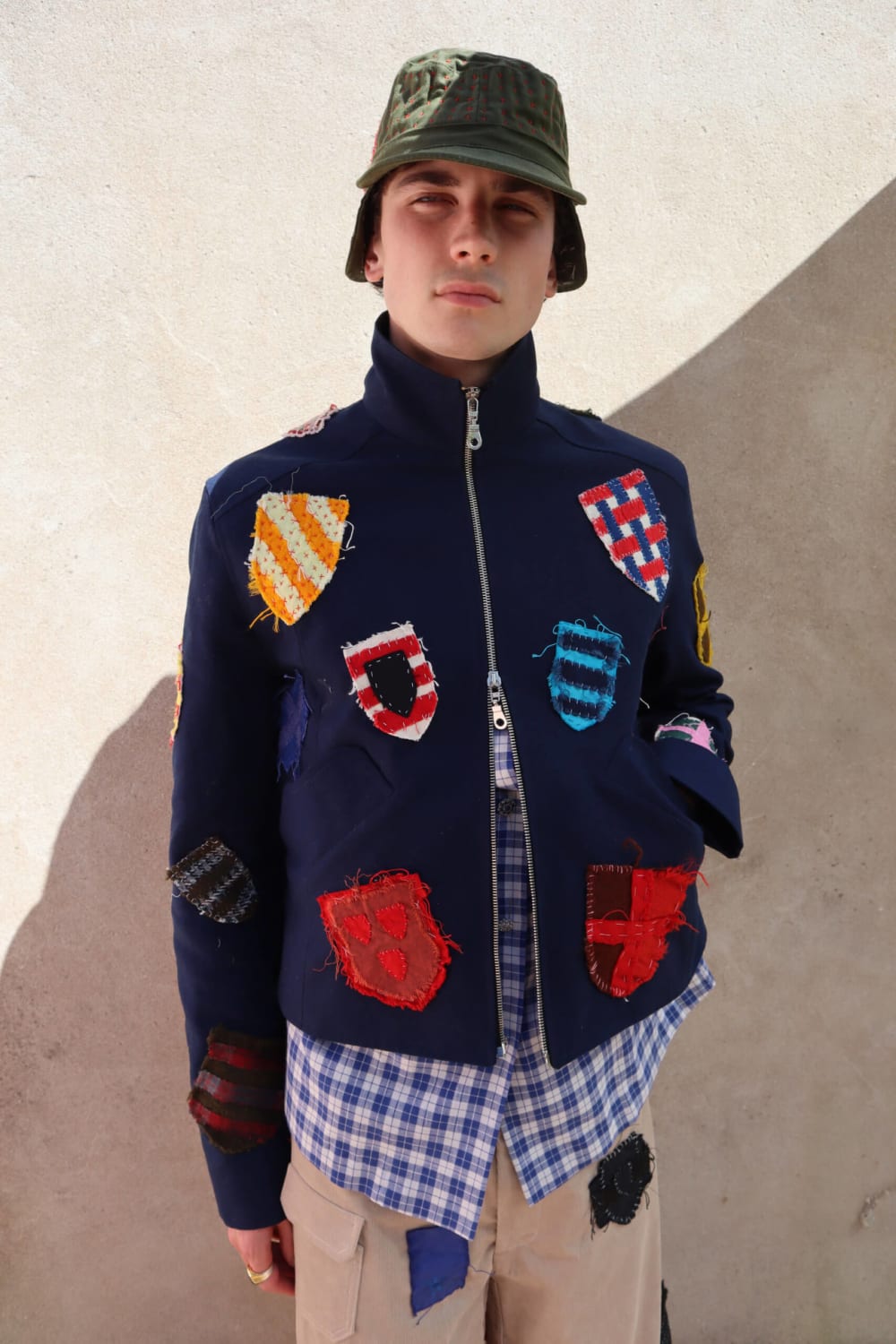 Adorned all-over with hand-crafted felt and cotton patches ­– unique in size, colour and design – stands a pair of wide-legged trousers in beige, a deep blue Harrington jacket and a Swedish army surplus hat. Greatly influenced by Japanese textile artist Junko Oki and her intricate craftwork, the frayed edges of Pomeroy's handmade badges offset the crisp shells they embellish. Similarly, he uses patchworking to counteract his fastidious mindset. Collaging denim together with strips of cotton in clashing prints to make a pair of wide-legged jeans, he constructs an illusion: a garment which looks charmingly repaired while being entirely new. Elsewhere, decorative embroidery also imbues his "flat canvases" with a sense of character. His single-breasted trench coat with deep pockets is one of them, a classic garment now exquisitely ornamented with delicately sewn spirals which create a crinkled, crop circle-like design. "It's about imbuing clothes with more meaning through time, [seeing] the visible hours put into it" he says, challenging the idea perpetuated by the industry that fashion is disposable.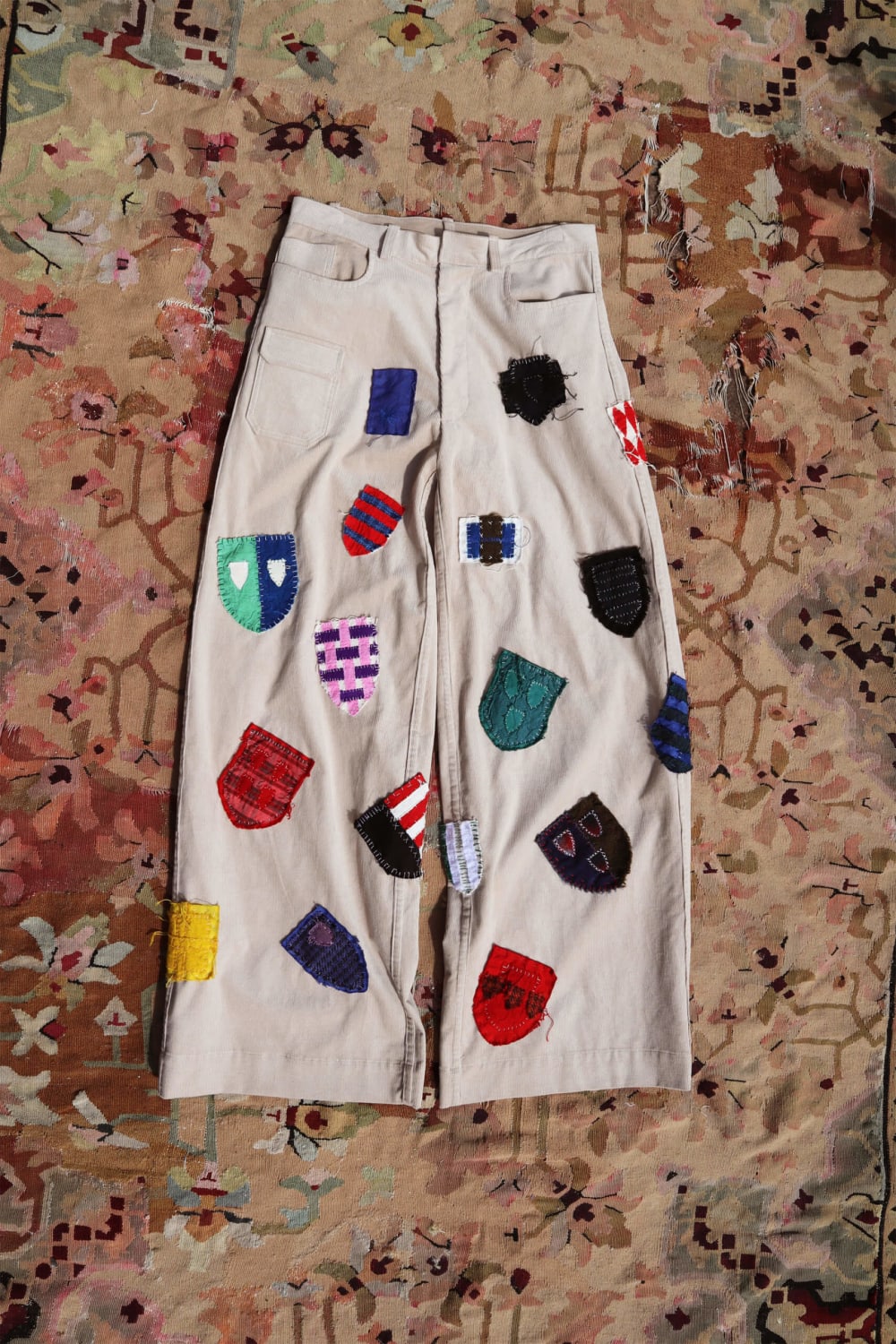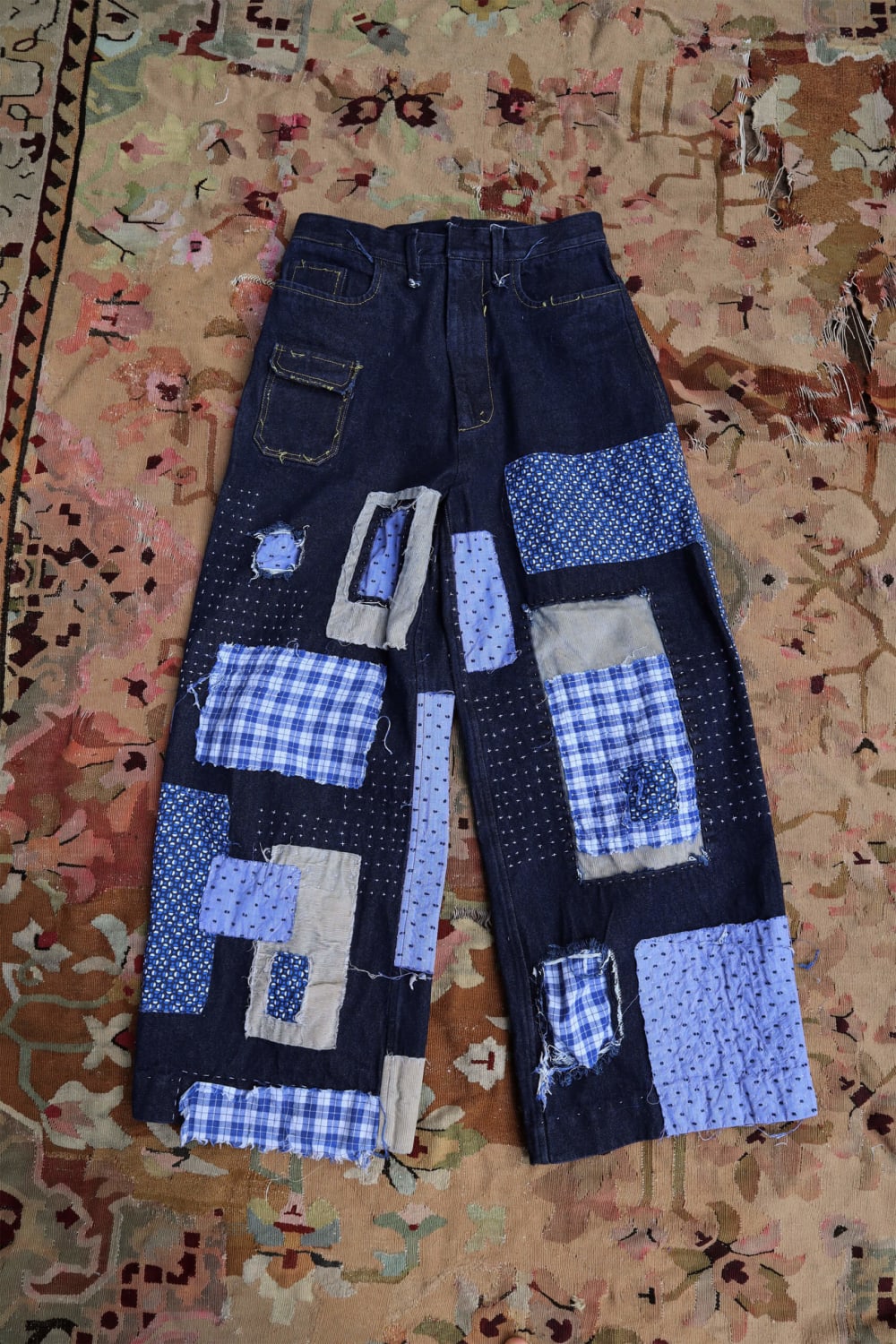 With these details, the designer aims to evoke the collection's true inspiration: British car boot sales. They are treasure troves to him, avenues of stalls each displaying trinkets and treasures, eclectic mixes of ornate carpets, silverware and antique porcelain that lay alongside general bric-a-brac. "When I was a kid I'd go with my mum and I just loved it" he exclaims. "She'd give me 50p which felt like complete freedom. Anything I wanted, I had the money for; I could go and buy whatever, so I'd come away with a game or a little glass animal." Knowing this, Pomeroy's badges suddenly transform into the glinting silver charms and vintage pins that entice customers like magpies. Pomeroy's patch-working captures the spirit of the markets ­– the idea of turning what others would deem trash into treasure. The volume of pockets are there for a reason, each a compartment to store what's bought when traversing the maze of sellers.
During this period of virus-induced reflection for the fashion industry, when its neglect towards the planet is being called into question, Pomeroy's garments are not only beautifully made but are also undeniably poignant; they are a focus on longevity. His graduate collection is a personal triumph ­– a peak from which he can reflect on his formative years, while life beyond Central Saint Martins currently remains undecided for him and many other graduates. As he concludes in his own words: "I have become the designer that I wanted to be."