Each year, our second-year BA Fashion Communication: Fashion Journalism students shadow a final-year BA Fashion designer, documenting and writing about their collections. For 2020, we have gathered together a selection of their articles, showcasing the diverse range of skills within our Fashion programme. Begun in the College and finished during lockdown, these profiles give an in-depth insight into the work and inspirations of a selected designer. Here Josephine Giachero profiles BA Fashion: Fashion Design with Knitwear student Mimi Siriwangsanti.
Knit Wit
Knitwear student Mimi Siriwangsanti translates the splendour of the sunset through ombré prints, romantic layering and subtle shades.
Born and raised by the beach in Thailand, 23-year-old Mimi Siriwangsanti completed her studies at the British International School in Phuket, the country's largest tropical island. She came to London in 2015 to study on the Fashion and Textiles Foundation programme at Camberwell College of Arts, UAL. After completing her foundation, in September 2016, she was accepted onto the Fashion Design with Knitwear course at Central Saint Martins. In her third year, she embarked on a series of working placements, training at By Walid, Pringle of Scotland and Ports 1961. These opportunities gifted the Thai designer with impressive crafting skills, including embroidery and techniques for amending antique garments.
The quiet island lifestyle is something that never truly left Siriwangsanti. Personal messages and healing memories of the beach really come across in her graduate collection ­– a love letter to the island and the sun. Watching the sunset everyday was her form of escapism as a child, an act in which she found solace and beauty: "The shapes of my garments came from my experiments with light and exposure. Watching the sunset as a child was such a warming fifteen minutes of the day. I know it can sound like a cliché ­– everybody enjoys the sunset – but I feel like everyone has a personal view of how the sunset makes them feel. Sometimes it's romantic, sometimes it's sad. I wanted to tell my own story," she explained of her BA collection. In addition to her own experiences, she was also inspired by Surrealist artists Man Ray and László Moholy-Nagy and their way of controlling and mastering light.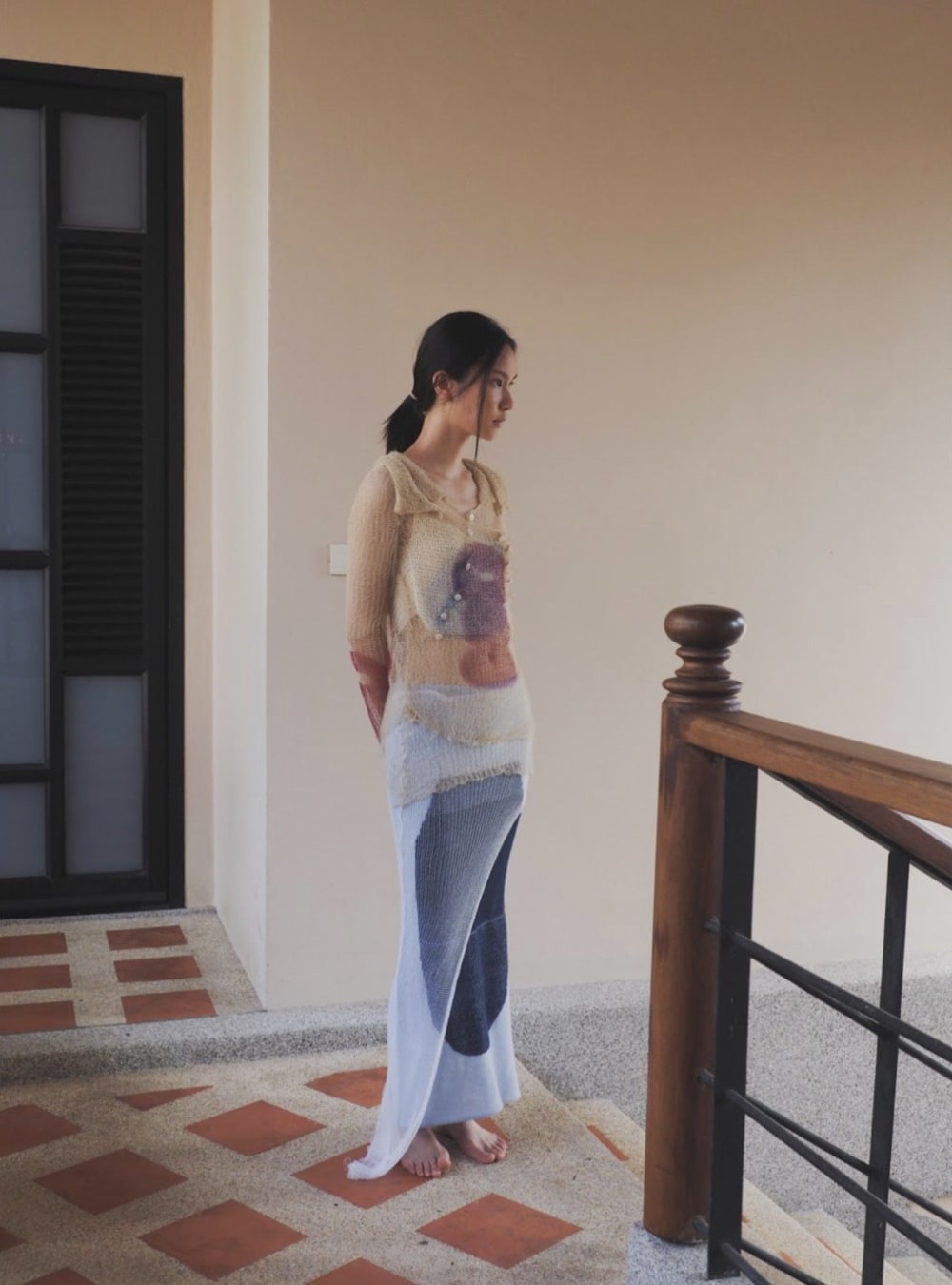 With the use of a crochet hook and sponsored yarn from the Italian supplier LineaPiù, Siriwangsanti made her collection entirely by hand in the confines of her bedroom during the COVID-19 lockdown. Speaking about the processes she has refined, Fashion with Knitwear Pathway Leader Craig Lawrence says, "The combination of intarsia knit with e-wrapping creates subtle textural tones. This helps you create a richness in the fabric quality that can only be made from her intensive techniques."
Siriwangsanti's first garment is a short-sleeved polo neck shirt layered on top of a transparent undergarment, with small buttons crossing like a romantic vine creeper on the left side of the chest. Its sand-coloured surface, crafted with delicate yarn, is covered by subtle circular shapes ­in dark purple and burnt orange – forms developed from her experimentations with light. A sky-blue maxi skirt, wraps the frame of the wearer in a sexy, bodycon manner, with a net-like knitted layer falling gently on the right hip, evoking a sense of beach sensuality.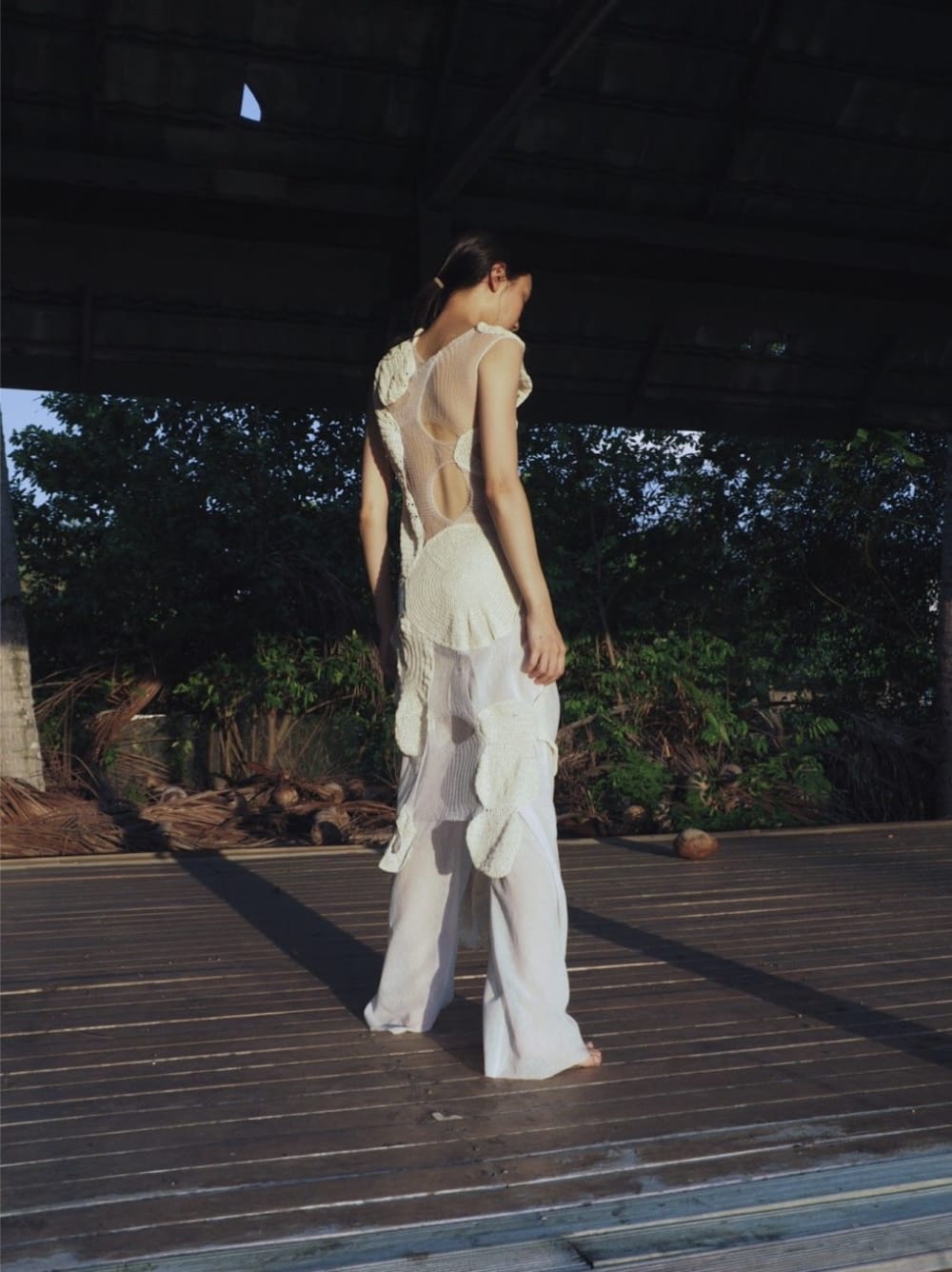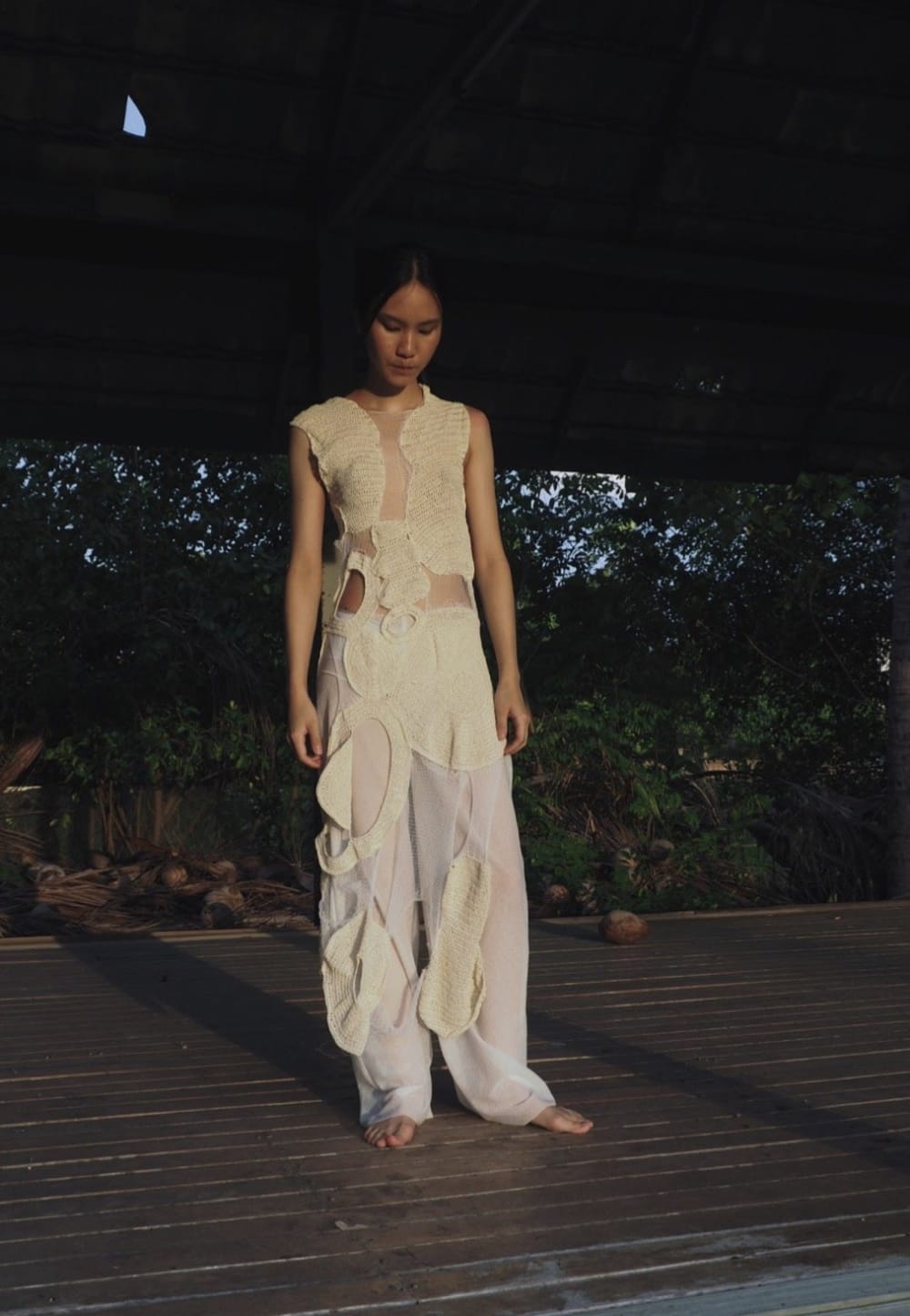 The second outfit features a long crochet dress, with beige circular shapes of irregular sizes scattered and stitched around the silhouette. It's styled with low-waisted white jersey trousers worn loosely under the garment.
"Mimi's outfits are a proposal for a new approach to fashion very much intertwined with the natural. Reflective and mindful, these outfits are tools for healing, evoking a new perspective of oneness with nature." – Craig Lawrence, BA Fashion Design with Knitwear Pathway Leader