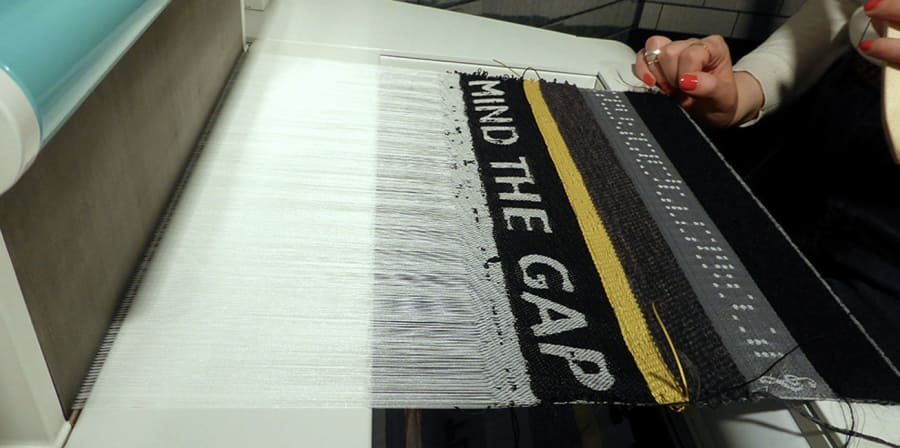 Weaving Futures was a commissioned three month exhibition co-curated by Philippa Brock and Samuel Plant Dempsey at the London Transport Museum from 22 November 2016 to 18 February 2017.
Principle Investigators: Philippa Brock
College: Central Saint Martins
Project summary
Part of LTM's year-long Designology show highlighting the importance of design in London Transport Systems, Weaving Futures explored process and making, considering the importance of woven textile design research and thinking within London Transport systems.
Weaving Futures brought together a diverse band of researchers, artists, architects, product design innovators and woven and printed textile designers, including members of the Turner-prize winning Assemble collective, designers from the renowned Wallace Sewell textile design studio - current designers of the TFL moquette fabrics - through to emerging designer Josephine Ortega and recent textile graduates from Central Saint Martins. Each resident worked to the same design brief to develop their own visual data responses to London transport systems. The exhibition offered the general public the opportunity to observe, interact and participate in the live working practice of residents and workshops, with the curators developing new and immersive display modes to showcase processes of live designing and making throughout the 3 months, including live running of a TC2 studio jacquard loom in the museum and weavers working with resident artists and designers in the live studio to interpret their ideas. 30 new works were designed and made during the exhibition.
Highlights
"A research collaboration with designers Philippa Brock, Samuel Plant Dempsey and Dr Priti Veja combing their expertise in design thinking to explore how electronics can be constructed in woven structures to make integrated soft circuits, wearable technology, smart and inherently smart textiles."
"Weaving Music, with avant-garde textiles label BeatWoven® using sounds of London transport systems to visualise and orchestrate pattern formations in textile design, including live working with weavers to interpret a brief on the Digital Loom."
"Interrogating Textiles with Studio Houndstooth, demonstrating their approach to investigating, interrogating and instigating innovative textile and material design processes through interpretation of a brief."
"Linda Florence, bespoke hand printed wallpaper and installation designer, demonstrating traditional and new print making techniques, including silk screen-printing, ceramic printing and laser cutting. For this project she developed an oyster card data, badge collection."
Weaving Futures residents
Assemble
Beatwoven
Philippa Brock
Camira
Central Saint Martins BA Textile students: Michel Wood, Mimi Forrest, Lily Thornton and Phoebe Sudderick
Gainsborough Weaving Company
Joesphine Ortega
Eleanor Pritchard
Rare Thread - Kirsty McDougall & Laura Miles
Ismini Samanidou
Studio Houndstooth - Jo Pierce
Takram
Priti Veja
Weaving Futures sponsors
London Transport Museum
Camira
Digital Weave Norway
Pointcarre
The Worshipful Company of Weavers
Related links