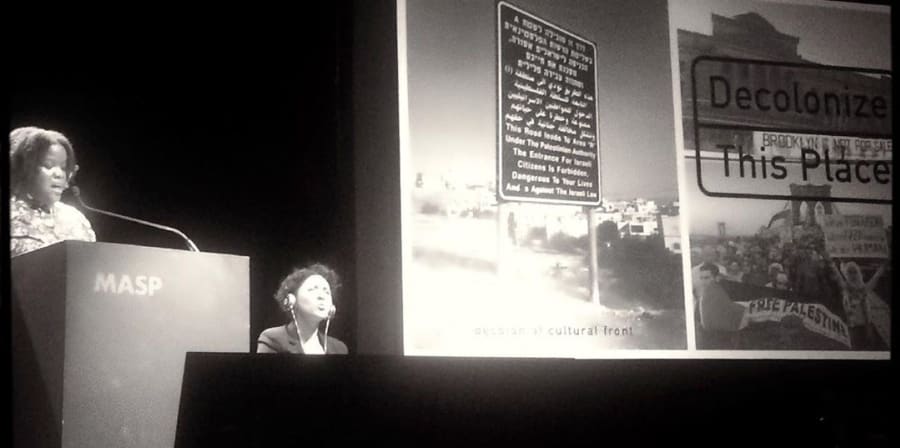 Concepts, critical inquiries and unfinished histories
Principal Investigator: Dr André Mesquita, Museu de Arte de São Paulo (MASP)
Co-Investigator: Mark Lewis, Professor of Fine Art and Co-Director of Afterall Research Centre
College: Central Saint Martins
Funded by: The British Academy Newton Advanced Fellowship
This two-year joint research project, lead by Central Saint Martins through its research centre Afterall and Museu de Arte de São Paulo in Brazil (MASP), critically engages with notions of decoloniality/decolonisation in relation to art history and museums.
Project summary
The Art and Decolonization project encompasses discussions and debates on curatorial and artistic practices and the development of alternative and new readings on the MASP collection. Oriented towards a critical, pedagogical approach to decolonial thinking, the project questions official narratives of the art world as a totalizing history, as well as its Eurocentric configuration.
The project aims to foreground academic discourse around decolonization and, via the context of the Museu De Arte De São Paulo (MASP) and the positioning of the museum as a cultural force, to bring it into conversation with the wider population, thus democratizing the discussion around decolonization and helping to shape more public discussions around diversity in museums as well as decolonial curatorial approaches in Brazil and in the UK.
Founded in 1947, MASP is an independent non-profit private institution devoted to the arts. Today, MASP has the most important collection of Western Art in the Southern Hemisphere – the collection houses more than 10,000 works from a wide range of periods, encompassing art from Africa, Asia, Europe, and the Americas. This project aims to emphasise the discourses, problems and contradictions in the field of politics and visual culture, and to develop new analysis and readings confronting traditional and monolithic visual interpretations of MASP's own collection and institutional history. The project is a unique opportunity to strengthen the current efforts of MASP towards a decolonial Museum practice, in dialogue with the work of Afterall on contemporary art and its relation to wider artistic, theoretical and social contexts.
By bringing academic disciplines, such as art history and exhibition studies, into contact with the different histories of museum practices around the world, the project opens up new curatorial and educational possibilities for art history and museum studies, and brings benefits to various stakeholders, including public art museums in Brazil and their diverse user constituencies, providing them with the opportunity to respond more adequately to issues of diversity and to address more critically the very concept of decoloniality.
Related links