PARC (Photography and the Archive Research Centre)
About us
The Photography and the Archive Research Centre (PARC) is a University of the Arts London research centre based at London College of Communication. The centre's overall aim is to facilitate practise-based and scholarly research that develops an understanding of lens-based works. PARC endeavours to widen participation with archive collections. PARC seeks to expand upon dialogues surrounding decolonialism, climate change, conflict and trauma within the institution and beyond.
It supports photographic and archival research both at the University and within its wider networks. The Centre consists of members, research fellows, associates, PhD students and alumni who together produce significant outcomes that span the history and culture of photography.
PARC was founded in 2003 by Professor Val Williams and Julian Rodriguez, then Dean of Media at LCC. After 15 years as Director – which saw partnerships with the National Media Museum, Tate, Photoworks, Magnum Photos and many others Val Williams stepped down.
In 2018, Directorship of PARC was taken over by Brigitte Lardinois who specialises in photographic archives and has strong links to the world of photojournalism through a decade working as Cultural Director of Magnum Photos. In her tenure as director of PARC she has built strong links with the UAL's Archives and Special Collections Centre and focused PARC outputs on social engaged research and practice.
PARC has an office, a gallery, a studio and a multipurpose work and meeting room. PhD students and alumni as well as our members are encouraged to use these spaces for active research.
Find us in room W224, the former London College of Printing science laboratory, at London College of Communication.
Current projects
The Decolonising Lens Part 6
Hosting Ideas for Progress: Yinka Shonibare
Aired in March 2022, the sixth instalment of the Decolonising lens features PARC member Dr Mark Sealy and artist Yinka Shonibare, chaired by Pratap Rughani. For the rest of the series please see Selected Research.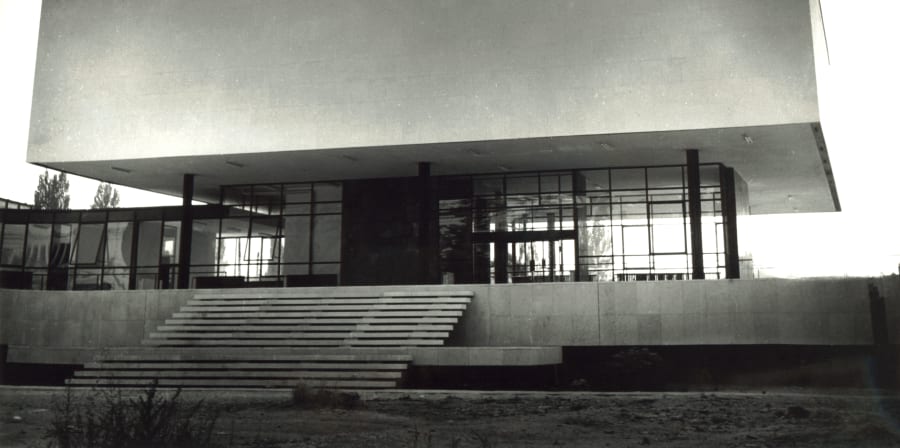 Peace and Conflict Culture Network
The Peace and Conflict Culture Network is an international network that facilitates connections between academics, practitioners and cultural sector workers, and mobilise arts and social institutions engaged in peace, conflict and cultural discourse.
The network will especially foreground the contribution from academics and institutions from post conflict societies in particular from the Former Yugoslavia, Rwanda and the Great Lakes region, Lebanon and the Middle East and Colombia and Latin America.
The Peace and Conflict Culture Network is convened by PARC and funded by the AHRC. The organising team consists of Professor Liliana Gómez, University of Kassel; Dr. Paul Lowe, PARC and London College of Communication; Dr. Nela Milic, PARC and London College of Communication; Professor Kenneth Morrison, De Montfort University.
The first of two conferences to be held in Sarajevo, Why Remember? Peace, Conflict and Culture will run 6 - 8 July 2022.
UAL Photography and the Archive Research Centre
London College of Communication
Room W224
Elephant and Castle
London SE1 6SB
Follow us on Twitter
@PARC_UAL: 8 February 2023
After nearly 20 years at the heart of the UAL research community, the Photography and the Archive Research Centre is closing. Our socials will continue to operate under the new name Photography and the Archive Research Community.
@PARC_UAL: 17 November 2022
@PARC_UAL: 17 November 2022