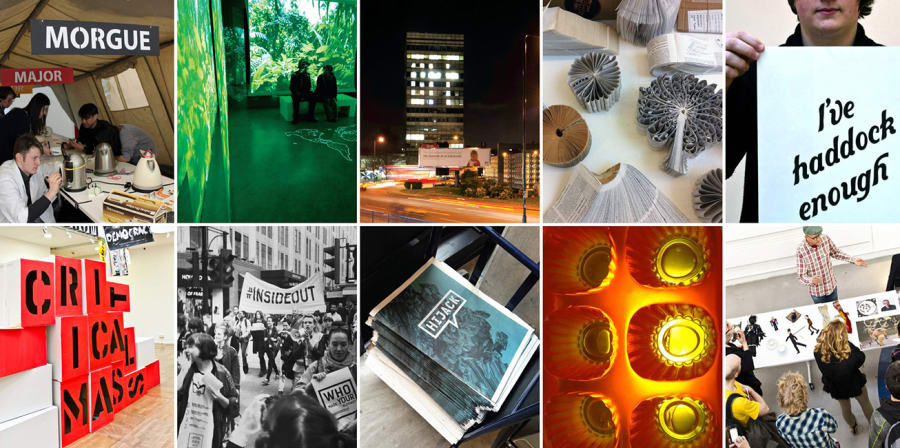 Conscientious Communicators is a cross-disciplinary community established to develop practice-based research around environmental and social creativity.
Objectives
Conscientious Communicators was formed in 2011 at London College of Communication to develop and consolidate a community of practice around environmental and social creativity. The research group has been championed and supported by Head of College, Natalie Brett.
It is an informal cross-disciplinary group of staff, students and industry practitioners who explore sustainability in practice and within the curriculum. Our aim is to nurture a diverse collective that share eco-social projects, research and opportunities.
We believe that education, research and practice need to evolve swiftly together to ensure that the discipline of design communication meets some of the vast challenges of our age, equipping students, teachers and professionals for the imminent future. New approaches, methods and tools are urgently required as sustainable issues expand in a whole range of contexts. Communicators can fundamentally challenge how, where and when to catalyse actions which address sustainability. To do this, we need to understand our material and resource responsibilities; realise the potential we have to change behaviour; create a practical and worthwhile legacy.
Conscientious Communicators has been generated through discussion and exploration with informed and inspirational educators, students and practitioners.
London College of Communication's annual Green Week is curated by Conscientious Communicators. Providing an opportunity for practice-based research, dissemination of working projects, connection with experts in the field and expansion of the community.
Waste off - cross UAL project
The Responsible Design Framework
The Responsible Design Framework (RDF) guide (125KB) gives guidance for embedding responsible approaches and principles within the curriculum while clearly identifying this explicit/tacit knowledge to students. It provides an outline structure to inform staff, students, and other stakeholders, of the School's environmental and social design imperatives