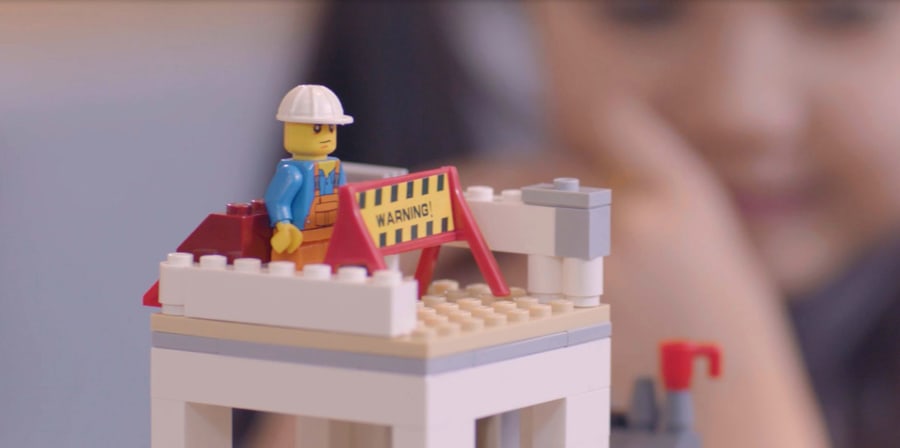 Sir Robert McAlpine is a leading UK building and civil engineering company who are committed to the health and safety of everyone on their sites.
Short films are an important method for promoting positive behaviour and attitudes. Sir Robert McAlpine turned to LCC's MA Film course to produce new films that would be fresh, focused, impactful and credible.
Students from MA Film responded to the brief and pitched their ideas. Three films were commissioned, each responding to a different health and safety priority.
Leave Luck in the Locker tells the story of a construction worker who is having the luckiest day of his life, but leaves luck in his work locker to focus on following safety procedures.
Family Watching asks whether workers would act the same way if their family could see what they were doing, and encourages them to always work as if their family is watching.
Child's Play shows young children building a dangerous Lego construction site but finally saving the life of one of their characters by adding safety barriers.
The students planned their production, wrote scripts, recruited actors and designed their sets. They filmed in the LCC studio and at Sir Robert McAlpine's Broadgate Framework site in central London.
Following editing the three films were delivered to Sir Robert McAlpine who have immediately started showing them on site. The films have been well received throughout the company and have inspired a range of merchandise to further promote their key messages.
Ted Picken, Head of Continuous Improvement at Sir Robert McAlpine, said "Making the videos through this form of collaboration has allowed us to focus on some of the key health and safety issues for the company, support our safety leadership programme and reflect the positive safety culture we promote.
"The ideas, energy, flexibility and practical approach from the college, course leader and students have all contributed to make this a success.
"It has been great to work with London College of Communication from initial contact, agreement of contract, our briefings, student pitches, collaboration on site and final delivery of impactful videos."
Ray Kilby, MA Film course leader at LCC said "Working with Sir Robert McAlpine on the health and safety films has been exciting, challenging and unbelievably beneficial for students. The opportunity for students to work with a professional client cannot be replicated in the classroom. The understanding of how a professional relationship works, how you deliver a brief and provide the client with a finished product is extremely valuable."
Interested in connecting your business with students or graduates at LCC?
Contact
Ben Walter
LCC Business and Innovation
Email: b.walter@lcc.arts.ac.uk
Tel: 07793 777055