Design research and concept development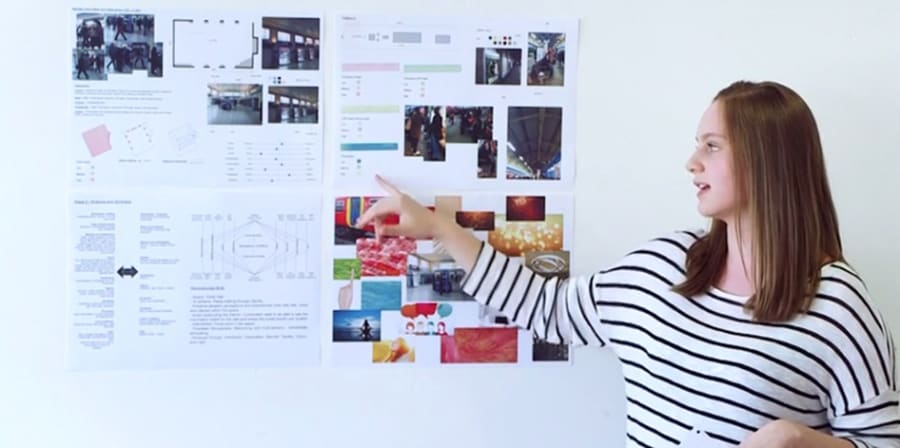 London College of Communication BA (Hons) Spatial Design students worked with South West Trains to explore how to enrich commuters' experience of a station.
Wimbledon is a busy commuter station in South West London, with trains to Clapham Junction, Waterloo and London Bridge and access to the London Underground District Line. The interior of the station is designed for a very specific purpose of moving between platforms and entry/exit points, waiting for and boarding trains.
This can mean that people experience enforced boredom and are made to wait for trains in environmentally uncomfortable conditions. BA (Hons) Spatial Design students were challenged to develop ideas to change this.
The task was to redesign the space to change and enhance people's perceptions and experience of the station and of commuting. The challenge was to do this without getting in the way of the station's main function of moving people from one place to another and without compromising safety and security. Students also needed to observe South West Trains branding requirements, such as their colour range.
Discover, Define, Develop, Deliver
Students began with a design research Discover phase. They interviewed commuters in the station and researched the environment and how noise, temperature and colour affect commuter's experiences.
The Define phase mapped, analysed and visualised the existing space to understand how the design affects people within it. Students were able to propose a set of desired spatial atmospheric conditions that formed the basis of the development of design solutions.
Students generated design proposals in the Develop phase using their research, analysis and initial design developments. They visualised and communicated their design proposals through drawings, prototypes and storyboards. The proposed design needed to alter the way people feel about being in the station and provide opportunities for enjoyment.
Finally, in the Deliver stage, students mapped and visualised their design proposal for the project. As well as mapping drawings and diagrams depicting the changes in spatial atmospheric conditions, they demonstrated the positive effect of the changes in behaviour and emotions and evaluated how their design created a sense of place.
Interested in connecting your business with students or graduates at LCC?
Contact
Ben Walter
LCC Business and Innovation
Email: b.walter@lcc.arts.ac.uk
Tel: 07793 777055