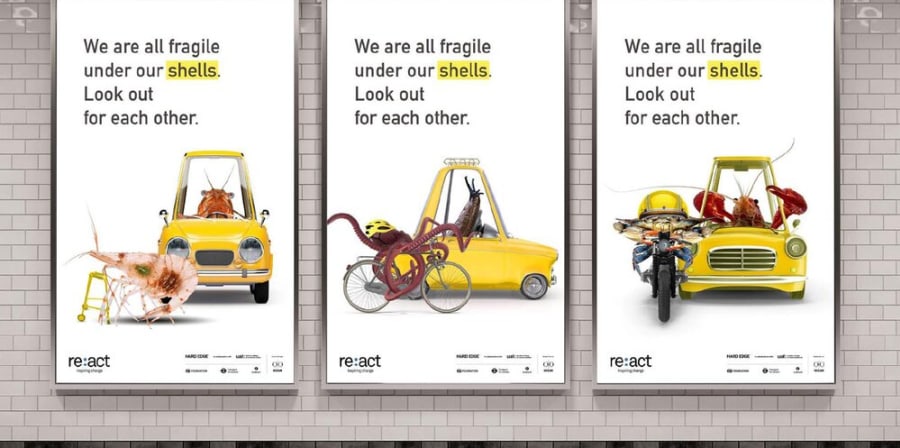 Australian creative agency Hard Edge launched the Re:act project in 2016 to provide design students with experience in responding to a real-life brief and pitching to clients. The London strand of the programme is supported by the FIA Foundation, Transport for London and Zurich, with a representative from each organisation sitting on the judging panel.
Each year, the aim of the project is to raise awareness of road-safety issues amongst 18-25 year olds, asking students to create campaigns that encourage behavioural change to make our roads safer. LCC has been involved in the project since 2020, when students have responded to themes such as 'Distractions' and "Vulnerable Road Users and Drivers.'
Students from BA (Hons) Graphic and Media Design and BA (Hons) Graphic Branding and Identity have taken on the brief during their third-year, devising innovative campaigns using typography, illustration, graphic design and photography to communicate the important messaging.
The project has brought success for our students from both courses, with LCC announced as winners and runners-up in both years.
Andrew Hardwick, CEO of Hard Edge and Re:act spoke about collaborating with LCC. "The commitment of University of the Arts London and our inaugural industry partners was instrumental in Re:act expanding into the UK, and the way they engaged with the program was a key factor in driving students to produce exceptional work."
2020 winner, Reana Kerai, had her campaign #EyesUpPhonesDown displayed on retail and roadside billboards in White City, London. The campaign uses clever messaging and animation to encourage young people to look up from their screens when they cross the road.
Andrew added, "Reana's campaign delivered a simple behavioural change message in a succinct and striking way, reflecting the high standard of work produced."
As the project returned to LCC in 2021, the brief of 'Vulnerable Road Users and Drivers' derived from a startling statistic that 'vulnerable road users made up half of the fatalities reported by police authorities across the UK to the Department of Transport in 2019."
Agota Rencsenyi's campaign 'Shells', was selected for the 2021 project thanks to its unique and nostalgic communication. Her graphics will be on display in London in 2021, thanks to the programmes media partner Ocean Outdoor.
FIA Foundation Media and Public Affairs Manager Kate Turner commented on Agota's success:
The 'Shells' campaign promotes safer streets with a charming combination of humanity and humour to encourage road users to think about how they consider each other's vulnerabilities as they share the road.
Zurich's Adam Canton also added: "The selected campaign delivers the messaging brilliantly and is a lot of fun too – I'm sure it will resonate with the public."