BA (Hons) Graphic Branding and Identity student Reana Kerai developed 'Eyes Up, Phone Down' to encourage young pedestrians to be more aware of their surroundings.
Now in its fifth year, Re:act is an annual initiative from Australian agency, Hard Edge, who specialise in creative behaviour change. Their recent decision to expand the project internationally brought the opportunity to London, where students were asked to develop campaigns with the potential for raising awareness of critical road safety issues to 18 - 25 year olds.
Supported by industry partners FIA Foundation, Pepsi, Zurich and Transport for London, the 2020 project brief focused on the theme of 'Distraction' – a major challenge for all young road users, including drivers, pedestrians and cyclists.
Reana Kerai's winning #EyesUpPhoneDown concept was recognised for its use of clear messaging and eye-catching animation to remind young people to look up from their phones while crossing the road.
Fellow students from London College of Communication (LCC) rounded out London's Top 4 Re:act concepts: final year BA (Hons) Graphic and Media Design students Sue An ('Stay Focused'), Nathalie Ryan ('Stay Grounded'), and Rita Oom ('Danger in Mind').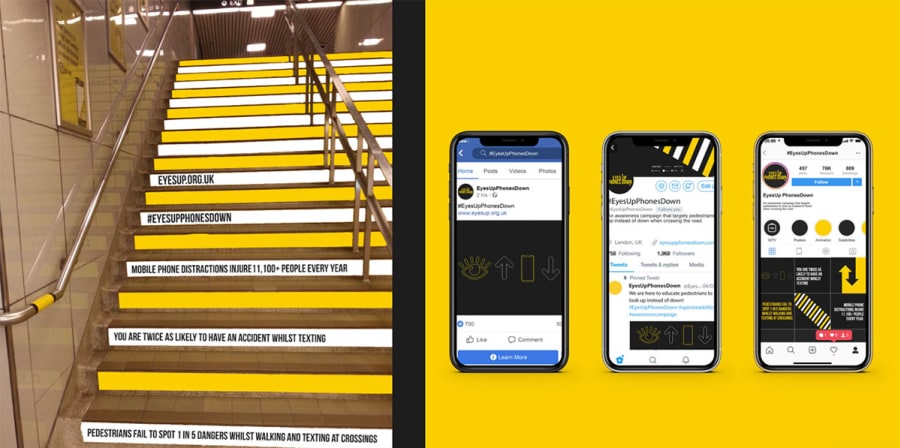 "I was able to create cool and fun graphics, and also present to some big clients"
We chatted to Reana about the inspiration behind her campaign, as well as her favourite things about studying at LCC.
Tell us a little bit about '#EyesUpPhonesDown' - what process did you use to develop this concept, and what were you hoping to achieve?
"This brief consisted of a lot of research, which is exactly what the client wanted to see whenever we had the chance to present to them. I discovered that pedestrians were the most vulnerable road users, and there weren't as many campaigns aimed at pedestrians compared to drivers,
"Based on this research, I first came up with the hashtag, and from there, developed the campaign with the help of my tutors and peers. They gave me helpful feedback and enabled my concept to be the best it could be.
"As the brief was targeted at my age group (18-25), our opinions and what we tend to do was important – for me, in this case, everything centred around walking when using a mobile phone. I wanted to produce a campaign that would make a difference to the actual problem, and to brand it in a fun but professional way."
What were the best things about your experience of working on the Re:act project?
"I thought Re:act was great. I found it quite hard at the beginning but this is one of the best projects I have done at University.
"I didn't think I could create something like this, particularly with the different types of media I was able to produce, but the Re:act program allowed me to do that. I was able to create cool and fun graphics, and also present to some big clients which I was happy about.
"I also enjoyed looking at other people's work and finding what outcomes they had produced."
What have you most enjoyed about studying at LCC so far?
"The facilities at LCC are amazing, as well as the amazing tutors and friendly people. As the College isn't that big, I've also been able to meet many new people."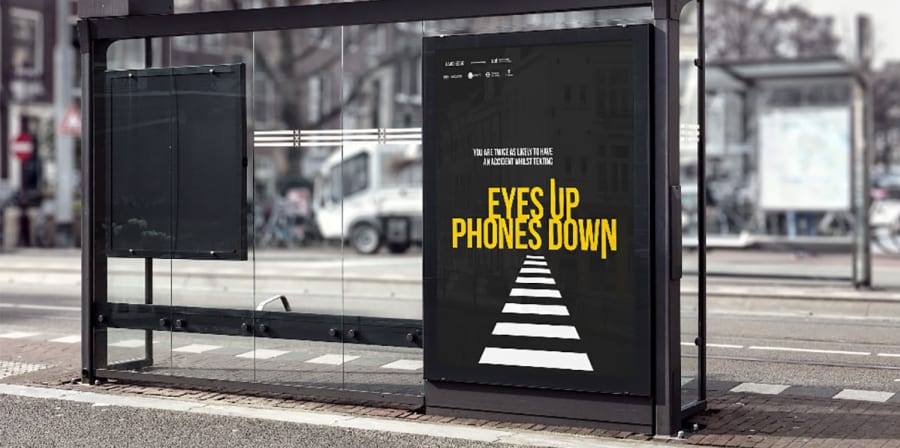 "A simple behaviour change message in a succinct and striking way"
Andrew Hardwick, Re:act Founder and Managing Director of Hard Edge, explained the significance of connecting industry to higher education.
"Growing Re:act internationally in 2020 was a satisfying and important step for a programme that has been recognised in Australia for its ability to increase awareness and drive behaviour change among young road users," he said.
"The commitment of University of the Arts London and our inaugural industry partners was instrumental in Re:act expanding into the UK, and the way they engaged with the program was a key factor in driving students to produce exceptional work.
"The selected campaign, which delivered a simple behaviour change message in a succinct and striking way, reflected the high standard of work produced. With such positive outcomes, and overwhelmingly favourable feedback from university and industry partners, we intend to run Re:act in the UK again in 2021, and further expand the programme internationally."
Related links