London College of Communication's Creative Research into Sound Arts Practice research centre (CRiSAP) recently collaborated with the Department of Global Arts at Tokyo University of the Arts for a major international conference on sound and gender.
Sound::Gender::Feminism::Activism is an ongoing, peer-reviewed research event. Organised with the involvement of PhD, MA and BA Sound Arts students in both London and Tokyo, the 2019 conference investigated the relationship between sound, gender and activism while aiming to both expand and question the place and performance of activism engaged with gender, feminist and queer politics across sound arts and experimental music.
Over the course of 2 days, 167 practitioners and researchers enjoyed presentations, research papers, workshops, performances, sound walks and films covering topics including Japanese culture, urban activism and domestic spaces, queer identities on screen and the creation of safe spaces in nightclubs.
Presenters came from Japan, Hong Kong, Iran, Israel, Taiwan, Indonesia, the Philippines, Australia, New Zealand, Canada, USA, India, Algeria, Turkey and many European countries.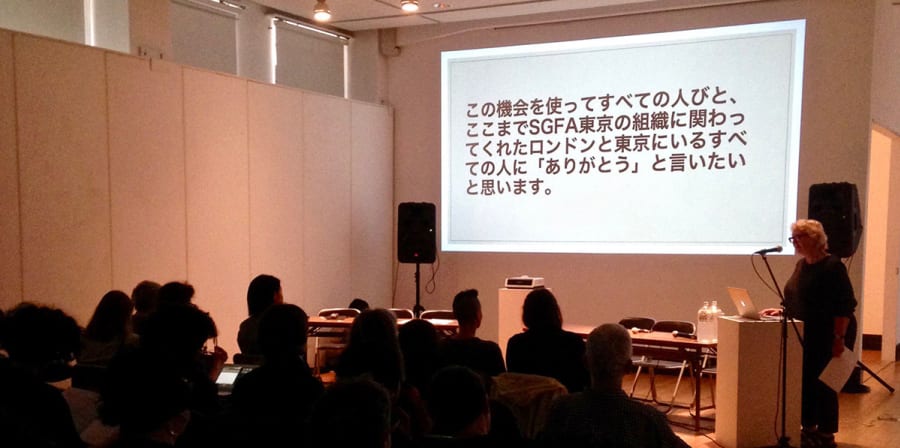 Founded in 2005, Creative Research into Sound Arts Practice is a leading research centre based at London College of Communication (LCC). The centre is dedicated to exploring the rich complexities of sound as an artistic practice through developing the emerging discipline, as well as the discursive context in which sound is practiced.
The Sound::Gender::Feminism::Activism event built on CRiSAP's previous London-based conferences on sound and gender in 2012, 2014 and 2016, and was the first opportunity to host the conference outside the UK.
Director of Creative Research into Sound Arts Practice at LCC, Professor Cathy Lane, praised the event's global outlook.
"Although our conferences have always welcomed contributions from researchers and practitioners from around the world, being able to host the event in Japan significantly increased our international reach," she said.
"What was particularly rewarding was that the collaboration with Tokyo University of the Arts ensured the internationalising of our audience – enabling many discussions from a non-Eurocentric perspective."
Related links