MA Data Visualisation students have worked with Beyond Words Studio on a collaborative project based on the United Nations' Sustainable Development Goals.
Based in London, Beyond Words Studio create data visualisations for a variety of mediums, such as motion graphics, social media channels, installations, and print.
The studio held a day-long workshop, after which they set a brief based on the United Nations' Sustainable Development Goals, which include an end to poverty, gender equality, and action on climate change.
The brief required students to research and identify a goal, and then to create a concept that could achieve it. Students had to deliver a presentation and present both a portfolio of work and an outcome in the form of a proposal or prototype.
"I really enjoyed the experience" student Amy Powell said, "the UN's goals are recognised all over the world and it was a great opportunity to explore them from a design perspective.
"There was the freedom to select which area to focus our project in, and I chose Innovation and Infrastructure. It was an interesting experience to explore data visualisation from an economic angle."
Student Chengcen Wu said that experimenting with physical data visualisation was the most enjoyable part of the project, as well as learning how to visualise the data in an engaging way.
"The valuable lesson I took from the project was how to use data visualisation for storytelling and how to make the data more engaging for audiences," Chengcen said.
"Working with the students was really refreshing," Calum Hale, Senior Designer at Beyond Words Studio said "as we got to see how their ideas and creative thought processes evolved.
"It was interesting to see how the design outcomes varied greatly between the students, with animations, sculptures and even jewellery all having data mapped to them.
"It's always healthy to see new perspectives and ways of thinking and working with the students opened up a collaborative dialogue as to how to tell their data stories.
"It was encouraging to see that students embraced the editorial aspect of data visualisation, taking into account the story they wanted to tell and the correct tone of voice for target audience."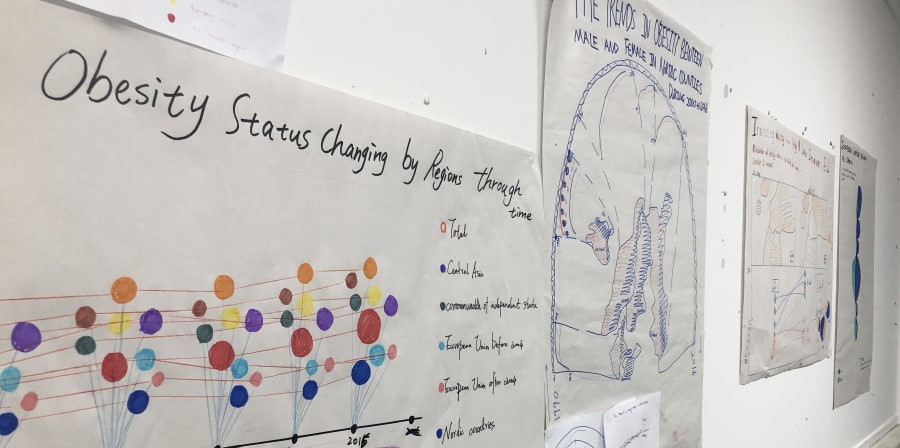 Henrietta Ross, Course Leader for MA Data Visualisation, said:
"This collaborative project brought an insight into the process and methods of practitioners at one of London's most renowned data visualisation studios to the course.
"Students both engaged with their process and worked with them to develop project work. They also explored the ambitions of the UN's Sustainable Development Goals, and produced outcomes in a range of media from animations to 3D printed artefacts to prototypes for online tools."
Related links