The work of the Syrian photographer Abd Doumany is a record of the recent troubled history of his native country and, particularly of his home city, Douma, from which he has taken his name.
His project is one of testimony, a battle against silence. In conversation with him, this idea of witness crops up over and again, the importance of recording suffering and death as part of the continuing battle against totalitarianism and repression.
His pictures show the daily calamities inflicted on the people of Douma during the Syrian Civil War and the five-year siege of Eastern Ghouta, of which it was at the heart. A child's dead body lies in a street, partly covered by a rug, outside a shop whose frontage has collapsed, presumably due to an air strike, scattering fruit and vegetables to the ground. A woman sits in a makeshift hospital, holding her grandchildren. The two young boys on her lap are blank-faced with shock: one has blood running from a head wound. Another child sitting nearby, wearing a Puma jacket, is crying. His face too is stained with blood. A man is sitting on an office chair, holding across his knees is the body of his daughter, a girl of perhaps seven or eight, limp and soaked with blood. In a picture taken from above, we are looking down on a line of perhaps fifty bodies, wrapped in white sheets and laid on a tiled floor. A crowd of people is milling around, their shadows long in the sun, trying to identify the dead.
The images are, of course, a document of the suffering of his own. More than that, they can be seen as acts of resistance against the Assad regime's attempts to erase the suffering of the Syrian people and against the world's indifference.
The Syria of Doumani's youth was marked by the cruelty and silence that is characteristic of totalitarian regimes. Hafez al-Assad, the country's president from 1971 to 2000, and his son Bashar who succeeded him, used violence, torture and fear to silence their opponents. Any criticism of the regime, even in private, even among friends, was liable to find its way to the authorities with terrible consequences. Doumany says that, growing up in the 1990s, he came to understand the risks of speaking out. "People would reach the point when they could no longer remain silent. Then they would disappear. Assad's spies were everywhere."
But as the Arab Spring spread across the Middle East in 2011, Syrians began to dare to express their desire for freedom, Doumany among them. One Friday that year, he joined his father and brothers at Douma's main mosque. After prayers, the worshippers made their way to the main square to begin what they intended to be a peaceful protest, calling for a transition to a more democratic society. That night armed security forces came, arrested many of the protestors, who were jailed, beaten and released a couple of weeks later. Doumany managed to escape. It was the first time, he says, that he had heard the sound of gunfire in his city.
"People would reach the point when they could no longer remain silent. Then they would disappear. Assad's spies were everywhere." –Abd Doumany
The protestors returned, every Friday after prayers at the mosque. The citizens of Douma noticed unfamiliar faces in the city, many thousands of them, not armed or in uniform but menacing nonetheless. Some joined the Friday prayers at Douma's mosques but when the protests started as usual, they began throwing rocks at the demonstrators. From the surrounding rooftops there was the sound of shooting. Assad's gunmen were firing, into the air initially, adding to the chaos and panic, but soon they began to target the protestors. Eight were killed and many more injured.
Their funerals were attended by hundreds of thousands of people and became a rallying point for the protestors. As well as the regular Friday protests, there were smaller demonstrations. Doumany was on hand to take photographs and video on his mobile phone and shared them on social media. This was dangerous work as Assad's spies infiltrated the protestors and many were arrested. There were, says Doumany, few people who could be trusted.
Before the Arab Spring Doumany had made friends with some fellow students from the Alawite sect of Islam that dominates Syria's government and security services under Assad. As the revolution gathered momentum, tensions mounted inside the university and Doumany's photographs and social media posts saw him receive death threats from former friends who supported the regime. A vigil at the university for massacred protestors was broken up by Alawite students and Doumany was forced to hide and flee. Later in the week he was summoned to the office of the head of college, the son of a senior figure in the Assad regime, and told to cease his political activities on campus. If he did so, he would be able to remain at the university in safety. However, while Doumany was listening to the warning, he could see through the office windows members of the security service on the campus attacking, beating and arresting students. He again fled the university, this time narrowly avoiding arrest.
Doumany devoted himself to recording the Syrian revolution inside Douma, filming and photographing the increasingly bloody and violent battles. By now he had a camera and his images on social media were coming to the attention of the wider world.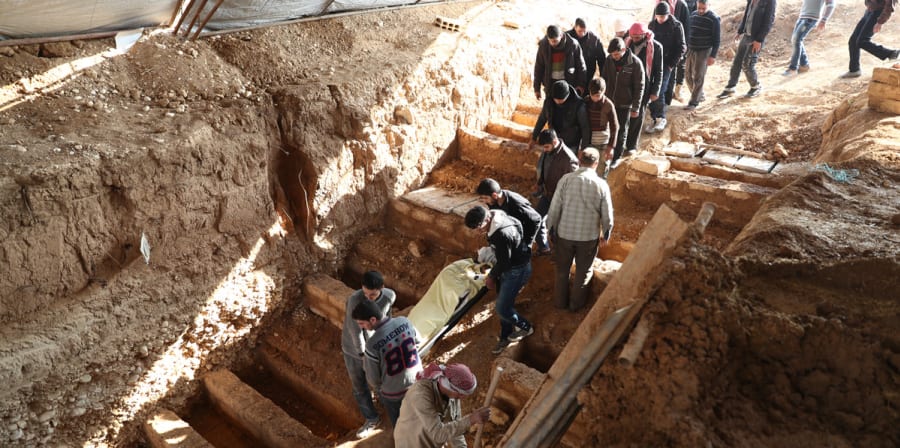 One day in 2013 he was covering an armed skirmish when his motorbike was hit by a Free Syrian Army car. His leg was smashed in the accident, requiring five operations and leaving him bedridden for eighteen months. Even after that time he could walk only a few hundred metres to a makeshift hospital in the basement of a nearby building, which was treating civilian deaths and casualties of the Assad regime's daily bombardment of the city. His images from this period are a record of the suffering and death of ordinary men, women and children who a few years earlier could never have imagined the chaos and horror that would be inflicted on them. The scenes inside the hospital were, says Doumany, hard to bear but he felt compelled to record them as an act of witness. "Nobody could stand the sight of people bleeding or dying and it's a very hard thing to document but I believe that this is history and I had to step up for it. This is the least that I could do."
It's hard to put into words the feelings that Doumany's pictures evoke: horror, pity, empathy, shock, the desire to look away, the need not to know. Looking at them feels almost indecent, so raw is the suffering but it also feels essential, such is the moral authority of the images.
Doumany lost seven members of his family in the first shelling of the city. Later his brother was picked up off the street by the Assad regime and never seen again. After years of searching and paying hundreds of thousands of dollars in bribes, Doumany's mother was told that her son had been executed in prison but the family has never seen his body. His family's search for their son made them a target for the Assad regime so in 2015 they left Syria, bribing guards to escape Douma.
Doumany decided to stay, ignoring his family's pleading. He explains what must have been an agonising choice as a kind of personal mission. "For the first time in my life I'm doing something that could change things. I'm doing something important. I'm recording history and if I'm not doing this there's no one to do it."
Finally in 2017, as the situation in Douma worsened, with armed conflicts involving rival militia groups and the official Syrian army, Doumany left for northern Syria. Once there, he began to seek ways of getting into Turkey, following the three million or more of his countrymen who had already made the crossing. He made 14 attempts in a few weeks, paying smugglers and bribing local militias, walking for many hours in inhospitable terrain in search of a place where the border wire could be cut or a tunnel dug. Each time he was caught by Syrian border guards, roughed up and sent back, only to return again.
"It's the victorious who write history and I don't want it to be that way. The regime has launched a huge campaign online to erase everything to do with the revolution. They are erasing videos, photos everything so I need to save something." – Abd Doumany
He was, at last, able to purchase on the black market the ID papers of a member of the Free Syrian Army and crossed at an official border post. Doumany was briefly reunited with his family in north-east Turkey, close to the border with Georgia before heading to Istanbul, where he stayed for over a year, working on his project Normal/Abnormal, documenting how the war has obliterated normal daily life in Syria. Finally, in 2018 he came to London, after being awarded an Artist Protection Fund (APF) Fellowship in residence.
Doumany's work in Visible Justice marks a shift from documentary to a more conceptual, artistic practice. His Backpacks project emerges from his own experience and that of other refugees who had to leave their homes at a few hours' notice, taking with them only a few belongings in a backpack. The installation records the mixture of practical and emotionally-significant items brought by different individuals and invites visitors to the exhibition to consider what they might salvage in similar circumstances.
The second project takes as its theme Douma's cemetery where, due to the enormous numbers of casualties during the siege, bodies have been buried in layers with hundreds in a single grave. The official register of the dead has gone missing and Doumany is painstakingly recreating it, writing by hand the names of thousands of victims. Again the theme of testimony is at the forefront: the work explicitly counters the Assad regime's attempt to erase the records of their atrocities. "It's the victorious who write history and I don't want it to be that way. The regime has launched a huge campaign online to erase everything to do with the revolution. They are erasing videos, photos everything so I need to save something."
The work is also personal, an attempt to help Doumany come to terms with the death of his brother and other relatives. "I lost my brother in the war and we had never had the chance to have physical grief. You know, they confirmed you lost that body, that person forever, so writing this book is like creating your safe place where everybody has the right to exist."
Words by Simon Hinde for Visible Justice.
Visible Justice takes place at London College of Communication from Wednesday 17 April to Friday 3 May 2019, and is free and open to all.