Postgraduate Diploma Design for Visual Communication graduate Rajlaxmi Jain has won two Bronze Lions at Cannes Lions for a mental health toolkit for primary school children.
The toolkit, named One Mindful Mind, includes five resources and was published June 21, 2018. The kit was well-received by the NeuroGen Brain and Spine Institute, a Mumbai hospital keen to develop the project further for use with autistic children.
The project won two Bronze Lions for Health and Wellness at Cannes Lions International Festival of Creativity, a hugely prestigious international event for the creative communications and advertising industries.
We caught up with Rajlaxmi to find out more about the toolkit, and how to can help diagnose and treat mental health in young children.
Hi Rajlaxmi! How did the idea for One Mindful Mind come about?
While researching my major project, I attended 'Training in Digital Mental Health Apps for Children and Young People' at Finchley Memorial Hospital, hosted by Community Matters.
At the event, I met professional school counsellors, child psychologists, and Social Workers. The session began with some startling mental health statistics. We then brainstormed about the potential risks and benefits of current mental health apps.
I realised most parents were unaware of the apps and other resources that exist in the market. Also, I saw how excessive screen time for kids was a problem with digital products.
The immediate question on my mind was how print could be used as a medium to bring these lesser-known resources together, integrating them in a simple format so that they were engaging, available and accessible to all.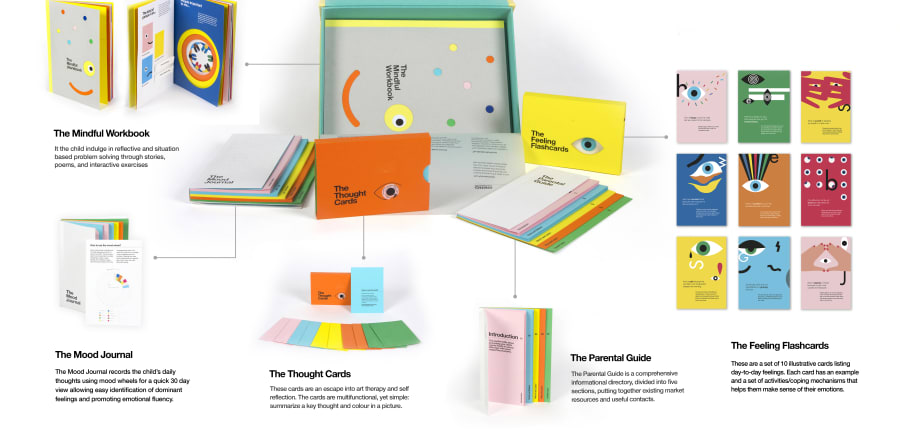 Why is children's mental health such an important issue at the moment?
Not all schools have a mandatory and focussed mental health curriculum in place. I feel that a universal and preventive approach needs to be adopted. Every child must be taught and trained in positive psychology and not just the ones affected by illnesses. We do not need to wait for schools when we can begin at home.
Emotional and cognitive development starts very early. Between the ages of five through to seven, children develop better control over attention, memory and problem-solving and can use their cognitive abilities to attain goals. They must engage in activity-based learning from the very start to cultivate a healthy mind.
What do you hope to achieve with the toolkit?
One Mindful Mind is a simple toolkit designed to fit easily into the lifestyles of working parents. It aims to train primary school children in positive psychology through activity-based learning, and gives children the ability to manoeuvre, think and play in a non-prescriptive manner.
The idea is to equip the child to take charge of his/her own wellbeing and encourage light-hearted discussions between the parent and child, fostering understanding. Parents can be great playmates and OMM provides an opportunity to share ideas and spend quality time together in a relaxed setting, helping the child develop a sense of belonging.
I hope to build outreach, making the tool easily available and accessible. I think OMM is a big step towards mental health and through this, I hope to shape healthy and resilient minds for a better future.
What are the challenges of working on a project such as this?
In a digitally-driven world, the use of touchscreen among children is ubiquitous. As a result, a major challenge was to make print media as engaging as an interactive video game.
Also, mindfulness is a broad subject area with multiple layers. There are blurred lines as most factors that affect mental health are interrelated. Chalking out the structure and content while trying to incorporate all aspects of mindfulness within 5 distinct tools came as a challenge.
The question of how much information is too much information was important – you do not want to overwhelm a child. Collaborating with child psychologists and validating the content helped in creating an effective design solution.
How did your time at LCC prepare you for work in the industry?
Design for Visual Communication enabled me to build a deep understanding of the principles of visual communication, and I developed a greater sensitivity towards typography, visual language, colour theory, and grid structures.
I thoroughly enjoyed my time at technical workshops on book arts, printmaking, 3D and, letterpress where my understanding of theory integrated with hands-on studio activity, building a multitude of production skills.
I learned that design is about solving problems with a human-centred approach. My work was rooted in independent research and constant iteration, enabling me to produce an effective design solution. I learned to take ownership of my projects, from conception and research and development to production.
Do you have any advice for prospective visual communication students?
Get involved. LCC offers multiple workshops, so take complete advantage of the facilities and lovely technicians. Explore and make. The more you make, the more you learn.
Ask questions and ask many of them. Design is the intentional solution to a problem within a set of constraints. If you don't know what the problem is, you can't design a solution for it.
Know your work. Learning to clearly explain your ideas is as important as the design. It is about showing your understanding of the issues and explaining how your design(s) solved the problem set out in the brief.
Learn to take criticism. The biggest learning I've taken with me is that making mistakes, trying things differently and allowing for surprises is key to successful creative solutions.
Create a digital portfolio/website if you don't already have one. It comes in handy. Keep updating, it's the only way to put yourself out there.
Find out more: