Students on our BA (Hons) Graphic Branding and Identity course recently had the chance to connect with leading professionals as they prepare for their own careers as future-facing creatives.
Over the course of three days, guests shared their experiences of moving from classrooms to the workplace, suggesting ways that students can forge their own paths while navigating the practicalities of self-promotion, finances and intellectual property.
Students also had the opportunity to hear valuable guidance from recruiters, attend networking events, and attend studio visits with Rehab, Nomad and Anyways, among others.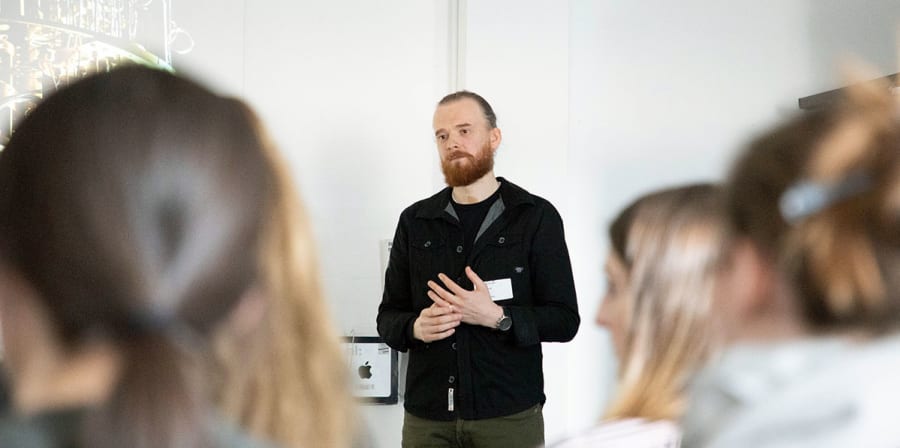 Insight, idea, impact
Alongside guest lectures from Kind and White Bear Studio, AKQA's Creative Director, Paul Ostryzniuk, led a Q&A session where he discussed ways to overcome common challenges such as budgets and deadlines, as well as broader advice on how students can make their way in creative agencies.
"When you intern, there's no point going somewhere and sitting on the sidelines," he said. "Create content, publish content and present it to the client – our interns take ownership of the work they do at AKQA.
"We particularly want to see a breadth of work from graduates – not just one specialism. We're more interested in hearing about mindset: clarity of thought, smart solutions to problems and beautiful execution.
"My perfect formula for a portfolio involves identifying an insight, describing your idea, and showing the impact."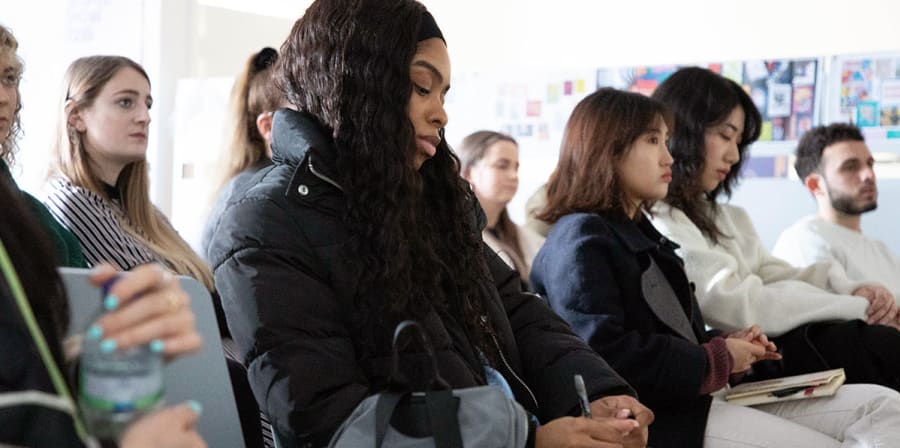 "Work hard, and then even harder."
The events series also helped current students to hear from recent course graduates who are already making waves across industry.
Becky Campbell is a Freelance Designer at the award-winning branding and communications agency, NB Studio, whose clients include the Museum of London and the Almeida Theatre. Becky graduated from the Graphic Branding and Identity course in 2018, and felt that her degree really prepared her for life after LCC.
"It helped me to have conversations with designers, and to gain an understanding of what agencies would want to see in my portfolio," she said.
"My advice to current students is to work hard and then even harder when you graduate. Enjoy the work you do – it'll show in interviews!"
Josh Bailey also graduated from the course in 2018, and is now a Midweight Interactive Designer at global creative agency, BBH London, where he was recently promoted within his first year.
"My time on the Graphic Branding and Identity course gave me a better understanding of what the industry was like, and how to prepare for it," he said.
"You're given opportunities to work with studios and other students, and these really help you to understand how to work as a team while developing both your life and work skills.
In pictures: portfolio reviews
"I feel more prepared to finish university."
Third-years Hannah Tunley and Feli Yaucat (pictured above) found that connecting with professionals has given them useful ideas on how to move forward with their future plans.
"I was surprised to learn that there's such a large breadth of roles across industry projects, from the more creative side of things to the more logical side," said Hannah.
"Just because you're assigned a role like art director doesn't mean that you can't tap into other roles. It's nice to know that you're not restricted."
"What I found most interesting is knowing that agencies can throw you straight into the deep-end and you can have credit for the work you do," said Feli.
"This events series has helped me to ensure that my portfolio is of a high-industry standard so I can feel confident about my work. I've been given lots of good advice, and I feel more prepared to finish university."