After graduating from the BA (Hons) Graphic Branding and Identity course in 2019, where he specialised in poster design and key art origination, Simone Ferraro has been working as a freelance designer with award-winning creative agency, TEA: entertain.
One of his first projects involved the creative development of a Renaissance-style promotional concept for the latest instalment of Laurie Nunn's popular comedy-drama, 'Sex Education'.
We chatted to Simone about his journey from studying at LCC to designing for one of the world's leading streaming services, as well as his top tips for anyone looking to break into the industry.
"Learn to face every intricate brief as a challenge to grow, both personally and professionally"
How did you get involved with the 'Sex Education' design project?
Around April 2019, I was very anxious about not finding a job right after graduation. This probably had something to do with my life-long battle with self-esteem, so I had to be proactive. I created a list of agencies I wanted to work for, and TEA: entertain was one of the top three places. When I joined them as a freelancer, I was over the moon!
It was still very early days there when the Creative Director approached me asking to hop on a Netflix-related project. When I heard it was 'Sex Education', I completely lost it!
Masterpiece: character posters
Tell us a little bit about the design process.
Let's start by saying that it was a collective effort between different people all thinking like one. Everyone involved had to present ideas. Once we were happy with them internally, we needed to make sure Netflix was 100% on board.
At first, I can't deny that I kept thinking my involvement was going to be a total failure. Luckily, when the team saw my excitement and fed my confidence, things started to change for me.
After some crucial research time spent reading the season 2 scripts, a range of rough sketches and amazing ideas from all of the team, we finally got a call from Netflix saying the showrunners loved my idea of a Renaissance-style painting concept, 'Masterpiece'. They asked us to refine it further and deliver different key art, which is when teamwork came back into the mix!
We had to come up with more draft proposals for the final delivery. Again, we had to think about character poses and facial expressions to link them with each character's storyline. The whole process was quite hectic but satisfying on so many levels. Watch out for some hinted symbolism in the character posters!
After developing the key idea, what role did you play?
I was personally in charge of delivering a few early explorations/layouts of the final character posters and landscape key art for approval, pre-painted final landscape and Girl Power key art, and touch-ups (post-painting) on all of the character posters.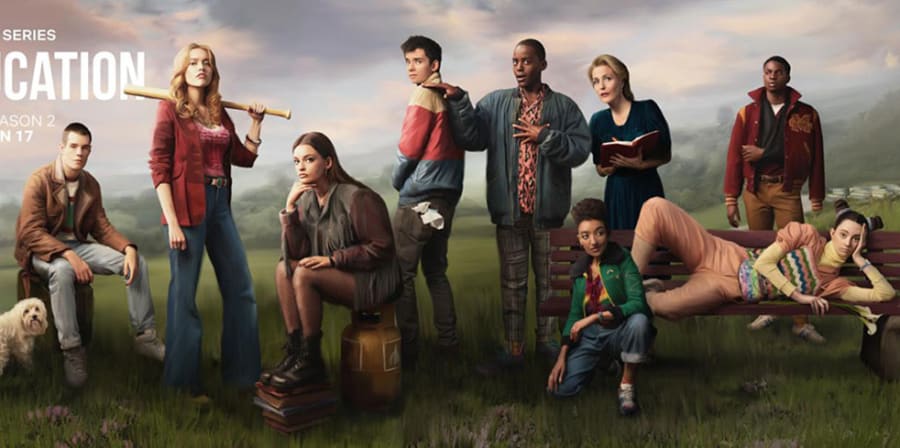 How did your time at LCC help you to develop your career?
Talking specifically about my time on the Graphic Branding and Identity course, I can say that the biggest highlight was my tutors, particularly Alison (Barnes) and Katy (Oswald) who helped me in such a big way.
I don't know how they put up with my...let's say, 'flamboyant manners'. I wouldn't be ready for this industry if they didn't crack me just in time!
What are your top tips for current students who are looking to move into the industry?
Be proactive - do things before anyone tells you to do them. You - and only you - know when it's the right time to do them.
If you want to thrive at what you love, be willing to put your social life on stand-by for some time.
Be ambitious and sometimes allow yourself to procrastinate as a treat.
Learn to face every intricate brief as a challenge to grow, both personally and professionally, and possibly even with a smile on your face.