A creative partnership formed of two students from London College of Communication has been recognised with a prestigious award recognising the best of the world's design and advertising talent.
Amy McGowan and Georgina Devonport, who met on London College of Communication's BA (Hons) Advertising course, won a yellow pencil at D&AD New Blood for a brief set by mobile network giffgaff.
Amy and Georgina, who graduated from BA (Hons) Advertising in 2018, now work together as a junior creative team at digital agency Wunderman. Their 'Give Time, Get Time' proposition for giffgaff focused on the giving-power of education.
We caught up with Amy and Georgina to find out about their project, their award win, and their time at LCC...
Congratulations on your D&AD win! Can you tell us a little bit more about the brief giffgaff set?
The brief was very open. giffgaff is a Scottish word that means 'mutual giving' so we had to simply create a campaign that encapsulated this term.
We chose this brief as we knew it would allow us to create a campaign with real purpose behind it.
How did you originally approach this brief of 'mutual giving'?
From the start we brainstormed ideas that would have a positive effect on the world around us.
Together with the advancement in technology we realised that there is so much knowledge out there that isn't being shared with those who really need it despite the fact we spend so much time on our phones.
We wanted to change the way people use their devices, to share knowledge that may seem simple to them but could make a difference to someone else's life.
What was the best/hardest thing about producing this work?
We're used to working on tight deadlines so found the brainstorming process really enjoyable.
The hardest part was actually creating the presentation film. We both started pretty clueless with film editing software so we had to quickly teach ourselves how to animate a film as we went along – YouTube tutorials really saved us!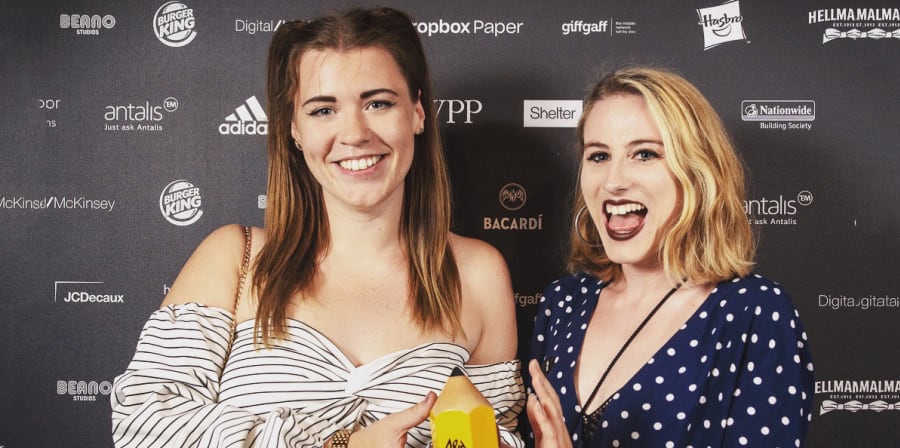 Can you tell us a little more about your idea of 'Give Time, Get Time' and how this fit the brief?
For Give Time, Get Time we created an app for giffgaff where people can film themselves teaching a short lesson in maths, English, science or even just a simple everyday life skill. These are live streamed to schools in developing countries where teacher shortages are a real issue.
Every minute of video content a user creates is translated into rewards for that individual in the form of extra texts, calls and data. This really boils down to the idea that if users give something, they get something back, which is what mutual giving is all about.
How do you feel your course prepared you for this industry brief?
Our course always made a point about the importance of thinking differently. When tackling this brief, we wanted to create something new, something people hadn't seen before. Designing work that's beautiful or practical can come later, we prioritise the power of an idea and an insight.
The end goal for everyone is for someone to look at your idea and go "shit. That's so simple, I wish I came up with that".
Watch Amy and Georgina's giffgaff video on the D&AD website. View more work from Amy and Georgina on their Devonport & McGowan website.