LCC Studio, located in the Elephant & Castle shopping centre, held a series of workshops from specialist artists on sport, DIY, and cookery. The workshops culminated in the creation of a collaborative community zine.
Opened in September 2016, LCC Studio is a hub for community engagement, providing opportunities to learn new skills, socialise, and have fun.
Named A-Zine, the lifestyle workshops took place between February 26 and March 12, ending with a launch night for the zine on March 15.
The three artists, Eleni Papazoglou, Sam Blackwood, and Isabel Alsina-Reynolds, held respective workshops on sports and play, sculpture through DIY, and the role of cookery in cultural preservation and exchange.
"I ran a workshop on sport because I think it can be a microcosm for what takes place in the world," Eleni said. "The first workshop was about a disability sport called Goalball, while the second was about subverting pre-existing games by combining them together. So much occurred through trial and error, by acting out, and adding and subtracting elements of games."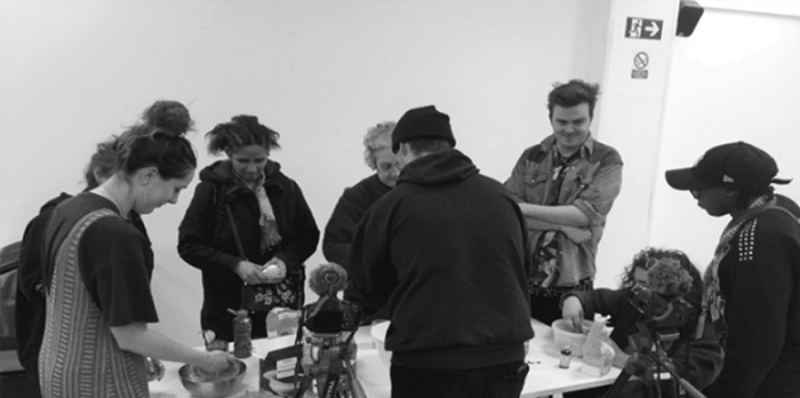 Meanwhile, Isabel's workshops encouraged games and play around the topic of cooking, but also invited attendees to share their own recipes, which were then collected for a book.
"Cooking is a pretty inclusive topic," Isabel said, "everyone needs to eat to survive so it's a relatively easy way to get people to interact with each other and come into a new space. Cooking is important for culture, religion, and community, no matter who you are, and it can be a great way of getting people to start having conversations with one another.
"We got nearly fifty recipes from all over the world. Not necessarily food recipes either – one was a recipe for fake blood!
"It's funny because the first thing that most people say is 'I don't know anything about cooking'. But then you sit down with them and they can come up with really interesting and complicated recipes! Most people have something valuable, but they just might feel pressured from cookery shows and things like that."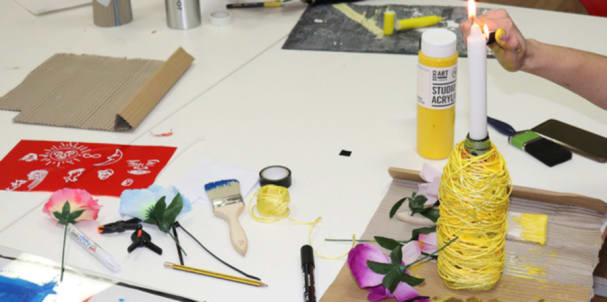 Designed with the local community in mind, the workshops aimed to be accessible to all in the nearby area. As Sam said, "the workshops I delivered were looking at ideas and approaches towards art that make it accessible, using easily attainable and cheap materials.
"The idea I wanted to get across through the workshops was that we can make works or play around with materials in creative ways without being precious or formal with our approach and methods."
When speaking of what they enjoyed most about the workshops, Isabel and Sam both expressed their satisfaction from seeing different age groups and backgrounds work together, as well as from what they themselves learned from the experience.
"Seeing the ways in which people worked with the materials, as well as their outcomes, was very beneficial for me and the ways in which I work," Sam said. "It's always interesting to see how people will use materials in new ways."
"I found it really nice to be working in that community," Isabel said, "everyone was so welcoming. People were really enthusiastic about the community cookbook idea, so hopefully that's something I could try to carry on and produce. People were so excited about it – we ran out of chairs!
"I think it's really important with workshops that they are not super-prescriptive," Isabel continued, "they should have a give-take feel. Everytime you teach, if you're doing your job properly, you should learn something, too."
Find out more: