The Southwark Business Excellence Awards celebrated its second year since launching in January 2018 at Shangri-La at the Shard. LCC sponsored the award category last year, won by restaurant Deli Felice.
Following the success of 2018, the programme aims to be more ambitious in highlighting the achievements of the borough's fantastic business community. This year's winners were announced at a glittering Gala Dinner and Charity Ball awards ceremony for 450 people at the London Hilton Bankside Hotel.
The runners up for this year's award were jointly commended Hilton London Bankside and Forge Architects and highly commended Anthony Gold Solicitors.
Ballers Football Academy was established in 2014 and has been leading the way in player development and in producing top youth talent. Academy Manager Jamie impressed the judges with his passion and the way the academy puts young people at the heart of making football affordable for all.
The judges for the Contribution to the Community award were Maureen Salmon, Senior Lecturer in BA (Hons) Design Management and Evi Kontova, Business and Innovation Projects Manager at the college. Salmon is the founder of Freshwaters, a consultancy practice focused on sustainable futures. Kontova helped develop Talent Works, a programme that pairs students and charities that need support.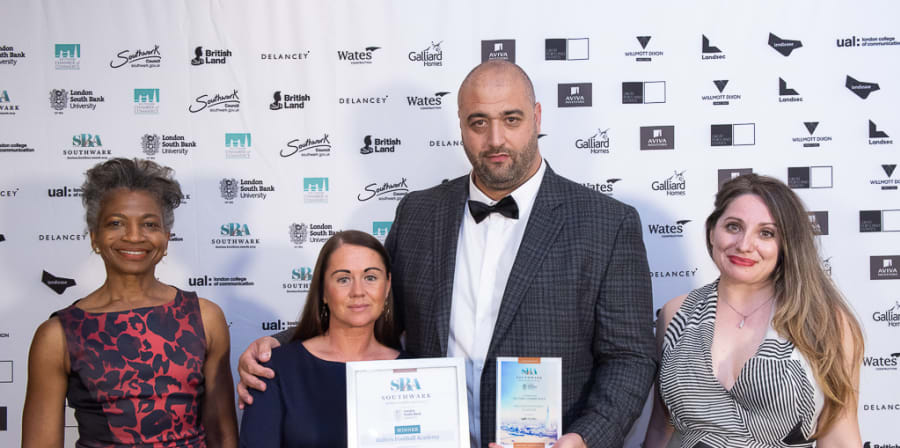 Maureen and Evi admired how young people were empowered through the inclusion of female players and mentoring to join professional clubs. Students are also given the opportunity to receive free or subsidised sessions at the academy.
"It's clear that Ballers Football Academy makes a huge difference to young people. But more than that, they make a difference to families, schools and the community by improving their well-being and empowering them to achieve their potential" Maureen Salmon and Evi Kontova said.
"At London College of Communication, we are very proud to be part of the local community and support the Southwark Business Excellence Awards. We hope to work with Ballers Football Academy in the near future."