BA (Hons) Photography graduate Juno Calypso returned to London College of Communication to talk to students about her career so far, from underground bunkers in Las Vegas to filming Naomi Campbell for Burberry.
Juno graduated from the London College of Communication's BA (Hons) photography course in 2012, and has since gone on to work with Vogue, Saatchi, Royal Academy of Arts London and, most recently, Burberry, for whom she directed a star-studded Christmas short in 2018.
Her photo-series 'Joyce' won the prestigious British Journal of Photography International Award in 2016, while her series exploring an underground Cold War bunker in Las Vegas was featured in the Guardian.
We caught up with Juno following her talk to find out more about what inspires her projects, advice for current students, and that most dreaded of questions - what's next?
Hi Juno, welcome back and congratulations on your career so far – you've certainly been busy! You mentioned that photography does not always need to have a political or social meaning. Do you aim to have a message with your work?
JC: You go through phrases where you have a lot to say and you're really angry and you want your work to have some deeper meaning that reflects your political opinions, but then other times you don't.
I think that now it's 'cool' to be an activist you have to live up to it all the time. You always have to be fighting – all the time, every battle. And if you're shouting about feminism, [people will ask] why aren't you shouting about this and why aren't you doing that, and then you get lost and stuck with opinions that you don't agree with later on.
When you're young your opinions aren't fully formed. I think when I was younger I wanted to make more of an angry point. But now I know that, while I still have those values, I don't need to shout about them all the time.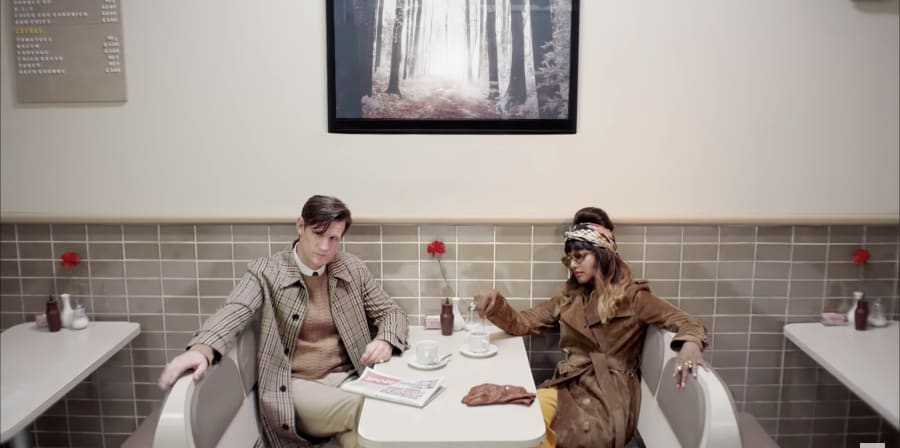 Do you have a fear of being pigeonholed?
JC: I like to break out of that. When people say my work is fifties or retro, I want to immediately do something futuristic. But if it's your favourite thing and your niche and something you love then just keep doing that. Trends come and go.
You spoke a lot about enjoying working alone. But then when you worked on the film with Burberry that was a hugely collaborative project. Do you feel more comfortable working with people now or would you still rather work alone?
JC: Both. I loved collaborating. It was incredible – it made everything so much easier and it made everything so much better. The production values just go up and up! But I was working for a client. I was making something for someone else and it's a team effort for a cause.
When I start my own projects I don't know what they mean. It's like I'm going through a process, or a performance or a kind of journey – it can be really ambiguous. If I hired a whole team it would feel too commercial. I'd have to have someone I feel really comfortable around to bring them into that experience.
Speaking of the film, would you consider directing again? And how easy was it to transition between photography and directing?
JC: Definitely. And yes, shockingly easy.
You split your time between commercial projects and your own artistic work. How easy is that?
JC: It's really hard, actually. I've taken most jobs my agent has put towards me because after I finished the underground house project I thought I'm totally ready for commercial stuff.
I did commercial jobs back-to-back, because I was like 'well I haven't got any ideas for my own work.' But then when you have done a year of commercials in London, and they come to you with another project – I think that's when you know inside that you can't do something for someone else now. You just know – it's like a hunger. Like you've neglected a child!
You mentioned a gap between projects and ideas. Is inspiration something that happens organically, or do you need to wait for a certain amount of time before you can be inspired again?
JC: It is time, I think. After a year, I thought maybe I should do something for me now. But even now I'm still searching! I always need confirmation from other people or reassurance.
Right now, I'm looking at directors and going through their Wikipedia and thinking 'how much time did they leave between work'. Some people leave ten years in between projects.
With photography people expect you to just chuck it out, just produce it. If you're doing something that requires more labour you have to give yourself the time. It's hard to balance being productive – especially now. Even outside the arts, it's like working 24/7.
How did your studies help prepare you for the industry?
JC: They 100% prepared us because the teaching staff, my course leader and personal tutor, would be transparent about how their career worked. They told us how they did everything.
We also had career development once a week, where we learned practical stuff like how to audition your work, how to write a biography, how to do a website.
We learned all the stuff they should teach you but then also the hidden dos and don'ts like 'don't hang your work in this way' and 'don't talk about your work like this' and 'don't get business cards like that.' All the little things you wouldn't know otherwise.
Do you have any advice for current students?
JC: Keep in touch with the people in your class and hold crits in groups. Carry on doing what you do here but self-initiate it.
Stay with them and keep that group around you to give advice, because that's where I got all my inspiration from when I was a student. You need a critical group that aren't afraid to tell you that some of your ideas are rubbish. An honest group.
Finally, and I suppose the most horrendous of questions...
JC: What's next?
What's next? Apologies, I know you mentioned how much you hate this question!
JC: But you asked it anyway! No, it's fine. I'm going to be showing at Photo London at Somerset House in May, so that's my next deadline.
Thanks for your time Juno, and best of luck with the upcoming exhibition.