The Postgraduate Certificate (PG Cert) Design for Visual Communication is an intensive, vocational route into the graphic design profession that also enables students to develop their own distinctive portfolio and the confidence to pursue further study.
Working across areas such as visual language and grammar, typographic hierarchy, graphic representation, identity and information visualisation, the PG Cert is home to a unique learning community, and attracts creatives from a range of diverse academic and professional backgrounds. Through a mix of tutorials, projects, workshops and group discussions, they're supported to gain a deeper understanding of the design process in ways that enhance their practice.
Carrie Prew
Carrie Prew graduated from the PG Cert in 2020. Originally from a small village in coastal West Sussex, Carrie is now based in Brighton, and defines herself as a graphic designer who is 'in love with the craft and fascinated by the field'.
As a practitioner, Carrie considers how design can build and shape societal structures and communities, and is particularly interested in the ways it can influence audiences through both feeling and action. Her work explores the power of type, colour, imagery, ink and paper, and many of her best ideas are inspired by time spent taking her camera out for a walk.
We caught up with Carrie to discuss the motivation behind her decision to study on the PG Cert, key elements of her design practice, and her advice for prospective students who are considering applying to London College of Communication (LCC).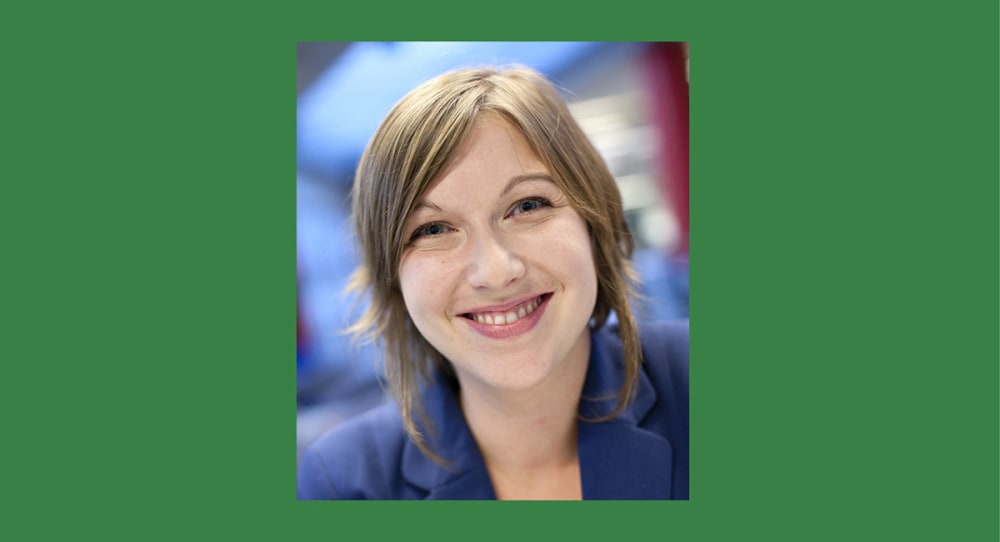 "Coming back to LCC felt like coming home"
Why did you decide to study on the PG Cert Design for Visual Communication?
I was interested in the course for several years before I actually applied. The clincher was when I was having a hard time at work and my friend said to me: "What would you do if you didn't have your job right now?" In a heartbeat, I answered without thinking: "Go back to LCC and study design."
Having studied there before, I already loved the culture of LCC, and the PG Cert is a course that I thought would bring me much nearer to my goal of becoming a graphic designer. It feels so much harder to make these decisions at age 39 when you have other commitments in your life; but actually, as soon as I went for it, everything else just moved aside to make room. Coming back to LCC felt like coming home.
What experience did you have prior to joining the course?
I've been studying design to a moderate level for a very long time - I started to learn QuarkXpress and early versions of Adobe Photoshop using Apple OS9, if that helps build a picture! I took a lot of short courses in creative software, which I supplemented with book learning, reading and setting myself little tasks.
In my first job, I started to lay out countless small print pieces in InDesign, which eventually led to working on whole news publications, and with freelance photographers on big image-led covers and spreads. But I didn't have a 'design' job title or qualification, so it was impossible to get another place to hire me to do more advanced work.
In hindsight, I get it. I needed to round out my skills and knowledge. Enrolling in a course was really the best way to fill in the gaps and widen my portfolio.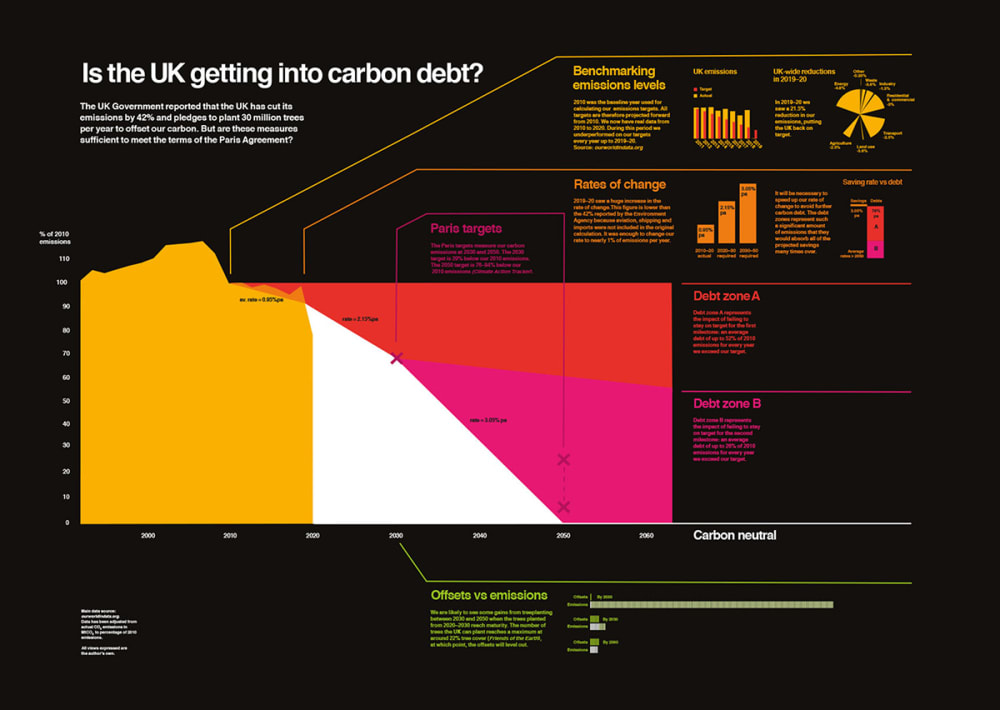 "Working on the side of design that's here to fulfil a cultural and societal purpose"
What did you work on during your time on the PG Cert?
I filled lots of huge sketchbooks with research. That's my main overview of term one: absorbing just about everything I could lay my hands on and responding to it.
I was a really nerdy student, taking out at least 10 different books and resources every week from the library and trying to digest them at super speed. I filled my phone with visual findings from my environment, and I spent my weekends doing crazy experiments. I made letterforms out of neoprene, origami papers, torn-up sheets - anything I could iterate to get some unexpected outcomes. I think it was really good for someone like me who had only experienced very buttoned-up, corporate work.
My final work returned to quite a considered Modernist look and feel, but there are little moments where I break out, and on reflection, that seems like the best balance – a little of what people know as good clear communication, and a little of my voice coming through.
My work on the course covered a lot of typography, visual language and information design. The most difficult piece I worked on was an infographic poster about how the UK is doing with reducing its carbon footprint. I actually had to think like a data journalist as well as a designer to understand how to combine data in such a way that it told a valuable story. This was working on the side of design that's here to fulfil a cultural and societal purpose, and that felt good to me.
How did you develop industry insight as a student at LCC?
My course had some great alumni speakers, and also showed a lot of relevant industry work. I gained a lot of confidence in critiquing high-standard work.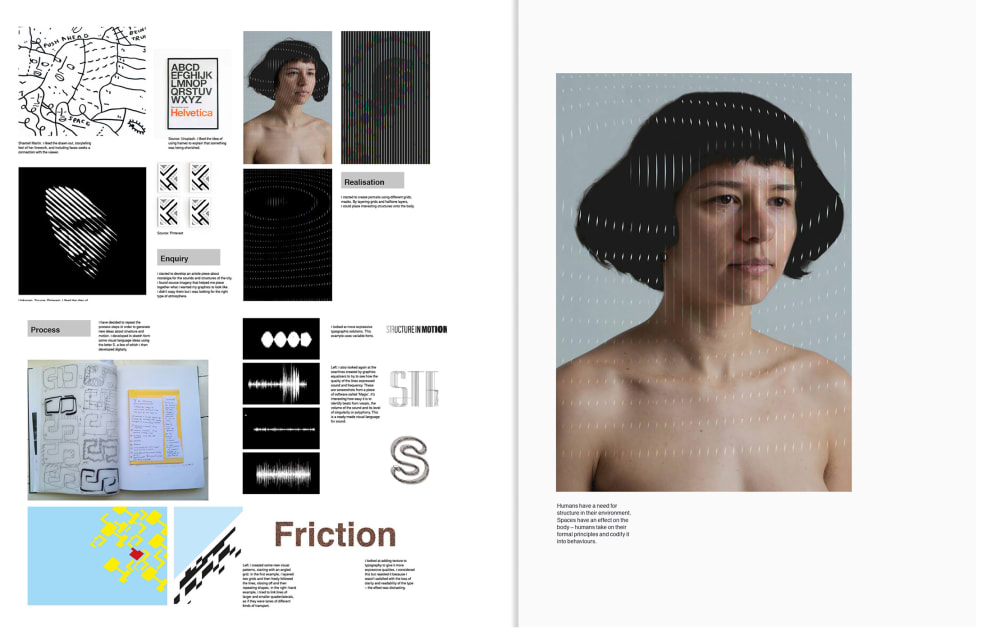 "Keep learning as a designer every day, and all through your career"
What were your highlights from the course?
My highlight was at the end of Term 2, when I handing in a big, beautiful box of work. I planned the whole thing to the last detail, with hand-bound and machine-finished items exhibiting a range of studio processes I'd learned. I felt proud of that.
I was also really blessed to be part of a community that understands how little details actually do matter.
What was the most important thing you learned from your time at LCC?
I learned that you have to keep learning as a designer every day, and all through your career. It's imperative to producing good work for a given audience. Taking on as much stimulus as possible is a bigger job than you'd expect, while the outputs - until the finessing stage - are way faster than I expected.
Just go, go, go and don't overthink it. Your doubt is your worst enemy so don't give it a chance to take hold.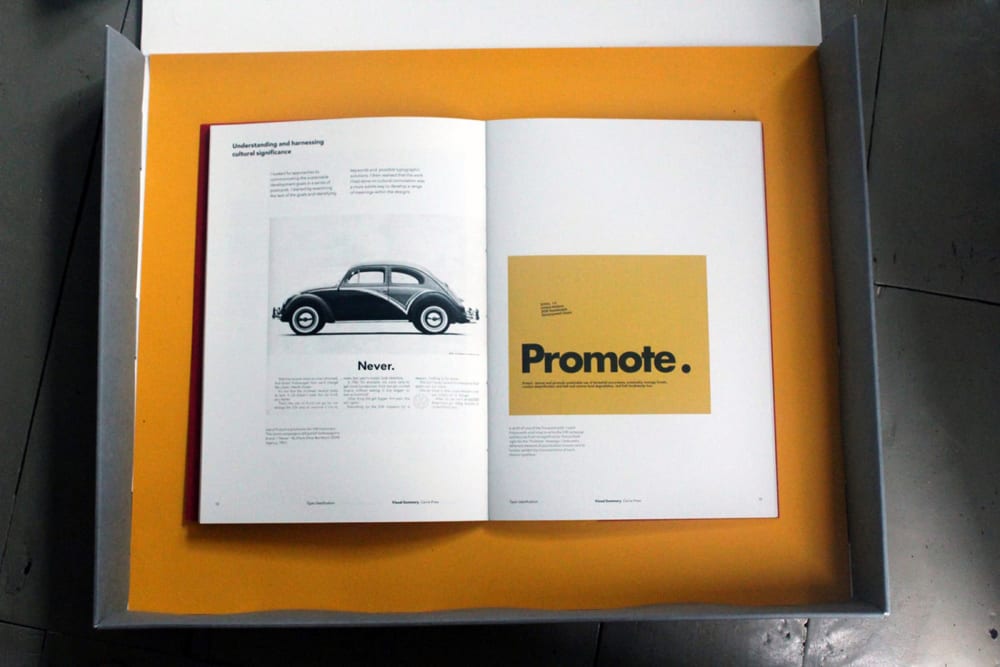 "A community that understands how little details actually do matter"
If you could give one piece of advice to someone thinking of studying on the PG Cert, what would it be?
During week one, one of my tutors walked the class through a corridor and pointed to a gorgeous screen print of, I think, a dancing bear. He said: "If you want to do this, join another course." I think it was a great lesson, which is why I'd repeat it here as the one piece of advice I'd give.
He meant that illustration and applied graphic design have a totally different aim, sensibility and skillset. If you aren't fired up about what this specific course will teach you, look for a different one - because it will only be worthwhile if the subject-matter excites you. (And, of course, it totally is worthwhile!)
Who would you recommend the course to?
Anyone who has a thirst for knowledge about design, a real hunger to work, and who can commit to studying 20 hours a week.
This course is a lot more demanding than the average university arts degree, so you have to have a great work ethic, but you'll be pushed, and you'll learn fast.
What are your career ambitions moving forward?
Now that I've graduated, I just want to do good work, and will keep pushing through all the challenges. It's hard for so many reasons but I remain hopeful - I know for sure now that I am a designer.
No matter what job titles I go through for the rest of my career (although I hope the D word will appear at some point soon), design is part of me and it's here to stay.
Related links: