MA Public Relations graduate, Deborah Sagoe, has created Black Women in PR (BWiPR) – a platform for Black Women in the industry. Deborah created the group following her dissertation work on Black Women's visibility and practice as communications professionals.
Deborah spoke to us about the group, her studies, and ambitions for the future:
When did you have the idea for the dissertation, and how did that turn into the platform?
The idea for the dissertation project always existed but I tried to dissuade myself from doing it because of the lack of existing research and diversity in PR. Most of what I wrote in my paper was applied from alternative, yet relevant research sources.
The main idea I presented was that Black Women are only visible in the PR industry as the owners and leaders of their own agencies. Today's digital landscape offers several opportunities for visibility, so I created a platform which led me to discovering and establishing a database of black female PR practitioners at different levels and in different sectors across the industry.
Did you draw from any other examples and advice when setting up the group, and how it could work?
I knew there would be interest and that it could work because of ongoing conversations taking place around diversity and the need and importance of representation. The first person I spoke to was Ronke Lawal, founder of Ariatu PR.
Our conversation helped shape the mission of the project and platform, which is ultimately visibility. I saw this as an extension of the work I had already done with my platform afronoire.com – which is all about documenting Black Women's experiences.
How did your studies help you with the project?
I would say that access to PR theory and approaches during my studies contributed to strengthening my practice and has made me a better communicator and strategist.
Practical skills such as copywriting and communications planning were all applied in the creation of the platform and events. Perhaps unsurprisingly, learning how to communicate has also made me a better negotiator, particularly when it comes to discussing collaborations. The learning environment itself is incredibly useful for making connections and building relationships.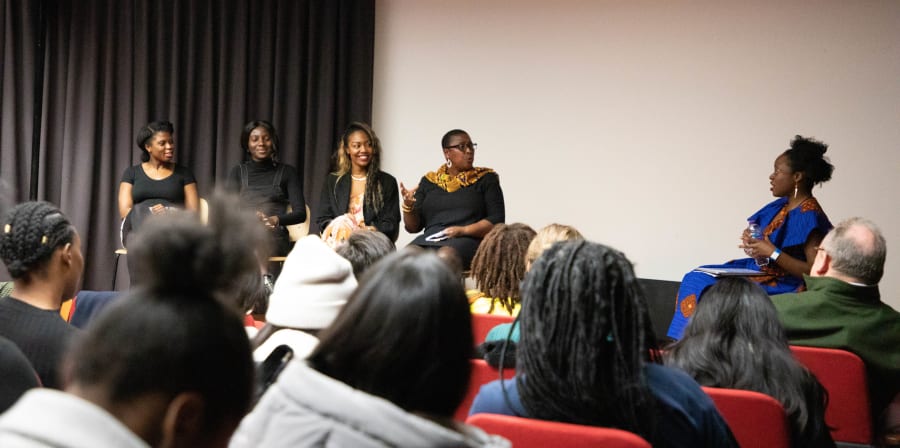 What were some of the challenges?
I enrolled on the course four months after having my daughter. It was exciting because PR had for some years then been an area of interest. Yet it was terrifying my mind just wasn't the same.
Something had shifted and I noticed it took me longer to process things, not to mention the fact that my ability to remember things had taken a hit. This combined with the lack of time meant I was only able to do what I could when it came to meeting deadlines because it was important to me to not burn out.
What was the most rewarding part of the project?
The 'yes' I got was both rewarding and encouraging. The time taken out by these fantastic and very busy women validated the potential for BWiPR – not to mention the messages in support of the platform from practicing PR pros and students themselves.
What would you say is the biggest challenge facing Black Women entering the industries of public relations and media more generally?
Focusing on the UK for context, without a doubt, biases – whether it be conscious or unconscious and the lack of access to certain sectors. For me, as an individual whose body of work has revolved around Blackness/Black womanhood and/with Black Women, it sometimes feels as though this presents itself as a barrier to diversifying my portfolio/experience when I'm applying for roles.
What are your ambitions for the future of the group and do you have any other projects on the horizon?
My ambitions for the platform align with the goal of visibility. I wish to continue to build a database and for the conversation I have with the women within the sector to lead to a collaborative book and research to contribute to the lack of insight into Black Women's experiences within the industry.