As part of their Collaborative Unit, students on the MA Interaction Design Communication course produced 10 new works for 'The Eyes Have It' event at one of the world's leading museums of art and design.
Working in small groups, they shaped their work around an emerging paradox in contemporary society through a brief entitled: 'Humans gazing at machines, machines gazing at humans'. While many news reports, think-pieces and artworks continue to speculate obsessively over what machines think, see, know or want, the media also often simultaneously generates anxiety around the ways humans could be replaced, made redundant or even exterminated by these thinking, seeing, knowing or wanting machines.
Students employed the critical tools of play, mystery and abstraction to explore the realities and metaphors of 'the Machine'. By exposing the limits of machine vision and the reaches of human perception, they created work which reflects on the complex relationship between the ways humans view what they create and the ways they view themselves.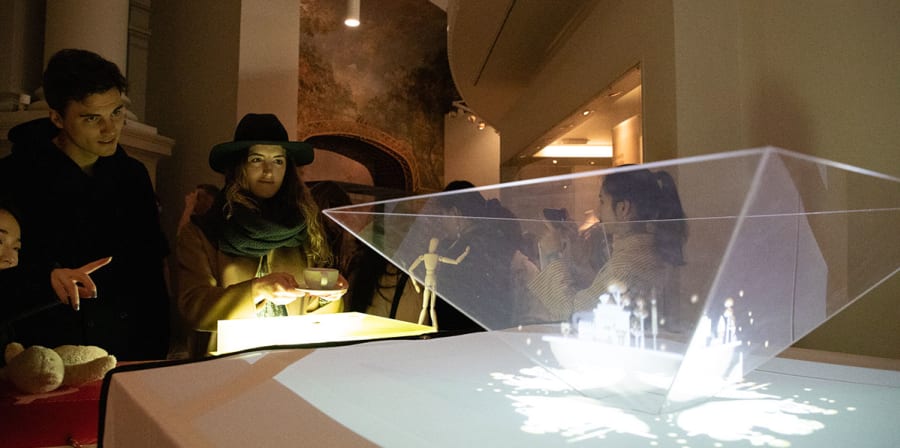 "Like watching the world through a kaleidoscope"
We chatted to MA Interaction Design Communication students Shuai Ma and Mariana Marangoni about their experiences of taking part in one of the key events in London's cultural calendar.
How did you take part in the V&A Friday Late?
Shuai: We all worked in teams to develop projects for the show, which took around 2 months from researching to installing. The time was very limited, but we tried to achieve our best and the exhibition went successfully.
Mariana: My group created an immersive interaction piece which was a digital reinterpretation of the classic kaleidoscope called 'Collect-o-scope'. Our intention was to create an experience that served as a metaphor for social media platforms and how they can resemble and reinforce surveillance systems.
I was also responsible for organising and creating the visual identity for the exhibition's handout catalogue, which contained a poster and further information of the work exhibited by our cohort.
Why was it so important for you to get involved with the event?
Shuai: This event was really meaningful for our group members, including me. First of all, the V&A provided us with great freedom for our creation and offered us an excellent platform for showing our ideas. As young designers, we've been given an amazing opportunity to begin our practice.
Secondly, we went through the huge challenge of creating a studio over 2 months with members from different backgrounds and even different countries. I gained a lot of valuable group-work experience and some wonderful memories.
Mariana: The opportunity to have an exhibition at the V&A's Friday Late was an incredible and memorable experience as it's not a place every artist has the privilege to access so early in their career.
I learnt valuable lessons around how to manage the installation process and fit ideas into the museum's requirements. Most of all, it was very rewarding to see the audience's responses as they showed a genuine interest in our work.
What have you most enjoyed about your time on MA Interaction Design Communication so far?
Shuai: What I enjoy most about studying at LCC is the interdisciplinary atmosphere for learning where technology and art combine with each other.
Our tutors have encouraged us to look at technology and machines from the perspective of humanities and arts. It looks like a crazy scientist's experiment each time! We've also tried to apply cutting-edge technologies in our creation and design practice, just like watching the world through a kaleidoscope, which is very fascinating.
Mariana: I've enjoyed every single moment. The tutors are amazing, and offer us valuable insights and support. Also, I feel lucky to be in a cohort full of cooperative and talented people who make me want to push myself. We make sure to help each other out.
'Humans gazing at machines, machines gazing at humans'
"First-hand professional experience"
Course Leader Dr Wesley Goatley explained the significance of the show in helping students to develop both their skills and practice as future-thinking designers.
"This was a brilliant opportunity for our MA students to get first-hand professional experience in working with cultural institutions such as the V&A, as well as how best to present their work and engage with the public directly," he said.
"Talking with members of the public about their work, their ideas, and responding to feedback in the moment are things that can't always be done in the classroom, and our students did an amazing job of engaging hundreds of museumgoers on the night.
It's particularly impressive given the depth of philosophical, technical, and political ideas related to machine vision and AI that their works engage with."
Related links: