UAL Awarding Body caught up with Anna Marlen-Summers, FAD tutor, and Karolis Altukavicius, Level 3 FAD Student, both from Working Men's College to learn more about their experiences of working under lockdown and how they have managed to stay motivated and creative during these unprecedented times. As part of Origins Creatives, we intend to continue sharing student and teacher experiences from across the UK to celebrate their resilience and dedication to staying creative during these difficult times.
Tell us about how the pandemic impacted teaching this year. Did you continue teaching online once lockdown was put into place?
As the anticipation of the final major project grew this year as usual, it was strange to find a wider global issue that seemed to be growing at the same time. By the time we had our first session on writing project proposal forms, at least half the group were already working from home and the session had to be shared by video. The college closed the week before the official government lockdown, so we were continuing with FMP preparation as usual until the UAL Awarding Body announcement that grades would be estimated this year. However, as all staff were still working from home we continued to support all learners. Right from the beginning, we were clear we would still be working towards an end of year show, whether it be remote or not, and whether it was required by UAL Awarding Body or not.
How have you and your students managed to stay creative during the lockdown?
I have been running a small WhatsApp based art club with my friends and I've also been finally taking time to do some of the creative projects I had stacked up at home. Our learners have responded in very different ways. some using digital media in a new way to them, taking the time available to develop their skills with new programs and technologies (especially in animation and film). Some have worked with the limited resources they have at home in interesting ways.
All of our learners have expressed the importance of creative practice during this time, and this supports my belief that having an education in creativity is vital to us as citizens, humans and people out there in the world, regardless of our intention to "be an artist". It is of note how many of us, art students or not, have used creativity to get through the lockdown.
How have you managed to stay creative and continue to motivate your students during this challenging time?
In many ways it has been the learners who have motivated us! We have been meeting regularly in specialist groups using Teams and Zoom and the work they have been bringing to discuss has served to motivate us and their peers. Each piece of new work is a starting point for the next. Having said that, having the online exhibition to work towards has definitely supported some learners to keep engaged with the course and their creative practice.
When did you have the idea to showcase your student work online and do you think you'll continue to have online exhibitions in the future?
As soon as the lockdown was announced we knew it was highly likely our show this year would be online, but I think it is something we will now continue to do alongside the physical show each year. Digital presence is so important to any creative person nowadays, and its an opportunity for our learners to consider how they present themselves and their work in that space.
I would absolutely recommend creating an online presence for your learners' exhibitions; it widens their reach and gives them the experience of presenting themselves and their work in this way. We also found a number of family and friends were able to "attend" the show who would not have been able to normally.
What advice would you give to students who feel discouraged and lack inspiration as a result of the pandemic/lockdown?
Just do something - it doesn't have to be a project, it doesn't have to be amazing, it doesn't have to go on show. If you are stuck for ideas, use one of the many straying points out there on the internet, Noel Fielding's weekly art club or the Royal Academy Twitter feed are a good place to find a lighthearted prompt.
Once you make one thing you will feel more inspired to make the next thing - just keep going.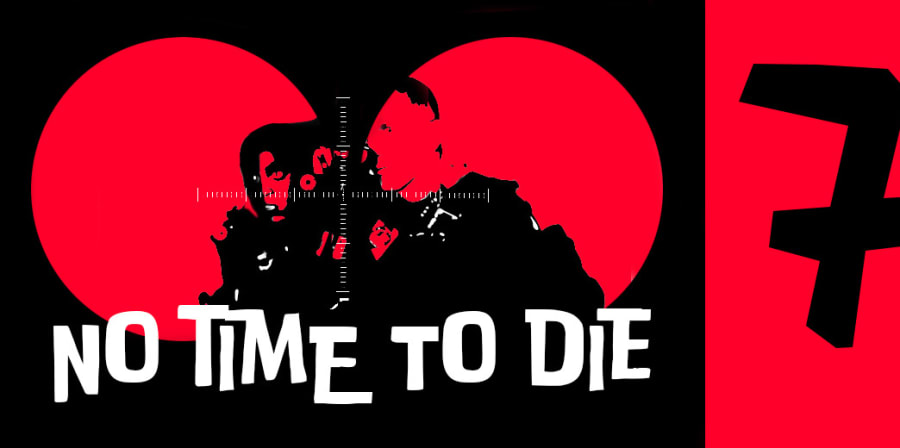 Karolis' experience of lockdown
It was an unusual time psychologically and logically. What saved me mentally and physically was park walks in the morning and keeping to my normal routine. I was communicating with my tutors who were really helpful and understandable. Overall, I learned to be more focused in my home environment.
Karolis had never showcased their work in an exhibition before, but they found it interesting to be involved in their college's first virtual exhibition where they could present their work online amongst their peers.
"In the future, I think we will have both online and physical exhibitions. We will have a wider reach and an online exhibition means that people who cannot attend the physical exhibition can go online to see our work.
"No Time To Die" project
I took the film project "No Time To Die" for a few reasons which relate to the pandemic. The title of the project is motivational in this time context, and helped me to stay positive. It also gave me the opportunity to pretend that there was no coronavirus by thinking about how the poster might look at the film premiere. This work was like a baby to me, I had the chance to create it through drawing on the paper with acrylic and pencils whilst also getting the chance to use my digital skills.
Advice for other students
My advice would be to watch a comedy film/movie, relax and then draw from your heart. You will start to love your work!