Story
A Performing and Production Arts Q&A with Harlow College
Written by

UAL Awarding Body

Published date

25 August 2022
Share story

In this interview, we spoke to Harlow College student Rebecca to find out more about their experiences of studying for our Performing and Production Arts qualifications, from Level 2 through to Level 4. Find out more in the Q&A below.
Can you give us a short bio about yourself?
I am Rebecca, I am 20 years old and I have been acting since year 9. I had terrible stage fright until my friend got me into performing arts and I have loved it ever since.
Why did you choose UAL Performing and Production Arts qualifications?
Once I left school, I wasn't sure what I wanted to go into. I knew how much I enjoyed performing and realised that it was something I wanted to carry on doing. I then went to audition at Harlow College and got onto the UAL Level 2 Performing and Production Arts course.
What do you enjoy most about studying L4 Professional Diplomas?
What I have enjoyed the most about L4 is how much I have been able to explore throughout this year. Because it's more independent and my class was smaller, it gave me the chance to work on more leadership roles and to look into taking on a director role for the shows we did, other than just acting. I've also enjoyed the people I have been able to work with this year, as we have worked with the Level 3 students.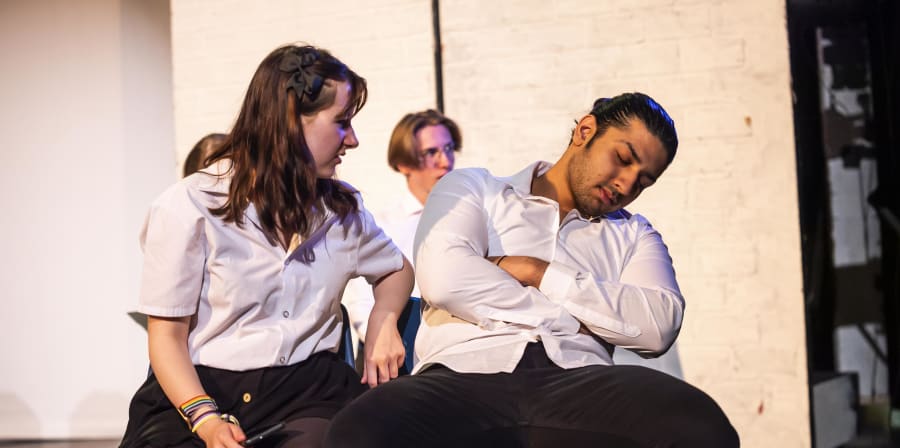 What skills did you develop through your journey from Level 2 to Level 4?
Level 2 helped me massively build my confidence as I was very shy and struggled to get out of my comfort zone when I was younger. After level 2, I wanted to carry on performing and then moved onto the UAL Level 3 Performing and Production Arts course. Level 3 was able to develop skills like my acting techniques, dance, physical theatre, getting out of my comfort zone and building more on my confidence. It was also beneficial for me as in my second year, we would look into drama schools as next steps after college. I felt that I wasn't ready for drama schools yet, so I then went onto the UAL Level 4 Professional Diploma in Performance. Level 4 has helped me to develop massively the skills I have learned over the years. As it can be more independent than the other courses, I was able to work on skills like directing, leadership and the behind-the-scenes stuff for a show like set, costumes and props.
Where do you see yourself after graduating?
My overall experience during my 4 years at Harlow College on the UAL Performing and Production Arts courses has been amazing and such a help with getting me to where I am today and to where I now want to go for my future. During Level 4, I have been looking into drama schools and applied for many. I have received an offer at LMA for the acting course and got offered a place at East 15 for the Creative Producing course.