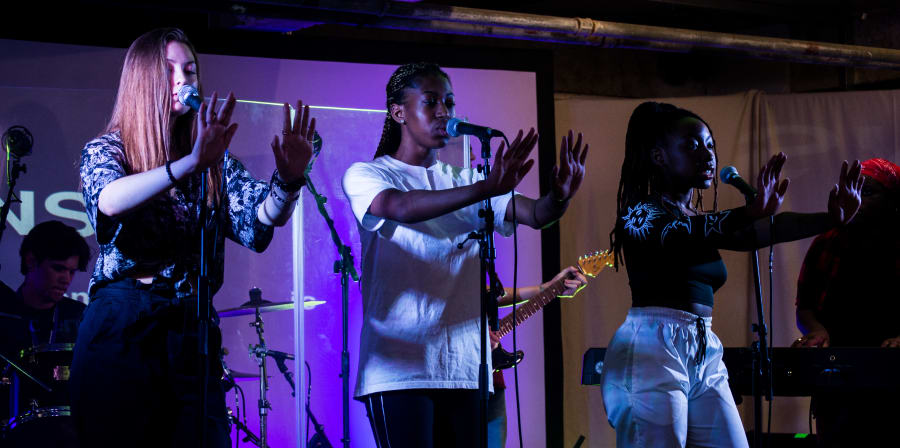 Origins Creatives is UAL Awarding Body's brand new annual programme of events providing opportunities for all students to get involved and celebrate their creative talent. Following the success of Origins Creative Arts Festival in previous years, UAL Awarding Body has now expanded this celebration into an annual programme of events and opportunities known as Origins Creatives.
As we start to gear up for Origins Creatives 2020, we'll be catching up with the prize-winners from our 2019 arts festival and sharing their stories with you. This week, we heard from Martha Dommett who completed the UAL Level 4 Diploma in Art and Design - Foundation Studies at Bristol School of Art to find out what they're up to now and how being an Origins prizewinner has impacted them.
How did it feel to win a prize at Origins Creative Arts Festival 2019?
Amazing! It was an absolute privilege to exhibit my piece in such a fantastic location and alongside the work of so many talented people the same age as me. The standard of work was incredible, so it came as a real surprise when I found out I'd won a prize!
Tell us about the work you exhibited at Origins Creative Arts Festival 2019?
The work I exhibited, entitled 'Unwanted Objects', is a collection of soft sculptures created completely out of discarded materials. It explores the endless lifecycle of everyday items and the multiple purposes placed upon them over time. I also intended for the work to pose questions surrounding the function, identity, recognisability and emotive qualities of these chosen objects and draw on ideas of taste, value, comfort and security.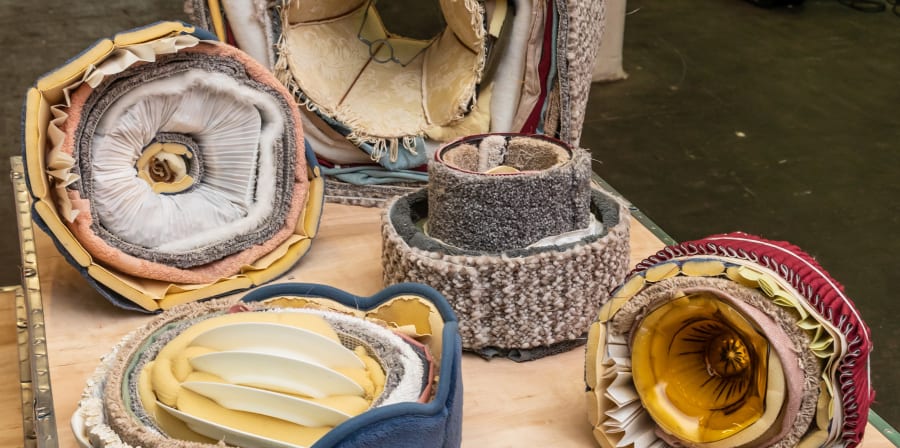 How did you create your piece exhibited at Origins Creative Arts Festival?
I created my first few sculptures almost accidentally! I had been focusing on working with discarded materials for a while, deconstructing and combining unwanted objects from juxtaposing conventional contexts, especially through spiral forms.
I had made a collection of small wax swirls using an old pair of trainers and I wanted to make some larger versions of these out of the household furnishings and ornaments I had collected.
I really enjoy playing around with materials in quite a quick and spontaneous way, so I intuitively started to stuff a squashed lampshade with things like sponge, strips of hot-water bottle and carpet. I thought the outcome was really interesting and so I decided to make more!
I wrapped and bound the materials into spiral forms of different scales and introduced more delicate items, such as china plates. I wanted the sculptures to reflect the way in which they had been made and have a relatively transient feel, so they mostly hold themselves together, but I did add the odd stitch at the end to ensure some parts stayed in place for the exhibition!
Now that you've finished your UAL Awarding Body qualification, what are your plans for the future?
I am currently taking a gap year, working and intending to do some travelling! I have a place to study Fine Art at Falmouth University and I plan to go there in September 2020. It is good to do something different for a year, but I have lots of ideas I would love to explore further and so I am already really excited to get making again. It is when I feel happiest and most 'me' and I want to do it for as long as I can!
Origins Creatives will be taking place throughout the academic year culminating in an exhibition and a film screening event at the end of July 2020.
Visit our Origins Creatives story to find out more about this wonderful event and sign up to the Origins Creatives newsletter to be the first hear about any updates to this programme of events.