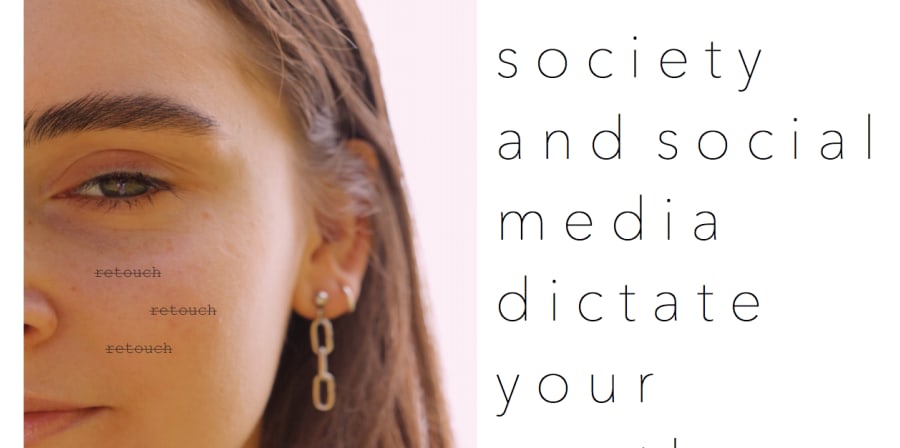 Niamh Padbury
Niamh Padbury recently completed the UAL Level 3 Extended Diploma in Fashion Business and Retail at the Fashion Retail Academy and won the 2019 Origins Creative Arts Festival prize for her work 'NO FILTER.'
Her work used fashion as a voice to break down society's idea of perfection, unrealistic beauty standards and raised awareness of the pressures to be perfect.
She has just started studying a Fashion Marketing and Branding BA at Nottingham Trent University. UAL Awarding Body caught up with her to find out about her further education experience.
Why did you choose to study this particular qualification?
It is the perfect combination of business studies and creativity. It helps you do the groundwork you need to enter the professional industry. Each student in their second year takes part in a mandatory 3-week work placement which gives you the opportunity to work in head offices of some of the most well-known fashion brands. I personally don't perform my best under written exam conditions. With this qualification being 100% coursework, I knew it would enable me to create work that accurately reflected the amount of effort I had put in.
Tell us about your educational background before you started this qualification.
I attended Wellingborough School, which is an independent school near to where I live in Northamptonshire. I was a pupil there for thirteen years. Just before I sat my GCSE's I decided to take an alternative route to A Levels. It wasn't a decision I made lightly. I had always struggled academically as I performed poorly in exam situations. Being at a school where the academic expectations were so high, I felt as though I was unable to reach my potential and achieve my ambitions of working in the fashion industry.
Studying at Fashion Retail Academy has enabled me to see my hard work pay off. Due to only ever being a student at Wellingborough, it meant I didn't know any different to that learning environment. Studying this qualification has enabled me to meet a range of people who share the same educational interests as me.
What is the most valuable thing you have learnt on this qualification?
I have learnt a range of valuable lessons whilst studying my qualification, both about the fashion industry and myself personally. Over the past two years, the most valuable thing the qualification has taught me is how to present myself and my work well and the importance of a first impression.
Getting the chance to regularly meet brand ambassadors and significant people within the industry has implemented valuable people skills. After completing this course, I now feel as though I am ready to confidently work professionally within the industry.
I also feel as though I have personally learnt about self-confidence. Learning to have confidence with my work and self-esteem has been boosted throughout the two years by being encouraged to create work that inspires you and being surrounded by teachers and students with similar interests has contributed massively to this.
The assessment-based course has given me an opportunity to show what I can achieve and has let me shine academically.
What is your favourite thing about the qualification?
My highlight of the qualification was the chance to work on 'industry projects' with a mix of fashion retailers. I was given the chance to work alongside Topshop and Converse which are both brands I have grown up wearing and have definitely contributed to my love of fashion.
Industry project week enables students to put everything they have learnt over the year into practice, it definitely gives you a taster of the type of work you will be taking part in when entering the professional industry.
Tell us about some of the work you created while completing this qualification?
Throughout the two years I have created a range of work, from 3D window displays to marketing magazines!
In the first year, the work was a lot more creative which allowed my creative flare to come out. I produced a sketchbook during my Critical and Contextual lesson which entailed all the fashion and lifestyle trends of each era.
During our buying lessons, we were given the option to create range plans and work collectively as a group to produce group work- which again gives you an insight into working professionally in the industry.
At the end of my first year I created a buying plan and a magazine to promote the concept range I created for Topshop. It was a sustainable Spring/ Summer collection inspired by the trends worn at Palm Springs.
Year 2 was primarily business based. We studied fashion sustainability and the negative effects fast fashion has on the environment as well as the rise of technology and change in the retail industry. I thoroughly enjoyed working on my final project – No-Filter – which was a sports brand launched to promote the false portrayal of perfection and unrealistic beauty standards that are portrayed online through social media.
How did it feel to win a prize at Origins created art festival 2019? Tell us what inspired you to create the work you exhibited.
I was in complete shock when they announced my name as a winner because I still couldn't believe my work had even been chosen to be exhibited! I felt exceptionally proud of myself because I knew how hard I had worked in general over the past two years, especially the last couple of months on this particular project. I can be a slight perfectionist at times so all the stress over the twelve weeks finally felt worth it! It meant more that other people felt equally passionate about something that I do.
The inspiration behind my business idea was the false portrayal of perfection and unrealistic beauty standards that are portrayed online through social media. This is something that lies very close to my heart as I know the physical and mental negative effects it can have on people across society. I also wished to raise awareness and break down the stigma around mental health, especially in schools, due to knowing first-hand how many people secretly face these issues.
What was your expected educational or professional trajectory before you started this course?
For as long as I can remember, I had always wanted to go into Fashion Buying. Before studying this course, I had interned in the womenswear buying department of Debenhams. Ihad already looked at potential university courses and options and used this course as a gateway to the competitive buying industry.
How has your educational/professional trajectory changed over the course of completing this qualification?
It wasn't until after I had created my INP at the end of Year 1 that I realised my talents and interests laid within the marketing and communications subjects. My initial plan of studying fashion buying and merchandising at University quickly changed and I have opted for a marketing and branding degree at Nottingham Trent University.
What are you thinking of doing when you finish your studies?
Attending University has always been a goal of mine. Although at times, during my younger school years this didn't always seem like a possibility, it means even more to me that I have achieved the grades to attend, especially after not taking a 'traditional educational route'. Once I have graduated, I am hoping to spend the following year abroad gaining valuable work experience with brands worldwide, which will hopefully lead me to more opportunities and widen my knowledge of the fashion industry.
Are there any skills you are learning on the course that you think you'll continue using in the future?
I have learnt a wide variety of skills, all of which I can take away and apply to any jobs or opportunities I receive in the future. Two of the most valuable skills I have learnt are time management and communication skills, both of which are essential if you want a successful career in anything! The ability to present yourself well in group presentations and communicate clearly with your peers is a life lesson that can be applied to any social or professional situation. My time management and organisation skills have also significantly developed whilst studying this course.
How have your goals and aspirations developed over the course of this qualification?
I have always been an incredibly ambitious person and being surrounded by other students who share the same goals has inspired me even more to work hard and achieve the best I possibly can. Having teachers who have worked within the industry and listening to guest speakers regularly throughout the course has given me first hand proof that hard work pays off. It is also incredibly motivating to see what the past alumni who studied the same course have gone on to do and achieve with this qualification.
What advice would you give to students unsure about undertaking arts-related Further Education qualification?
I would say that if it is something you feel passionate about and excites you then go for it! I was completely unaware about this style of qualification before joining but it has definitely changed me and my outlook on education for the better. Unfairly, I feel as though Arts related qualifications are seen as an 'easy route' which couldn't be further from the truth.
If it is something you feel passionate about then you will succeed. Studying this style of qualification really allows you to highlight your individuality and personality through the work you create. Due to the course being condensed into two full working days, it allows you to work part time on the side or intern whilst still being in education. The fashion industry is incredibly competitive and getting the chance to gain more experience is extremely valuable.
After studying at a very traditional school which heavily influenced students to complete A-levels, I have come to realise there are numerous alternatives you can take that will land you in the same place academically. Exams aren't for everyone and the 'UAL Awarding Body arts- related further education' qualifications allow you to be successful in your own way, not just on an exam paper.