Story
Origins Creatives 2022
Written by

UAL Awarding Body

Published date

02 August 2022
Share story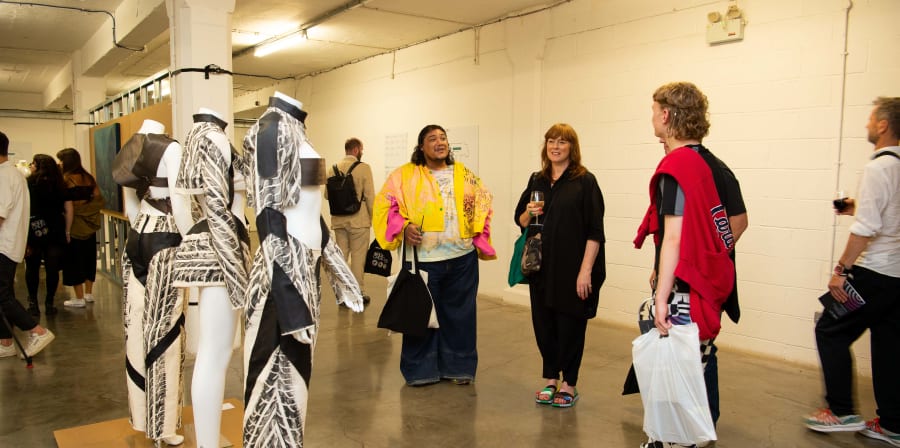 UAL Awarding Body's Origins Creatives exhibition returned in real life this year to the Truman Brewery, offering visitors the chance to view selected works by up-and-coming creatives from all over the UK.
Origins Creatives is our annual celebration of student achievements, and an opportunity to see the work that students have completed throughout their study on a UAL Awarding Body qualification.
This year, UAL Awarding Body received over 450 applications for Origins Creatives, and the works of over 160 students were chosen by experienced curator Matt Williams to be exhibited at the Truman Brewery. The exhibition opened with a private view on 21 July, where guests were welcomed with a speech by UAL Awarding Body Director, Ross Anderson. Guest speakers Tallulah Syron, Brit School graduate, and Ed Mendoza, former Awarding Body student and CSM graduate, also joined us at the private view, sharing their inspirational stories.
Origins Creatives 2022 opened its doors to the public from 22-24 July. Visitors enjoyed a range of painting, drawing, sculpture and fashion created by talented students across Levels 1, 2, 3 and 4. Alongside physical pieces there was selected music composed and performed by students on UAL Awarding Body qualifications, as well as a selection of moving image works: video, documentary and film.
This year's exhibition was sponsored by G.F Smith, who helped create our catalogue, submissions packs and other promotional material, and Perfect Ted, who provided delicious matcha drinks for the private view.