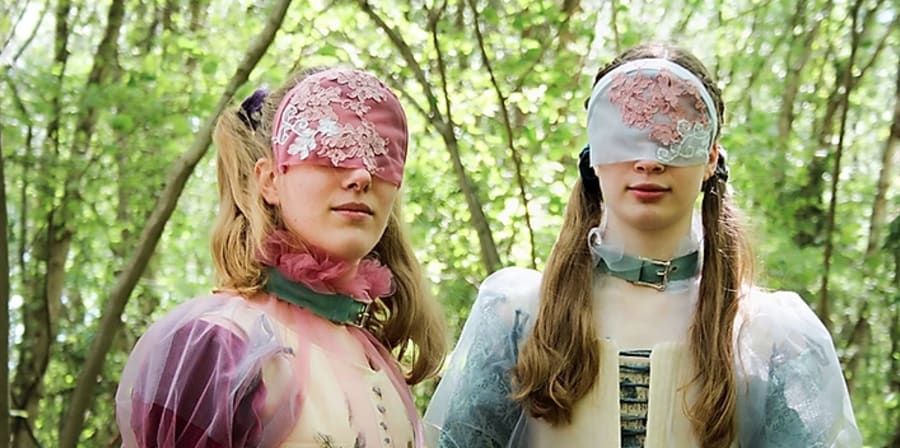 As part of Origins Creatives, UAL Awarding Body will be talking to students from across the UK to learn more about their experiences of working under lockdown and how they have managed to stay motivated and creative during these unprecedented times. UAL Awarding Body caught up with Poppy Hillman-Crouch, a Level 3 Extended Diploma in Art and Design student who specialises in Fashion and textiles.
Tell us about how the pandemic impacted your education this year. Have you managed to stay creative whilst staying at home?
As for many of us it came as a bit of a shock when we realised we wouldn't be going back to college after Easter, half way through our FMP project. College was so helpful, getting us to collect lots of materials and resources we might need to be able to work from home. It was quite a struggle at first to adapt to working from home with the added distraction of younger siblings, a very needy dog, and a fridge stacked with chocolate.
Having set deadlines to meet has made me more creative than usual, really forced me to think outside the box and change my original ideas into something I could achieve at home. During the lockdown I have done things to help the current crisis like make scrubs for Covid-19 front line NHS workers in my local area, and have set up my own business making and selling face masks. This has given my work a sense of purpose as it has allowed me to help other people.
How do you feel about your work being showcased online instead of at a physical exhibition? Do you think that the future of exhibitions will be digital?
I really liked my work being displayed on an online platform as you can look at other artists work at your own pace. I really enjoyed creatively photographing my garments and making sure the lighting and the location was right. I found this interesting especially with the lockdown measures in place. However I feel like an online show really doesn't capture the movement and texture of the garments. I feel like this can only truly be shown through physical exhibitions and runway shows. I also feel by having your work for people to view behind a screen takes away the personal materialistic connection people have with clothing. I think by having my work permanently displayed online does have it pros but I think in the future this will run alongside exhibitions.
Was the work you exhibited FMP related, developmental work or work that you created during lockdown?
The work I continued into lockdown was my FMP project. I started with my main theme of bohemia botanical and looked into the more obscure ideas surrounding this. This let me explore scanography, book cover art work and screen printing on different fabrics.
Experimentation led to looking at the Pre- Raphaelite art moment and how women are depicted in an idealised medieval and renaissance past, re-imagined by Victorian male artists. I found this concept really interesting as why would they do this? What is its purpose?
The more I looked into fashion history I realised that the movement had not created exact historical representations but a fantasised image of reality. I progressed from this onto more modern themes like 'The Handmaids Tale' and created embroidery inspired by the engraving of 'nolite te bastardes carborundorum'.
Looking into movements like the suffragettes, force feeding, Girlguiding and historic female humiliation devices like the scold's bridal. I was also heavily influenced by the Pre- Raphaelite art work itself, with the Ophelia fabrics and the idea that clothing is an extension of yourself. I combined the harshness and sparseness of the Handmaids Tale, with the lighter fabrics. I developed this by doing experimental photography with water mimicking 'Ophelia' by Waterhouse.
For my collection I made two garments inspired by my research, fusing medieval, 17th century, Edwardian with Punk era accents (buckles and straps) to create dystopian and futuristic garments.
To showcase my final outcome I set up a photo-shoot with my sister in the local woods, taking consideration of the time of day for the lighting. I really wanted the photos to have an uncomfortable feel like Diane Arbus' work. I achieved this by having props like a teddy bear, lantern and accessorising the costumes with long white socks and juvenile shoes to give a child/doll like appearance. The models stare straight into the camera to disconcert the viewer.
Tell us more about the work you exhibited – what does it mean to you, how did you create it and what inspired you?
It was a long process to achieve the final pieces and to put thought into what story each one told.
The blue garment is loosely based off of Elizabethan stays, embroidered with lavender ears on the front- representing purity and silence- also has a negative message stamped on the back into the floral motifs. This is also repeated onto the pink garments bodice which is taken from a medieval kirtle, stamped with sage leaves –symbolising healing and growth.
I wanted each garment to be similar but when you look at them you see the differences like twins. Both garments have fully lined tie on sleeves in rich luxurious fabrics, I wanted to use velvets and jacquard weave to link to their historic past and take authentic fabrics into consideration - to contrast the starched natural colour of the bodices. I wanted the tulle overgarments to be a symbol of oppression, encasing the virility of life. These are reminiscent of an Edwardian shirt waist and really show the high tight neck line like the clothing is strangling the wearer. It also looks like an x-ray image seeing through the conservative clothing to the historic undergarments. Adding the buckles and candy coloured leather straps give the look an uncomfortable feel. The masks covers the eyes making the wearer anonymous playing on the words a child should be 'seen and not heard'. I chose to use candy, pastel colours to reinforce the idea of childlike naivety and to add the dystopian botanical theme.
What advice would you give to your peers who may feel discouraged and lack inspiration as a result of the pandemic/lockdown?
Advice I would give to anyone struggling to stay creative during lockdown is to set yourself a task every day. Whilst watching your favourite Netflix series do something so simple it doesn't seem like a task.
I find it really helpful to improve my free hand illustration by doing sketches whilst distracted by something else. These will probably look rubbish but you will be able to make shapes and marks reminiscent of clothing and people, these could be something you develop further in the future when you feel like it.
Or to start getting inspired, make/do something so easy you could do it in your sleep, like sew on a button that fell off your favourite pair of jeans. This gives will you a great sense of achievement and you're proud of it. I have found this to be the best way to get motivated especially if you've got a lot of work you want to start but procrastinating and not sure what to do- this is a mellow way to get started. This also helps getting your mojo going and inspires you to do other projects, one off pieces or fixing more of your clothing.
What are your plans for the future? Are you hoping to continue your education in September?
In September I hope to continue my studies going into year 2 at West Suffolk College. I really want to experiment more with other materials and methods like using photography and dark room equipment incorporating this within garment structure to tell a story. I would also like to form collaborations with other students to create photo shoots and maybe short fashion films. In the future I would love to create and design costumes for film and theatre and to continue my education into these fields.