Story
Origins Creatives 2022
Written by

UAL Awarding Body

Published date

03 August 2022
Share story

Following the success of this year's Origins Creatives, we caught up with our experienced curator, Matt Williams, to reflect on the exhibition. In the interview, Matt shares with us his journey to becoming an art curator, the creative process behind designing the exhibition, as well as some of his personal highlights from the showcase.
Could you tell us a little more about your background and how you got into curating?
Although my father was a builder by trade, he was also very active in the local art scene where I grew up and was instrumental in setting up an Arts co-operative which provided studio spaces for artists in the area. Prior to this, he attended Art School as a mature student. They would provide art classes for young people that my sister and I attended. The classes were inspirational and chaotic in equal measure and captured our imagination. They were probably foundational in our interest in the arts.
Post A levels, I embarked upon a foundation course, which was a brilliant experience, before going to university to study Fine Art. During that period, I often spent more time looking at other artists' work than doing my own. After university, I moved to London and set up an artist-run space with another graduate, Anthea Hamilton. When that closed, I went to work for various contemporary artists and commercial galleries before studying for an MA in Curating Contemporary Art at the Royal College of Art.
After completing the course, I again worked for a couple of commercial galleries and a private collection before running the now defunct International Project Space on behalf of Birmingham City University in Bourneville. After just over two years, I moved to the Institute of Contemporary Arts (London) and now work at Camden Art Centre in a part-time capacity. Since 2019, I have been studying for a PhD at Manchester School of Art. Alongside this, I teach at a number of different arts schools and continue to curate and publish independent curatorial projects.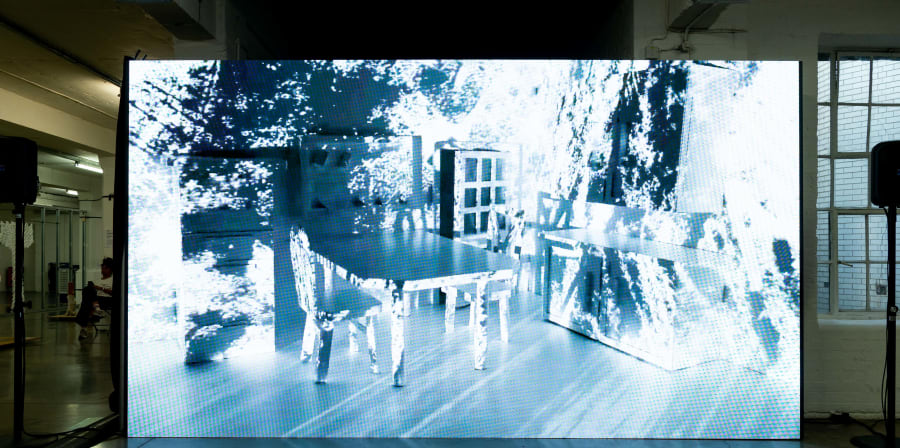 What were you looking for when selecting the pieces?
Due to the vast range of works and the repetition of particular themes, it became a process of choosing what was successful at embodying specific ideas. Additionally, it was essential to see that techniques had been developed through experimentation and persevering with an artistic process. The most successful works were structured with a focus and understanding of their goals.
Could you please tell us about the process of designing the exhibition space? Did you have a core concept that influenced your design?
Multiple references from architecture, artists and exhibition making informed the design of the exhibition. A key influence was the artist Michael Asher's precise and disciplined formula of aligning an idea with a site and the material forms that inhabit a space. With this in mind, I considered the architectural characteristics of The Truman Brewery and its post-industrial existence as an event space constantly in transition, which was also a useful metaphor for the participant's creative development.
Consequently, a temporary structure was proposed with the technical aspects resolved by lead technician Antony Parks and his team. Collectively, they ensured that the structures were stable using "honest materials" such as metal stud frames, MDF board and ratchet straps. I intentionally distanced the exhibition design from ubiquitous, white-walled cubes, which can often start to resemble prison cells or a doctor's waiting room.
The next stage was placing the works into relevant thematic groups, mapping out the installation and ensuring all the works had sufficient breathing space. This aspect of the curatorial process was very time-consuming and challenging because I was not wholly familiar with the space. However, when it came to installing works, we followed the plan, except for a couple of exceptions, and were very satisfied with the final outcome.
What was your greatest challenge when curating this project?
As a whole, I imagine the biggest challenge was contacting the selected artists, organising the transportation of works and managing expectations. UAL Awarding Body managed these aspects of the project, working tirelessly around the clock.
From a curatorial perspective, determining which works would be included and which ones would be excluded was difficult. Ideally, everyone who submitted a proposal would have been included, but that would have been problematic on many levels.
As mentioned above, the planning and organisation of works and getting a comprehensive understanding of the work, both physically and conceptually, was demanding.
Thankfully, because of the planning, the installation process was relatively painless and was resolved ahead of schedule. This was no mean feat, given that the Truman Brewery was a blank canvas without walls when everyone arrived on the first day.
What were your Origins Creatives 2022 highlights?
A critical aspect of the project was to get an insight and a more expansive understanding of what motivates young people to be creative today and what tools they choose to employ. It was important as a parent of two creatively minded teenagers and as an art professional to understand how and why young people gravitate towards specific themes and mediums to express themselves and how that will shape their thinking in the future.
However, if I had to pick out any participants, it would be based on the brilliant and insightful conversations I had at the exhibition preview with Destiny Babayemi, Emma Dorian, Yunus Mushfique Choudhury and Quiana Leyland McKenzie. They all spoke candidly about what inspired them, how they produced the works and why they made certain creative decisions. I would also like to mention the video and animation works by Miro Alleyne-McCarthy, Niamh Gallagher and Joe Langsworthy.