As part of a long-standing annual collaboration, MA Graphic Branding and Identity students at London College of Communication (LCC) were tasked with developing brand strategy for the 2019 undergraduate degree shows at London College of Fashion (LCF).
Through a partnership first established by Grant Rose, former Course Leader on LCC's MA Graphic Branding and Identity course, and Rob Phillips, Creative Director for the School of Design and Technology at LCF, LCC students were challenged to develop pitches for vibrant, flexible brands that navigated key issues of space, technical support and sustainability.
Students were not only required to think creatively, but also to understand and appreciate cultural references, fashion trends and industrial expectations alongside the nuances of exhibition and spatial design to develop high-concept brand identity assets for a wide audience.
Approaches to the brief were necessarily experimental, and in 2019 - as ever - resulted in some of the best portfolio work that MA Graphic Branding and Identity students produced during their time at the College.
"Fun, empowering, and a really good way to learn while practising new skills"
We chatted to MA Graphic Branding and Identity graduate Alice Galli about her experience of taking part in the 2019 collaboration, as well as the highlights of her time at LCC.
Tell us about your role in the project.
I was part of a group with four other people from the course, and we won the pitch to create the brand identity for the final degree show at LCF. From that moment on, we collaborated with Rob Phillips and his team.
Originally, we were supposed to develop the graphic identity for the show and a campaign that could be used on LCF's social platforms, but our ideas and concepts ended up being used for both the set design and styling for photo and video shoots too.
Alongside my contribution to the development and creation of the LCF identity, I was the person who coordinated the workflow and kept track of deliverables, presenting the progress of work during meetings and managing our contacts with other people involved in the project. Taking on the role of Project Manager for my team was fun, empowering, and a really good way to learn while practising new skills.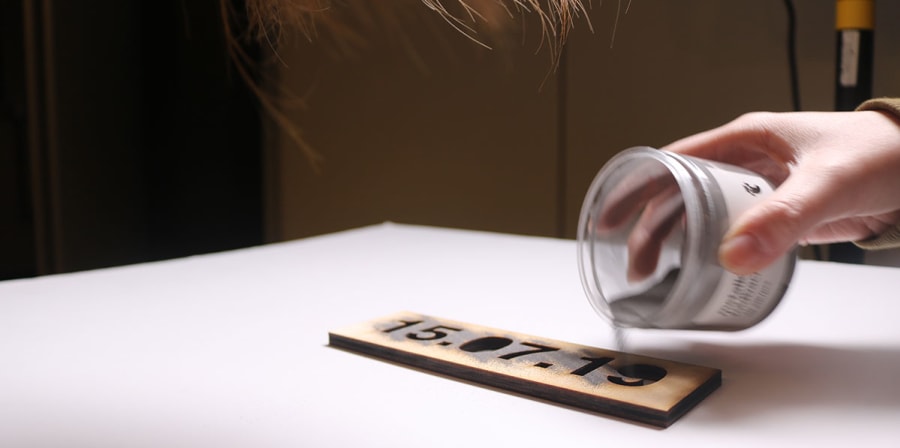 What were your project highlights?
When my team first started working on the brief, we decided to research and experiment with many different materials to explore new ways of producing impactful imagery. We ended up shooting magnetic powder and post-producing the raw files to create very abstract and fluid videos to be used for the social campaign. This was one of the funniest parts of our work: far from the screen, getting our hands dirty (literally!) while doing something completely new - and in many ways, unexpected - for us all.
What did you enjoy most about your time at LCC?
The classes were definitely my favourite part: the tutors always put a great deal of effort into organising a vast range of activities for students. I always found the topics we were studying and discussing very interesting and stimulating.
In pictures: LCC x LCF Set Design
"A cross-fertilization of ideas, practices and backgrounds"
Paul Jackson, Acting Course Leader for MA Graphic Branding and Identity, emphasised the significance of cross-working between the two UAL Colleges for both staff and students alike.
"The LCF x LCC collaboration is, for us, one of the key points in the MA," he said.
"Encouraging a cross-fertilisation of ideas, practices and backgrounds, this interdisciplinary project puts into practice the theoretical underpinning of brand design and graphic identity that our students explore in their first term.
It acts as a discursive intersection between issues of identity, fashion and cultural understanding, and offers an excellent opportunity for our MA students. Our work with LCF - and the imaginations of Rob Phillips and his talented students - is a real highlight of the year."
Related links
Image credits:
Branding: Alice Galli, Meilin Li, Xiaoxi Sun, Zheng Wu and Kaibin Liu.
Fashion Design: Meta Cunder, Ismail Laraqui, Huw Williams, Arguelles Kim, Joanna Prazmo and Christian Bronstein.
Photography/Videography: James Rees.
Creative Direction: Robert Phillips, assisted by Genevieve Vasconcelos.
Beauty: Kirsty Gaston.
Models: Noemi Gunea, Shalby Scarlet, Sebastian Chirvase and Grace Lambert.